Se a causa di un evidente sfasamento temporale non ci è consentito di pensare che "l'arte imita la vita" sia un aforisma concepito in riferimento a The Wire, è invece estremamente appropriato ritenere la serie di David Simon la più alta esemplificazione del concetto che la moderna serialità abbia saputo offrire al grande pubblico. Con il suo ritratto chirurgico della città di Baltimora e dopo ben tredici anni che non l'hanno fatto invecchiare di un minuto, lo show della HBO si candida ad essere la cosa più reale che si sia mai vista in televisione.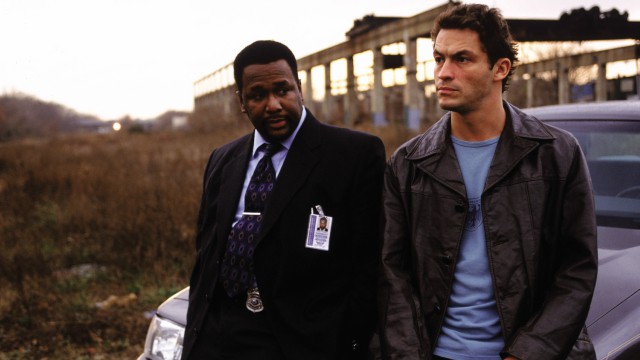 La vocazione al realismo da cui la serie è connotata è svelata già dal titolo, che una volta analizzato ci proietta verso il modus operandi adottato dalla narrazione per procedere nel suo racconto. The Wire significa letteralmente "il filo" e il termine designa parte dell'attrezzatura utilizzata dalla polizia nelle intercettazioni telefoniche, attrezzatura che svolge un ruolo fondamentale nello svolgimento delle indagini condotte per contrastare il traffico di droga e altri affari illeciti.
In barba a sceneggiature che corrono sempre più veloci, affannandosi dietro ai ritmi serrati di un'azione concitata che non concede allo spettatore un attimo di respiro né un momento di riflessione, The Wire si concede il tempo di focalizzarsi su minuzie tecniche che altre serie liquiderebbero come poco appetibili per l'interesse dello spettatore e quindi sacrificabili o addirittura da evitare nella rappresentazione scenica. Ma sono proprio i particolari a fare la differenza e con la cura del dettaglio di cui si fa portatrice The Wire mostra di essere pienamente consapevole di questo assunto.
L'operato della polizia non è fatto di sparatorie adrenaliniche e di spettacolari irruzioni sul campo, ma di scartoffie da visionare, di registrazioni da scandagliare senza la certezza di trarne prove utili, di appostamenti infiniti da portare avanti, di noie e frustrazioni che The Wire porta su schermo senza lustrini né paillettes.
Lo stesso, minuzioso realismo si trova nella rappresentazione di ogni aspetto della realtà che The Wire pone sotto la sua lente di ingrandimento. La panoramica che la serie offre in merito alla vita di Baltimora è ricca e variegata: comprende le caserme e le strade, i tribunali e le aule scolastiche, tutti palcoscenici interconnessi e complementari, le facce di un prisma da rigirarsi tra le dita per ottenerne una visione completa. La visione in questione è totalmente scevra da edulcorazioni e semplificazioni di sorta, è interamente rivolta alla complessità delle cose e a un'attenta scansione delle loro logiche interne. The Wire utilizza le vicende dei suoi protagonisti per ricavarne paradigmi universali, formule in grado di spiegare contesti situati in luoghi ed epoche differenti ma dominati dalle stesse leggi imperiture, quelle per cui, continuando sulla scia delle citazioni letterarie, tutto cambia per restare semplicemente uguale a com'è.
La realtà non può essere appiattita sulla dicotomia bianco/nero e The Wire evita abilmente questo rischio. Non a caso non si limita a collocare il marcio che racconta in quegli angoli di strada che sono piazze di spaccio e luoghi di morte, ma ne pone la genesi nell'incuria delle istituzioni, nelle manchevolezze del corpo di polizia, nella tutela di interessi personalistici da cui il bene comune viene ignorato ed espunto. La serie imbastisce una fila di tessere che cadendo rovinano su quelle successive, la cui spinta innesca un inarrestabile effetto domino da cui gli abitanti di Baltimora vengono travolti ancora e ancora e ancora. La perpetua mancanza di fondi limita gli strumenti a disposizione di un ipotetico cambiamento e una distribuzione truffaldina delle risorse impedisce di sfruttarle per implementare un reale cambio di rotta, in un circolo vizioso che si ripete e si autoalimenta a dispetto di ogni tentativo compiuto per spezzarlo.
Il filo non è soltanto uno strumento di indagine, ma anche quello che dipanandosi unisce passato e presente e si snoda verso un futuro destinato a replicare entrambi, con mutamenti che sono soltanto apparenti o circoscritti e mai sostanziali o strutturali. Sono le trasformazioni che servono al potere per conservarsi e non ciò di cui la società ha bisogno per fare un salto in avanti, verso il benessere collettivo e l'equità.
Chiunque provi ad andare contro lo status quo finisce a sbattere contro un muro di gomma che ne blocca l'azione oppure a venir risucchiato da un vortice che, volente o nolente, contribuisce a far roteare. Ne va della sua reputazione, del suo patrimonio o del futuro di una persona a lui vicina. C'è sempre un motivo più o meno opportunistico che impedisce di prendere il filo e reciderlo con il taglio netto che occorrerebbe per rimuovere la matassa della corruzione e del malaffare.
I personaggi di The Wire non sono eroi né martiri né mostri. La loro caratterizzazione si oppone a queste tipizzazzioni artificiose per lasciar spazio a essere umani forgiati dalle circostanze in cui versano, dalle influenze che hanno subito, dalle opportunità che gli sono state offerte o negate. Perché la vita è così: una scacchiera in cui ognuno occupa il posto che gli è stato assegnato in sorte e non quello in cui meriterebbe di stare. La vita è così e, di conseguenza, lo è anche The Wire, che ce la restituisce con la schietta fedeltà di uno specchio in cui è doloroso ma necessario guardare.