# #
The Walking Dead in una sola settimana. A me sembra che sia andato tutto bene.
# #
Certo, mia madre non riesce a capacitarsi dell'improvvisa sparizione di coltelli affilati, ho trovato scandaloso essere costretta a pagare prima di uscire da un supermercato e il simpatico dottore che mi ha chiesto di parlargli di me mi è sembrato un po' scosso quando l'ho pregato di accettarmi nella loro comunità, ma sono sicura che si rivelerà pronto a collaborare quando mi presenterò armata di ferro da stiro.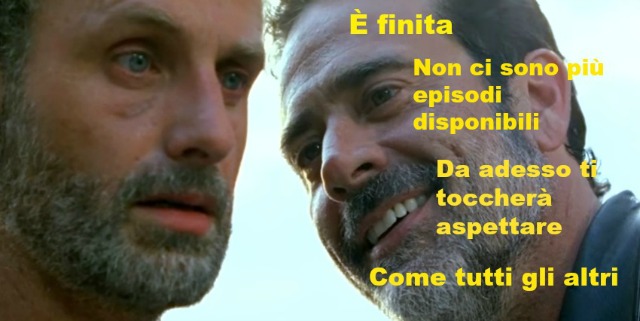 # #
C'è da fare una premessa credo importante: io non solo non avevo mai visto The Walking Dead, ma non sapevo nulla sullo show, a parte che si basasse sull'apocalisse zombie. La faccia di Rick Grimes era l'unica cosa che avessi visto perché era saltata fuori in una ricerca immagini di Google per provare a un amico l'esistenza di un suo sosia (che fosse "quello di The Walking Dead" me l'ha detto lui).
Non sapevo né quanti episodi, né quante stagioni avesse. Ho iniziato a vederlo perché non lo avevo neanche più sentito menzionare e mi ero convinta che fosse finito.
Adesso mi state tutti invidiando il sasso sotto il quale ho vissuto per sette anni, lo so. Vi direi anche che ho evitato tutti i possibili spoiler di Game of Thrones, Lost e persino Il Sesto Senso, ma poi mi sa che rosichereste troppo e non continuereste la lettura. Ve lo presto il sasso, se volete.
In realtà sentivo solo che The Walking Dead mi sarebbe stato antipatico per principio e che non l'avrei mai finito. Quindi, perplessa e confusa almeno quanto Rick al suo risveglio, ho approcciato questa storia pronta a dichiarare il fallimento, incredula di fronte alla mia sopravvivenza al primo episodio e alla crescente voglia di saperne di più.
Credo che questa esperienza di binge-watching estremo si basi un po' su quelli che sono i pregi e le pecche di questa serie, in un'alternanza fra passione e frustrazione.
All'alba del settimo giorno di maratona, dopo aver finito le puntate uscite finora, ho timidamente lasciato che la testa mi spuntasse da sotto il sasso e come una testuggine umana ho approcciato i pareri di coloro i quali si erano sottoposti alla somministrazione "adeguata" della serie, per confrontarli con l'idea che mi ero fatta io attraverso quest'esperienza lampo.
È facile capire come The Walking Dead possa dividere tanto marcatamente l'audience, ancora più facile se vista così rapidamente. In qualità di testuggine, ho avuto modo di iniziare a farmi un'idea dei vasti confini della fanbase che supporta questa serie (e ho dedicato una poesia d'amore al sasso per avermi evitato lo tsunami di spoilers che detta fanbase ovviamente non sa contenere).
The Walking Dead è una serie che sa benissimo come far parlare di sé, come ispirare discussioni, litigi, supposizioni, affetti. Quando, invece di creare questo legame, la serie ci si basa per assicurarsi ascolti, saltano fuori gli errori.
Molte puntate si sono susseguite in rapida successione nella mia esperienza perché mi importava di questi personaggi, perché volevo saperne di più, perché il loro modo di crescere lentamente influenzava un po' anche il mio.
The Walking Dead è uno show interessante perché sebbene la premessa basata sull'apocalisse zombie sia un input narrativo familiare, il modo in cui la storia si sviluppa crea una narrativa più complessa, che riesce a fare presa e a stimolare gusti e interessi differenti. Se da un lato c'è l'azione, il gore, l'orrore, la violenza, dall'altro TWD è una serie piena di silenzi, di finestre che usano i personaggi e come questi si relazionano per affacciarsi sull'umano. The Walking Dead sa come dividere, ma sa anche come unire il suo pubblico. È una serie che provoca, che travolge, che stravolge.
La grande forza dello show risiede in gran parte nella sua abilità di rendere complice chi la guardi, sollevando in maniera spontanea domande sul nostro modo di vivere, e soprattutto di vivere insieme. Quali sono le basi? Sono giustificate? Quali sono i rischi?
Queste sono domande ricorrenti in letteratura, come in filosofia, nel cinema e in altre serie, e The Walkind Dead riesce a porle spesso con una certa grazia, con naturalezza, attraverso la costruzione di situazioni stimolanti e personaggi ben strutturati. Rimuovendo la sacralità della morte, che sia religiosa o sociale, la serie cerca di narrare il doloroso travaglio dei suoi personaggi, e un po' di noi tutti, per la creazione di un sé che possa restare disperatamente umano quando tutto o quasi dell'umanità come praticamente e teoricamente definita sembra andare in pezzi.

Forse per questo quando la formula non riesce, quando la storia si perde, quando i dialoghi si svuotano subentra questo sentimento di rabbia profonda che porta dalla venerazione all'odio, o all'indifferenza sempre un po' infastidita.
Per coloro i quali non si trovino inseriti in un "gruppo di sostegno alla visione", per chi l'ha vista in solitudine, o quasi, ma senza calarsi nel vivo delle discussioni tenute dai fan più accaniti, questo ha spesso indotto all'abbandono della serie.
Credo che sia giustificabile. A vederla tutta insieme, è impossibile non soffrire la lentezza estenuante che infetta la seconda metà della 4° stagione e la prima della 5°. Parliamo di tanti episodi. Ammetto che ci sono stati dei momenti in cui ho compatito chiunque, a differenza mia, abbia in passato dovuto aspettare tanto per vedere parti della trama perdersi in nulla.
Questa fase fra 4° e 5° stagione è stata la più faticosa da guardare in rapida successione. Se avessi dovuto aspettare tanto per vedere diversi di questi episodi, forse avrei mollato anche io.

Ci sono altri momenti lenti, soprattutto nella seconda e nella terza stagione, ma dalla quarta fino a metà quinta lo spazio presumibilmente dedicato all'approfondimento psicologico di nuovi personaggi è spesso occupato da relazioni amorose forzate, irritanti e incapaci di coinvolgere.