Ed eccoci qui, con il finale perfetto per queste prime otto puntate della settima stagione di The Walking Dead. 
Tutti i nodi vengono al pettine in The Walking Dead. Tutte le storie si avvicinano. Non è un caso che le prime puntate siano andate così. Non è un caso che questo sia il primo episodio in cui tutti i nostri protagonisti si ritrovano insieme. Non è un caso che alla fine ognuno di loro capisca che non ci si può vendicare da soli. Si vive insieme, si muore insieme. Ma soprattutto..si combatte insieme. 
La puntata si apre con Maggie. A dire il vero, la prima delle due giornate si apre con lei. Il simbolismo comincia da lì. Maggie è sulla tomba di Glenn, vestita di scuro, che piange. Affronta la giornata, certo, ma non la vediamo sorridere.
Gregory la chiama per nome e le cede la sua mela. In quel gesto, anche se controvoglia, si segna quasi definitivamente il passaggio di potere tra i due. Eduardo non sostiene Gregory, anzi lo rimprovera, appoggiando così Maggie. Perché è vero che lei e Sasha hanno salvato Hilltop. Si meritano la torta di mele, si meritano il rispetto e si meritano il comando. Non c'è molto altro da aggiungere.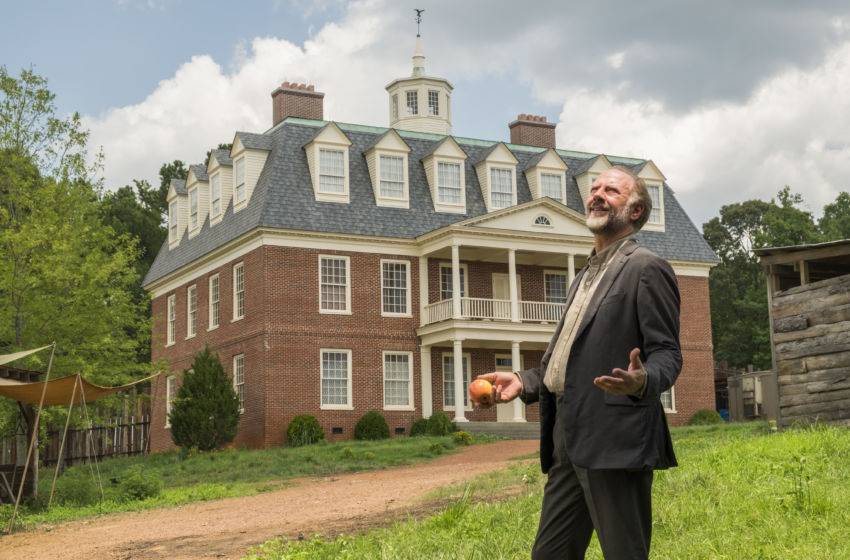 Ad Alexandria invece si riparte proprio da dove ci eravamo lasciati. Negan sta ancora aspettando Rick per fargli vedere come se la cava nella sua casa, con i suoi figli e i suoi vicini. Siede sotto il portico, si fa la barba insegnando a Carl come fare. Prepara il sugo, spiega come disporre la tavola e sorride a Judith che dorme.
Tutto come farebbe un ottimo padre di famiglia. Tutto come potrebbe fare Rick, se solo non fosse fuori a rischiare la vita per lui.
La verità però è che non c'è posto alla tavola di Negan per Rick. Non c'è ed è giusto così. La sua sedia è per Lucille. E' per la cosa a cui Negan sembra tenere di più al mondo, dopo se stesso. Il posto c'è invece per Olivia che 'accetta' la sfida del leader dei Salvatori entrando in quella casa e mangiando con lui.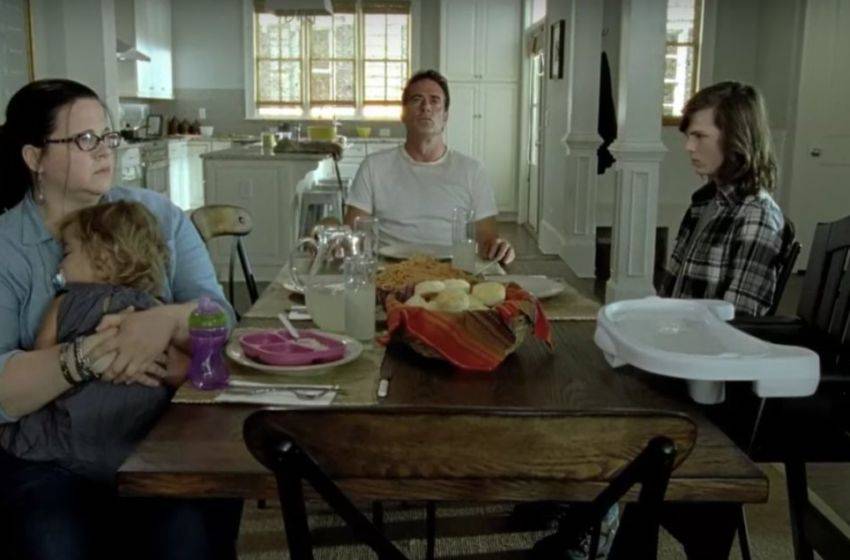 Anche la traversata nella barca bucata di Aaron e Rick è simbolica.
Sembra impossibile, sembra imprudente. Nessuno consiglierebbe mai a qualcuno di farlo. Eppure lo si fa comunque. Perché? Perché è ciò che permette ai cuori di battere ancora. Anche se il rischio è altissimo, anche se la posta in gioco è ancora maggiore, ne vale la pena.
E' lo stesso ragionamento che fa anche Richard, alle porte del Regno. Lo stesso ragionamento che cerca di fare con Morgan e Carol. Moriranno delle persone, sì. Ne sono già morte, sì. Se si tratta di costruire un mondo migliore bisogna farlo. Così come bisogna accettare di non poter vivere lontano da tutto. Bisogna accettare i doni (mangiare il melograno) e bisogna avere il coraggio di chiamare qualcuno dalla porta, anche solo per salutarlo.
Questa puntata ha un grande scopo: aprire gli occhi. A noi e ai protagonisti.
Tutti quelli che cercavano di combattere da soli si devono ricredere. Da soli non si può. Chi cerca di agire per sé alla fine fallisce e/o muore.
Carl si è salvato solo per la buona impressione che ha fatto su Negan, ma alla fine è dovuto tornare a casa a testa bassa. Rosita ha provato a fare a modo suo, con il proiettile fabbricato da Eugene. Alla fine, come lui stesso le aveva detto, 'qualcuno ne pagherà il prezzo e non sarai tu'. Spencer, da bravo codardo, ha cercato di entrare nelle grazie di Negan. Al leader dei Salvatori però non piace chi prende queste scorciatoie, chi è così debole da agire alle spalle di qualcuno. Michonne si è messa in viaggio da sola per capire ed è tornata indietro con un omicidio in più. Sasha pensava di essere da sola, ma si è dovuta ricredere.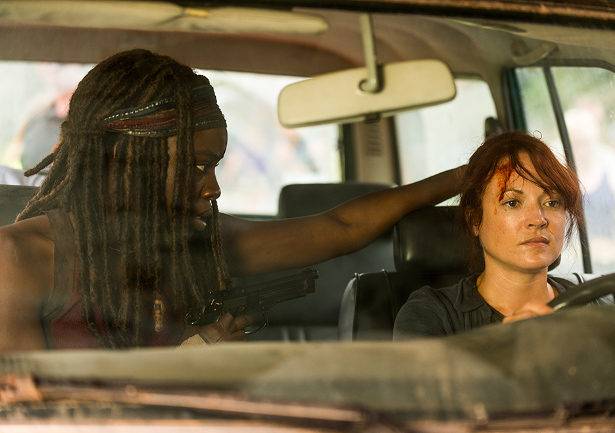 Per andare contro Negan ci sono tanti modi.
Si parte dai singoli per arrivare al gruppo. Si parte da un 'andrò fino in fondo, lo faremo entrambi' di Aaron che accetta di appoggiare Rick fino alla fine. Si parte da un 'ho promesso a Rick che avrei badato a Judith e lo farò' di Olivia che si asciuga le lacrime e guarda Negan in faccia. Si parte dalle parole di Deanna in punto di morte che Michonne fa nuovamente sue: 'voglio cambiare il mio destino'. Si parte dalla valorizzazione del lupo 'non dovevi essere tu, non doveva essere nessuno […] noi abbiamo bisogno di te' per far battere il cuore del branco. 
Anche altre cose ci parlano chiaro per farci capire meglio la situazione. Il bigliettino 'congratulazioni per la vittoria, ma avete perso comunque!' e la sua partita di biliardo corrispondente. Negan stesso dice 'stavo vincendo'. Dopo averlo trovato insieme, Aaron e Rick commentano 'sembra uno che non sa perdere'/'l'unica cosa che gli mancavano erano le munizioni'. In qualche modo potrebbe sembrare che parlino di se stessi. Non a caso poi il biglietto passa nelle mani dei Salvatori. 
Un'altra rivincita è di Daryl.
Riesce a scappare, a riprendersi i vestiti, a prendere lo stesso cibo usato da Dwight nella preparazione dei suoi panini. Usa il suo divano, butta a terra quello che capita. Guarda la statuetta sul tavolo, quella statuetta che significa solo 'umanità'. Spacca la testa a Joe, proprio come Negan ha fatto con i suoi amici. Riprende la pistola di Rick, la sua moto e la sua libertà. Perché non si tratta solo di sopravvivere. Perché lui vuole riprendersi tutto. Per se e per gli altri. 
Così Daryl, così Michonne. Per riuscire a girare la macchina/moto e prendere una nuova direzione sono costretti a sporcarsi le mani. Di nuovo. Brutalmente.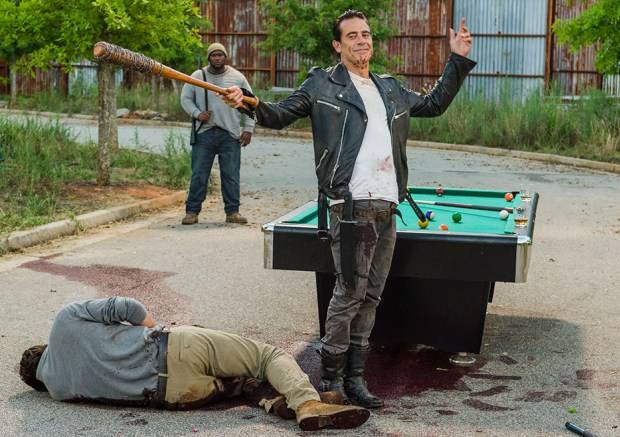 La partita di biliardo pende verso Negan che non si fa nessun problema a fare la sua mossa.
Da una parte lui sta giocando con Spencer e la sua vita, dall'altra i suoi uomini stanno invece giocando con Aaron. 'Stai bene' gli dicono, ironicamente usando le stesse parole che lui aveva usato emergendo dall'acqua. Il suo cuore batte ancora. Più vivo che mai.
A non battere più invece è quello di Olivia, uccisa con un proiettile nello stesso punto in cui doveva esser sfigurata Rosita. Alla fine qualcuno paga il prezzo. Lo paga lei, lo paga Eugene, rischia di pagarlo Carl, lo paga in parte in Tara e lo pagherà Rosita stessa con i suoi sensi di colpa.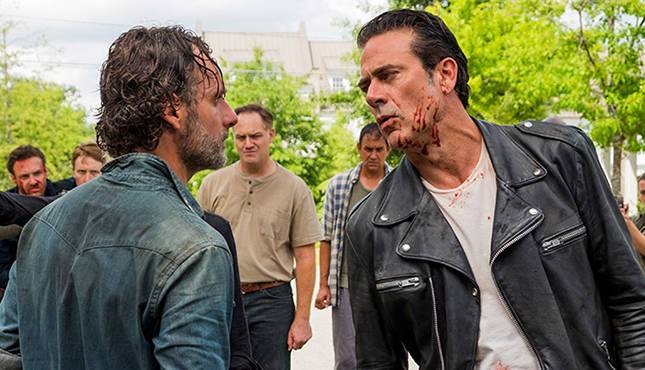 Le prime battaglie sono state vinte da Negan, ma ora tutti sanno che la guerra non è ancora finita. 
Lo ha capito Rick. Lo ha capito Alexandria. Lo ha capito Michonne che non fa mancare il suo supporto a Rick, di nuovo. Usa parole speciali. Le stesse parole che ha usato lo stesso leader in più occasioni. 'Noi riusciamo a ottenere risultati. L'hai detto tu stesso. Noi riusciamo a sopravvivere'. Le stesse parole che usò in quella fredda notte tempestosa nel fienile, quando sembrava che il gruppo avesse perso tutto. La notte in cui i cuori erano colmi di lacrime per Beth e Tyreese.
Allora non c'era ancora Aaron. Alexandria era un sogno lontano. La lista delle persone care morte era molto più breve.
Ma non importa. Quel giorno è un nuovo giorno in The Walking Dead.
Si ricomincia da Maggie, questa volta vestita di bianco. Non piange di dolore sulla tomba, ma piange di gioia guardando lontano e rivedendo il suo gruppo. Si ricomincia dai sorrisi e dagli abbracci di tutti.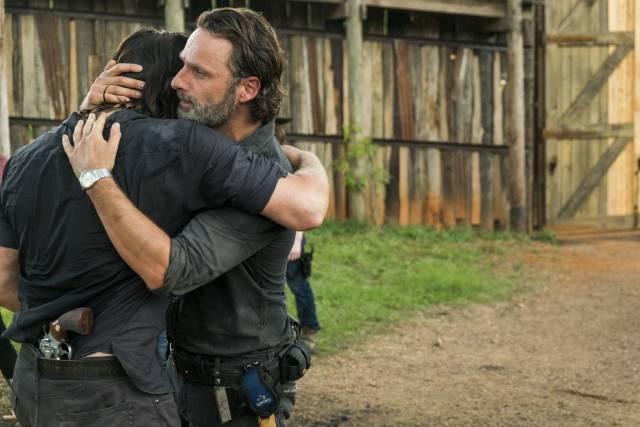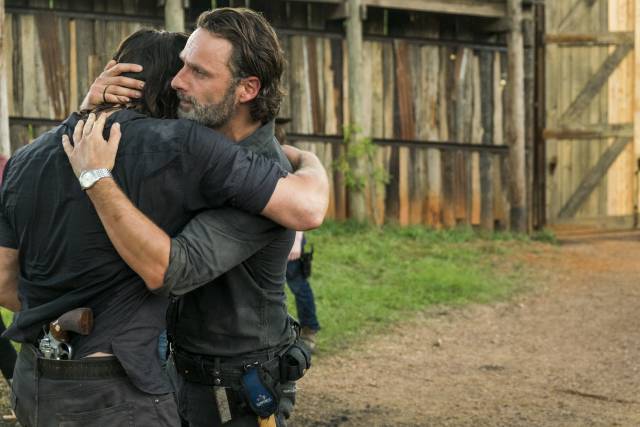 Si ricomincia rialzandosi insieme.
Alla fine della prima puntata di The Walking Dead (quasi) tutti i protagonisti erano chini a testa bassa. I corpi dei loro amici a terra in una pozza di sangue. Erano in terra, separati, confusi in lacrime. Ora sono in marcia, insieme, sorridenti e forti. Non è un caso che siano a Hilltop, perché lì ci sono anche Glenn e Abraham. 
Non è un caso che Daryl riconsegni a Rick la sua pistola, perchè quella pistola è l'ennesimo simbolo di questo episodio di The Walking Dead. E' il battito decisivo del cuore del gruppo. Rick si riprende il posto che gli appartiene, si rimette alla testa del suo gruppo per guidarli verso l'ennesima sfida per il loro nuovo mondo.
Non dimenticatevi di passare da qui: Norman Reedus Italia, The Walking Dead ITA , The Walking Dead-Italy , The Walking Dead Italia , TWD – Am I the only one Zen around here? Good Lord. , Caryl Italia, Andrew Lincoln Italy, Daryl Dixon ITA e FIGHT the Dead. FEAR the living – The Walking Dead gdr, The Walking Dead Pagina Italiana ! In più vi consigliamo un canale YouTube di un nostro affiliato Don't Open Dead Inside !