Nel finale di metà stagione di The Walking Dead, Judith dice a sua madre Michonne che sta scrivendo su una sorta di diario tutto ciò che accade loro. Presumibilmente, dunque, le "memorie" della bambina riguardano anche ciò che le è stato raccontato su Rick, Lori, Carl e gli altri membri della comunità che hanno avuto un ruolo nella sua vita.
Quando quest'anno il fumetto di The Walking Dead si è concluso con la morte di Rick Grimes, abbiamo visto Carl che concludeva il tutto leggendo le storie di suo padre a sua figlia. Carl, che nei fumetti è ovviamente ancora vivo, ha portato avanti la memoria di Rick e racconta alla sua bambina di come suo nonno ha salvato lui, ma anche un'intera comunità, in più di un'occasione.
La serie televisiva non potrà ovviamente concludersi allo stesso modo, dato che Carl Grimes ci ha abbandonati nell'ottava stagione, ma se il suo posto fosse preso da Judith?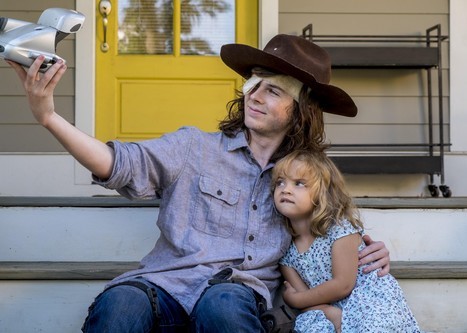 La decima stagione di The Walking Dead è molto apprezzata e non ci sono segnali che potrebbero far intendere che la fine sia vicina. Nonostante ciò, il fatto che Judith stia scrivendo un diario ci ha ovviamente portato a collegare il tutto alla conclusione avuta nei fumetti.
In realtà, se ci pensiamo bene, c'è qualcosa di poetico nell'idea che sia proprio Judith a tenere vivo il ricordo della sua famiglia: una bambina nata nel mondo post-apocalittico che, aiutata da sua madre, dagli amici di suo padre (come, magari, Daryl e Carol), e anche dai nemici (non dimentichiamoci di Negan) scrive tutto ciò che le viene raccontato per far sì che nulla vada perso.
Racconta storie di gente che si è sacrificata per qualcuno che conosceva a malapena, di amori nati in un mondo che sembrava ormai finito, di padri e madri che proteggono i loro figli affrontando qualsiasi ostacolo. Racconta di The Walking Dead.
Insomma, non sappiamo se questa sarà realmente la fine della serie tv che seguiamo da quasi un decennio, ma… se così fosse, probabilmente non ci dispiacerebbe.