(Attenzione! Questo articolo contiene spoiler su The Umbrella Academy!)
L'abbiamo attesa per molto tempo, ma finalmente è arrivata. The Umbrella Academy è disponibile su Netflix dal 15 febbraio e se non l'avete ancora vista fatevi un favore e iniziatela. Questa serie tv, ispirata ai fumetti di Gerard Way – cantante dei My Chemical Romance – è composta da 10 episodi, della durata di circa un'ora ciascuno. Ebbene, per descrivere ciò che The Umbrella Academy racconta è importante che siate pronti a stupirvi. Perché questo show ha tutte le carte in regola per diventare uno dei migliori prodotti del suo genere.
La storia di questi eroi ha inizio il primo ottobre del 1989, quando 43 bambini vengono alla luce nel modo più anormale possibile, considerando che le madri non erano neppure in attesa. Sir Reginald Hargreeves, un importante imprenditore, decide di adottare 7 di questi neonati dotati di sorprendenti abilità. Essi costituiranno la prima generazione della Umbrella Academy: un gruppo di eroi che salverà il mondo.
Ed è proprio la salvezza dell'umanità lo scopo principale dei nostri protagonisti.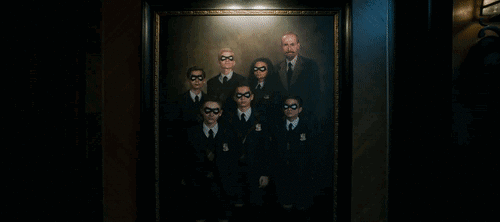 Questa serie tv, dopo la breve introduzione, ci mostra quegli stessi fratelli dalle capacità straordinarie. I loro superpoteri li hanno resi dei prodigi, degli eroi agli occhi del mondo. È inutile puntualizzare che il prezzo da pagare sia stata sicuramente la loro infanzia. I fratelli Hargreeves si riuniscono per la morte di Reginald Hargreeves e sin dal pilot possiamo già farci un'idea chiara circa il rapporto dei ragazzi con la figura paterna. Essi hanno vissuto traumi e atroci sofferenze che li hanno resi gli adulti del presente.
Alternando dei ricordi passati alla realtà del quotidiano siamo già coinvolti in quella che è la loro storia. La morte del fratello Ben e la scomparsa di Numero 5 costituiscono l'inizio della fine della Umbrella Academy, che si scioglie ignorando lo scopo per il quale fu istituita.
Il tema principale di The Umbrella Academy non è affatto la fine del mondo o l'apocalisse. Quello che cattura lo spettatore è la storyline dei fratelli, così malconci da non avere la stoffa degli eroi.
La lotta per salvare il mondo finisce in secondo piano perché assistiamo all'evoluzione di ogni singolo personaggio. La sofferenza dei protagonisti viene palesata episodio dopo episodio quando scopriamo, attraverso dei flashback, ciò che hanno subito. Possiamo definirla una serie tv psicologica perché esplora la crescita umana di ogni ruolo, differente dagli altri sia per gli abusi subiti che per il modo di reagire ai fantasmi che quest'ultimi hanno lasciato.
Oggettivamente, The Umbrella Academy è una serie tv con i fiocchi: la sceneggiatura è straordinaria. Assistiamo a battute divertenti e a piccoli monologhi capaci di emozionarci, anche se sono rivolti a un manichino. Le scene d'azione sono strabilianti, ben fatte e ben interpretate, con una colonna sonora che accompagna con sintonia le gesta dei personaggi.
L'interpretazione degli attori, poi, è magistrale: Robert Sheehan (Klaus/Numero 4) si dimostra ancora una volta uno degli attori più talentuosi della nostra generazione. Ellen Page rivela un potenziale straordinario, sia come attrice che attraverso il suo personaggio, e una menzione particolare la merita Aidan Gallagher. Questo ragazzino di soli 15 anni ha interpretato un sessantenne nel corpo di un tredicenne in maniera eccellente. Rompe lo schermo, sostenendo su di sé il peso dell'intera serie tv della quale è coprotagonista.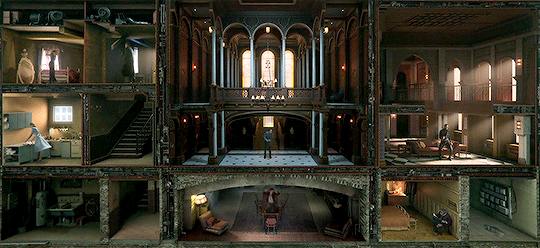 Anche la scenografia non è da meno. I fotogrammi che riprendono la fine del mondo sono costruiti con effetti speciali realistici, così come la stessa fotografia dello show, a tratti pittoresca e suggestiva.
L'elemento focale di The Umbrella Academy è sicuramente il legame tra i fratelli, nonché la cruda trasposizione della loro vana realizzazione nella vita. Ognuno di loro deve convivere con dei traumi che li tormentano, con delle scelte che hanno provocato dei cambiamenti e con il senso di colpa che deriva da esse. I dubbi circa le proprie abilità incrementano, in ogni personaggio, un lato fragile che lentamente ci viene mostrato. I protagonisti si spogliano delle proprie corazze e rivelano quanto il passato influisca ancora sul loro presente e quanto il riuscire a superare tale blocco emotivo sia indispensabile per salvare il mondo.
Dimenticate l'atmosfera dark dell'eroe afflitto e del giustiziere senza macchia e paura: The Umbrella Academy è uno show d'avanguardia. Assistiamo alla costruzione di protagonisti umani, fatti di emozioni e debolezze, che cadono, si smarriscono. Non sono degli eroi, ma uomini e donne dotati di abilità che li hanno costretti a un'infanzia difficile, tormentata. Scopriamo il loro lato buono e persino quello cattivo, che non condanniamo quasi mai.
Lo capiamo perché ogni scelta compiuta da un personaggio ha una giustificazione. Quel dolore ha una giustificazione, e non possiamo che metterci nei panni di ognuno di loro. Pensare che, dopotutto, anche noi avremmo ceduto a così tanta pressione, a così tanta sofferenza.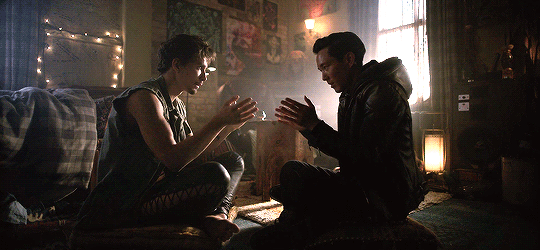 D'altronde è proprio la loro unione ciò che permette loro di agire con più intraprendenza. La fiducia reciproca la ottengono solo alla fine, dinanzi a un'apocalisse che non riescono più a evitare.
"Non ci sono persone innocenti, ma solo persone che fanno delle scelte". Ed è vero. Nonostante il trattamento riservato ai fratelli Hargreeves da parte di Reginald sia considerato disumano, non possiamo nemmeno biasimare le sue azioni. Non conosciamo ancora il quadro completo della situazione ma possiamo intuire ciò che Sir Reginald Hargreeves cerca di insegnare ai propri figli. Il senso di responsabilità circa qualcosa più grande di tutti loro sovrasta il bisogno di avere un'infanzia felice. Non c'è modo per evitare la fine del mondo se non preparandosi a essa, ed è quello che l'imprenditore cerca di fare, riunendo i figli proprio con la sua morte. Il suicidio è il mezzo utilizzato dall'uomo per far ritrovare la Umbrella Academy che, con tutti i suoi drammi, continua a essere una famiglia. 
Il senso di libertà comune riunisce i fratelli nella stessa casa in cui hanno vissuto da ragazzini. Ballano, si confidano, e distruggono tutto alla ricerca di un senso che giustifichi tutto il male che hanno subito.
Ognuno di loro ha i propri fantasmi, e ognuno di loro cerca con difficoltà di liberarsene. Conosciamo Klaus, con la sua paura verso i propri poteri nonché causa della propria dipendenza dalle droghe; Allison, che decide di non usare più le proprie abilità perché preoccupata di non aver ottenuto niente nella vita se non grazie a esse; Diego, che convive con il senso di colpa nei confronti della madre e Luther, che ha sprecato quattro anni in solitudine, rinunciando a tutto; Numero 5, che per quasi 60 anni ha vissuto nel dolore di aver perso la propria famiglia, da solo e con nessuno che potesse farlo sentire nuovamente a casa. E infine Vanya, che per anni ha subito violenza psicologica da parte del padre e dei suoi fratelli, abituati a riservarle un simile comportamento solo per emulazione.
Ognuno di questi personaggi è scoraggiato, annientato psicologicamente da un'infanzia che di felice non ha nulla, meno che la certezza di esser parte di una famiglia. Il loro eroismo non riguarda unicamente le loro abilità: è un eroismo umano. È quella forza di ricominciare dopo essere caduti nel baratro, di riscoprirsi degni di ricercare una felicità negata per anni.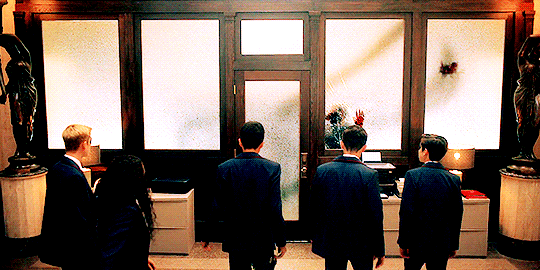 Ebbene, quella certezza ritorna solo alla fine, quando capiscono che magari potranno anche morire ma questa volta lo faranno insieme. La fuga nel tempo è solo un pretesto per salvarsi la pelle, perché alla fine qualcosa l'hanno sconfitta davvero: i propri demoni passati. Con un salto nel vuoto, compiuto insieme, si sono liberati delle delle paure che sin da bambini li hanno torturati.
Insieme sono svaniti, con la consapevolezza di poter ricominciare da capo e questa volta tutti uniti, senza la presenza di un padre-padrone privo di tatto e affetto. Senza la solitudine che attanaglia ognuno di loro.
I protagonisti cercano di rimediare a questa spiacevole sensazione in modi diversi. Chi sfrutta le droghe, chi il successo, e chi l'affrontare dei criminali. Ogni Hargreeves deve fare i conti con uno struggimento interno che gli impedisce di dimenticare gli abusi sofferti e di perdonare gli errori commessi. Un solo aggettivo non sarebbe sufficiente per descrivere The Umbrella Academy, che può sembrare uno show come gli altri ma non lo è.
C'è qualcosa di geniale in questa serie tv, non tanto per la trama in sé che verso la fine diventa pure leggermente prevedibile, ma per il modo in cui i protagonisti sono stati resi. Proviamo empatia per loro, ci rivediamo in alcune scelte e in alcune sofferenze. Per esempio c'è chi ha avuto il cuore spezzato quando Vanya disegnava sul polso il finto tatuaggio dell'ombrello come i fratelli, e chi mente.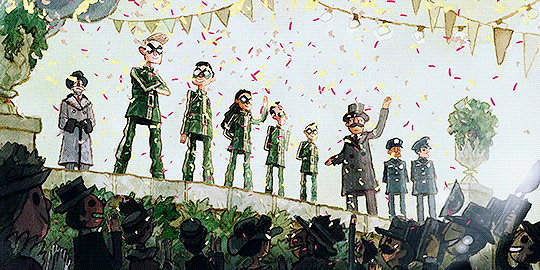 La conclusione della serie tv ci ha lasciati un po' con l'amaro in bocca. Troppe domande che non hanno ricevuto una risposta ci costringono ad auspicare che questo show sia rinnovato.
E fortunatamente l'autore degli omonimi fumetti questa speranza ce la concede davvero.
Gerard Way ha infatti dichiarato in un'intervista al The Hollywood Reporter che per la serie tv sarebbero stata pensate 8 stagioni, seguendo la scia dei fumetti. Inoltre, ha affermato che per un'eventuale seconda stagione bisognerebbe attendere circa un anno e mezzo. Ovviamente dipende tutto da Netflix che non ha ancora rilasciato alcuna conferma o smentita a riguardo.
Ma le parole dell'autore ci tranquillizzano un po', perché chiunque abbia già finito la serie tv necessita già della seconda stagione. E per quest'ultima le idee sarebbero letteralmente infinite. Quelli che possono essere definiti da un occhio poco attento dei buchi di trama, sono effettivamente degli ottimi punti di partenza per un seguito.
E noi non vediamo l'ora che questo seguito arrivi.