Pochi show hanno il pregio di mettere in chiaro fin da subito qual è il motore che determina le scelte e i comportamenti dei loro personaggi. The Terror riesce a farlo addirittura con una singola battuta:
Sta per battere un record, figliolo: andrà dove nessun uomo è mai andato prima.
Il pilot di questa nuova impresa televisiva, distribuita negli USA dall'emittente AMC (proprio lei: quella che ci ha regalato The Walking Dead, già in cantiere con la nona stagione) e in Italia da Amazon Prime Video, si presenta come uno dei più promettenti delle ultime stagioni seriali, assemblato intorno a un climax di tensione e coinvolgimento a dir poco brillante. Merito dei dialoghi, studiati e calibrati con grande cura. Ma anche dei costumi, del comparto scenografico e di quello fotografico. Così si è portata sullo schermo una resa visiva abbastanza cruda e realistica da risultare, a tratti, fortemente disturbante.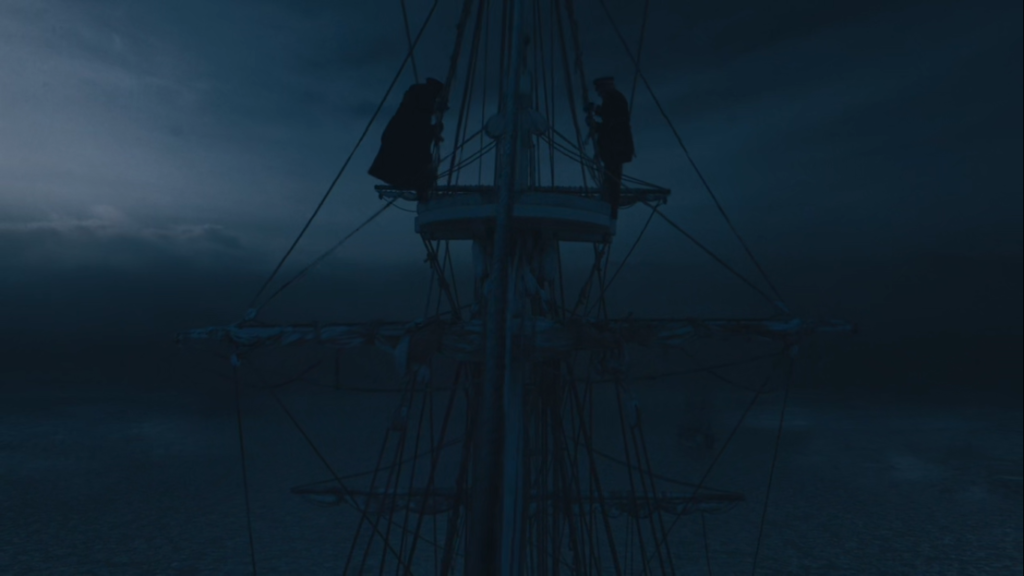 Una manciata di righe introduttive su sfondo nero è sufficiente a inquadrare subito con precisione la storia che The Terror si accinge a esplorare. Parliamo della scomparsa di due navi della Royal Navy avvenuta nel 1845 tra i ghiacci artici, nel corso di una spedizione alla ricerca di un passaggio navigabile a nord-ovest.
L'omonimo romanzo di Dan Simmons (edito in Italia da Mondadori con il titolo La scomparsa dell'Erebus) su cui è basata la Serie, infatti, è a sua volta ispirato a un evento storico realmente accaduto, reinterpretato dall'autore in chiave horror-fantasy. È curioso notare come gli showrunner David Kajganich e Soo Hugh non si siano limitati ad attingere dalle pagine di Simmons, scritte nel 2007, ma si siano sforzati di armonizzarle con le scoperte più recenti. Hanno scritto infatti in seguito all'effettivo ritrovamento dei resti delle navi (2014 e 2016). Ne risulta una cronaca talmente vivida e spietata da rendere pressoché inscalfibile, nello spettatore, la sospensione dell'incredulità.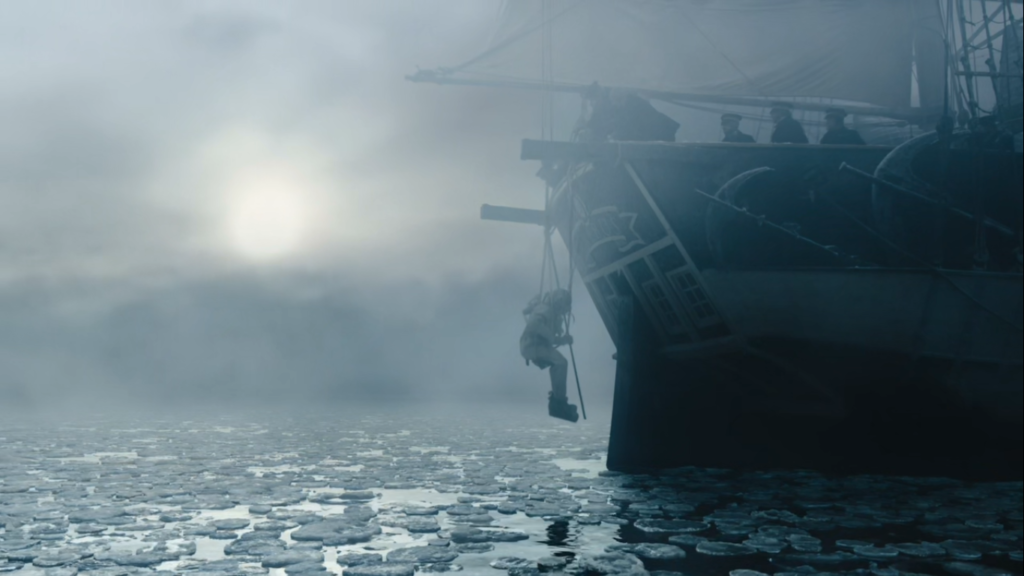 Saliamo dunque a bordo della Erebus e della Terror in compagnia di sir John Franklin (Ciarán Hinds); del suo secondo Francis Crozier (Jared Harris); e infine del comandante James Fitzjames (Tobias Menzies). Il primo elemento che ci destabilizza è la feroce contrapposizione tra la sterminata distesa di ghiaccio all'esterno e gli asfittici ambienti interni del sottocoperta. Sembra preludere a un conflitto tra due mondi paralleli; dove gli uomini e la natura obbediscono a leggi del tutto diverse.
Questo primo episodio di The Terror si presenta povero d'azione, ma non se ne avverte davvero la mancanza. L'angoscia viene eretta su fondamenta più subdole e psicologiche. Si utilizza come cemento il non plus ultra dei materiali impiegati dai costruttori dell'orrore: le atmosfere.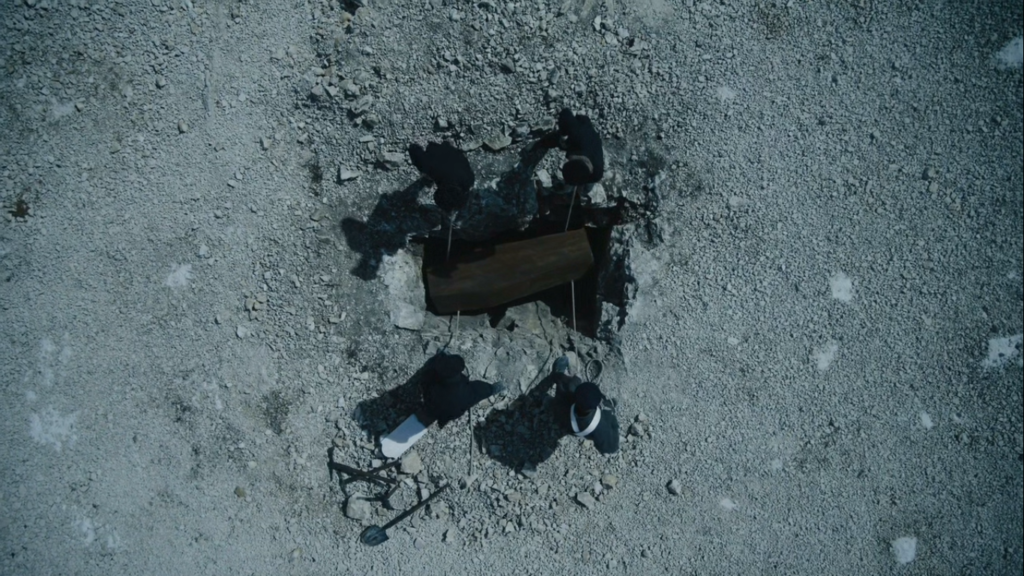 La sensazione è quella di mettere piede nella stessa realtà gelida e terrificante in cui si svolge La cosa, capolavoro horror-fantascientifico diretto da John Carpenter nel 1982, a sua volta tratto dal racconto La cosa da un altro mondo di John W. Campbell, datato 1938 (che aveva già dato vita a un primo lungometraggio omonimo nel '51 a opera di Howard Hawks). Altrettanto inevitabile appare il parallelismo con il primo Alien di Ridley Scott, non a caso tra i produttori esecutivi della Serie.
Spingendoci più indietro nel tempo, possiamo risalire alle suggestioni orrorifiche del romanzo Alle montagne della follia di Howard Phillips Lovecraft, pubblicato originariamente nel 1936. Ancor prima risaliamo a quelle immaginifiche de Il dio fumoso, scritto da Willis George Emerson (1908). Insomma, la materia è tutt'altro che inesplorata; sono però le modalità a rendere pregevole questo ennesimo tentativo di approccio e, cosa forse più importante, a farlo funzionare.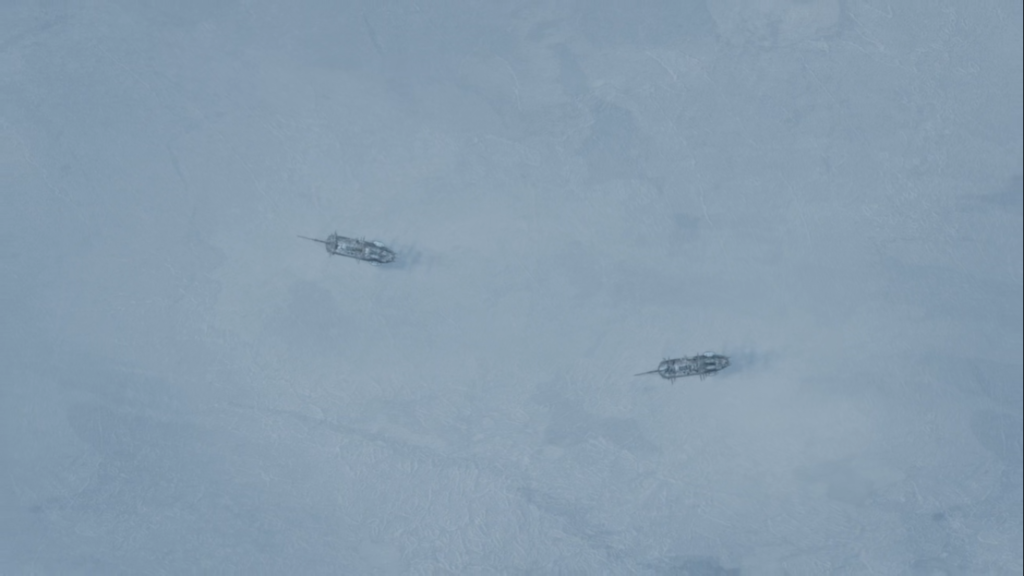 Così, passando per un misterioso decesso a bordo accompagnato da visioni raccapriccianti, un'inquietante discesa negli abissi, un'autopsia eseguita a mani nude e la sepoltura di un marinaio in una terra aliena e minacciosa, il pilot di The Terror si conclude nell'unico modo in cui può davvero cominciare questa straordinaria avventura: mostrandoci il momento esatto in cui gli equipaggi si rendono conto che le loro navi sono rimaste intrappolate nei ghiacci. E, ancora una volta, una singola battuta riesce a condensare l'indole degli impavidi protagonisti di fronte alla prospettiva di dover trascorrere l'inverno su quelle lande desolate:
Non sarà facile, ma ci siamo offerti per questa missione, per la Regina e per la Patria. L'avventura di una vita: questo direte agli uomini!