La AMC dopo averci fornito la data ufficiale del ritorno di Fear the Waliking Dead, decide di pubblicare un nuovo trailer per The Terror, una miniserie di 10 episodi del produttore Ridley Scott. In precedenza, AMC aveva lasciato trapelare un teaser e delle immagini a dicembre. Stiamo parlando di una Serie Tv basata sul romanzo di Dan Simmons. The Terror racconta la storia straziante della vera vita di John Franklin nel 1840. Nessuno sa esattamente cosa sia successo alla famosa spedizione persa.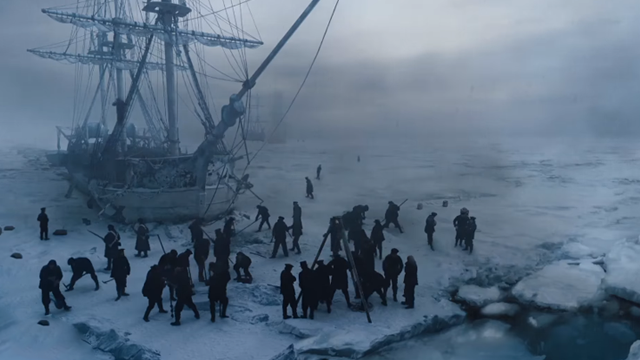 Il romanzo inizia con le navi di Franklin, HMS Erebus e HMS Terror, impantanate nel ghiaccio. Con le navi bloccate nell'Artico a migliaia di chilometri da casa, la storia diventa una straziante storia di sopravvivenza. Ma presto impariamo che l'equipaggio abbandonato ha altro di cui preoccuparsi. Qualcuno (o qualcosa) si annida là fuori sul ghiaccio. E sembra essere affamato. AMC ha rilasciato un nuovo trailer per The Terror, stuzzicando il mix di avventura artica del XIX secolo e un pizzico di horror. Il creatore della serie David Kajganich ha adattato il romanzo di Simmons. Ecco per voi il trailer di questa nuova Serie Tv:
Diamo anche un'occhiata ai protagonisti di The Terror: Ciaran Hinds nel ruolo del capitano John Franklin, leader della spedizione. La star di Mad Men Jared Harris interpreta Francis Crozier, che è il capitano della HMS Terror. Tobias Menzies interpreta James Fitzjames, skipper della HMS Erebus. Nive Nielsen interpreta il ruolo chiave di Lady Silence, una donna che ha uno strano legame con il misterioso avvenimento. Paul Ready, Adam Nagaitis, Edward Ashley, Matthew McNulty, Liam Garrigan e Ronan Raftery completano il cast.
Il romanzo altamente dettagliato di Simmons è stato trasformato in quella che sembra essere una serie molto bella. L'ambiente glaciale artico sembra davvero minaccioso e spaventoso. Il trailer imposta gli elementi di sopravvivenza della storia mentre l'orrore prende il sopravvento. Il mistero inizierà anche a pesare sulla sanità mentale degli uomini. Il modo in cui Simmons racconta tutto nel suo libro è davvero memorabile. Vedremo se Kajganich e il suo cast sapranno essere in grado di catturare il senso di questa avventura epica.
Lo sapremo il 26 marzo quando The Terror andrà in onda.