The Terror: una perla improvvisa nel mare sconfinato delle Serie Tv. Quantità e qualità alle stelle e per farsi notare allora ce ne vuole. The Terror ci riesce e non come ci si aspetterebbe: non con spettacolarità, trovate o gran chiasso. Ci riesce con il silenzio. Un insostenibile silenzio, una lentezza sconcertante degli avvenimenti, in cui tanti uomini vedono lentamente morire il loro sogno e nascere la follia. Tanto per citare La ballata del Vecchio Marinaio, di Coleridge:
"E qualcuno, nel sogno,  fu avvertito che uno  spirito ci perseguitava; questo la nostra nave avea seguito, a nove braccia di profondità, dalla terra di neve e di foschia"
Molto simile l'inizio di The Terror. La paura, sotto forma di apparizioni di spiriti, si manifesta per prima a un uomo morente di una malattia misteriosa in una visione. Ed ecco che da lì si scatena una serie di eventi nefasti che portano i marinai sull'orlo di un abisso. Queste sono alcune delle valide ragioni per cimentarsi nella visione di questa strana, tenebrosa e silenziosa Serie Tv:
1) Dan Simmons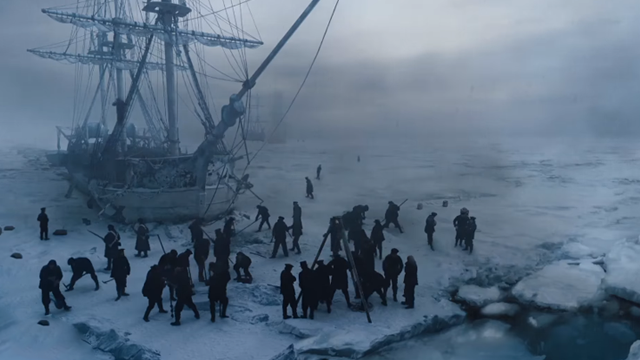 The Terror, trasmessa sul canale AMC dal 25 marzo 2018 e distribuita a livello internazionale da Amazon Prime Video, è tratta dal romanzo di Dan Simmons La scomparsa dell'Erebus, a sua volta ispirato a una storia vera. Ossia la reale scomparsa delle navi Erebus e Terror, in viaggio per l'artico in cerca di un passaggio sicuro alternativo per le Indie. Da lettore di Dan Simmons posso dare un consiglio: se non si è mai letto nulla di lui vale la pena di cominciare. La sua prosa è veloce e particolareggiata allo stesso tempo ed è un vero maestro nel mescolare i generi. Tra le sue opere più interessanti c'è la saga di I Canti di Hyperion, una space opera/fantasy e un paio di horror che tengono letteralmente attaccati alla pagina dall'inizio alla fine: I figli della notte e L'estate della paura.