The Punisher, nella sua storia letteraria e in quella cinematografico-televisiva, è nel mondo dei fumetti Marvel l'antieroe per eccellenza. La sua crudeltà, il movente personale e il voler eliminare per sempre i propri nemici lo rendono infatti un personaggio controverso e tendenzialmente discutibile; non a caso egli si scontrerà spesso con altri eroi che sono mossi da motivi più nobili dei suoi.
Nelle Serie Tv, Frank Castle è un veterano dell'Afghanistan a cui viene sterminata la famiglia da parte di personaggi altolocati e corrotti: egli decide di impiegare la sua vita a uccidere tutti i responsabili e a fermare tutti i traffici illegali da cui questi soggetti traggono vantaggi; è in quest'ultimo modo che viene a contatto con Daredevil nella seconda stagione dedicata a Matt Murdock, fornendoci uno spunto per questa riflessione: quali sono i limiti dei vigilanti? È necessario, al proposito, partire dal concetto di antieroe per poi capire come il vigilante si inserisce in una società civile, ammesso che possa farlo.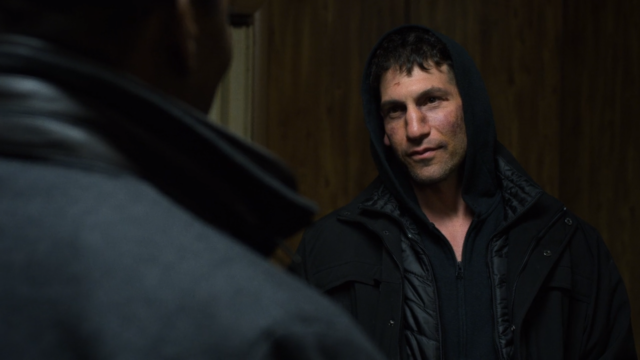 Nella narrativa mondiale, l'antieroe è un personaggio solitamente protagonista che manca di alcune principali caratteristiche dell'eroe, quali l'altruismo, la nobiltà d'animo o la bontà; la particolarità di questo genere di protagonista è quella di riuscire ad attirare spesso la simpatia del lettore/spettatore per due motivi: parziale immedesimazione, in quanto spesso i motivi che spingono l'antieroe a comportarsi in un determinato modo svelano le debolezze che chiunque potrebbe avere; distinzione dal cattivo, visto che quest'ultimo viene combattuto dall'antieroe ed è privo di motivi per commettere del male.
In questo senso ci è abbastanza chiaro perché The Punisher sia una serie su un antieroe: Frank infatti uccide i suoi nemici, già questo basta a identificarlo come un soggetto diverso da altri supereroi; inoltre, lo fa per un motivo personale, non perché voglia nobilmente risolvere i problemi del mondo.
Utile, dunque, considerare il comportamento degli altri supereroi nei film a loro dedicati negli ultimi anni: c'è quasi sempre una tendenza a fermare i nemici, a non ucciderli e, se questo deve avvenire, succede in un modo che non urti la sensibilità dello spettatore o l'idea che quest'ultimo ha del suo eroe. Non potremmo mai immaginare, infatti, Captain America che spara un colpo di pistola alla testa del Teschio Rosso; o Spiderman che uccide di botte l'Avvoltoio.
Un personaggio come Daredevil, inoltre, ha una posizione ben precisa sull'argomento: la matrice religiosa ha una forte influenza nel suo comportamento, che consiste nel non uccidere mai il proprio nemico. Non si è migliori dei cattivi se li si uccide esattamente come farebbero loro, questo è il suo mantra. Nella conversazione fra lui e The Punisher si tocca proprio questo tasto e Frank gli fa notare che per quanto nobili siano questi motivi, se non elimini i cattivi essi continueranno ad avere l'opportunità di rifare ciò che vogliono.
"Non spetta a noi decidere chi deve vivere e chi morire", questo il pensiero (cattolico) di Daredevil.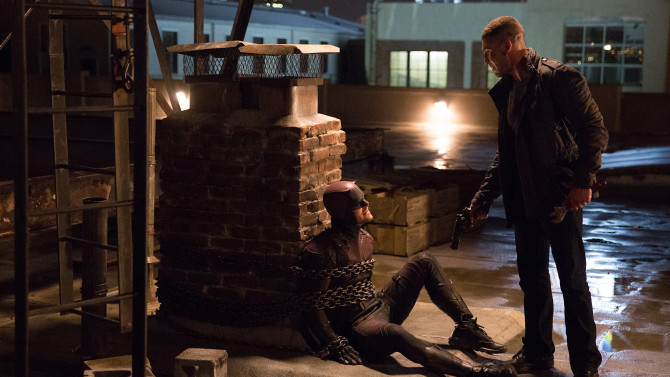 Nella Serie Tv a lui dedicata, in una puntata The Punisher si trova in una situazione in cui è costretto a comportarsi come fa Daredevil: non può uccidere i suoi nemici, quindi deve per forza combatterli senza eliminarli definitivamente. Il suo commento, che sottolinea quanto sia più difficile svolgere un lavoro del genere rispetto al solito, potrebbe forse nascondere una capacità di adattamento in futuro; del resto questa scena è quindi confrontabile con quella in cui, nella base in cui attende gli uomini di Billy Russo, compie una vera e propria strage, avendo la libertà di ucciderli. Proprio questo è il punto: Frank uccide i cattivi, ma il fatto stesso di ucciderli non lo mette in una posizione di sostituto della legge?
Un modo per rispondere agli interrogativi di questo articolo potrebbe essere affidarsi alle ideologie; ma è evidente che si rischia di non riuscire a trovare comunque una soluzione. Vediamola allora da un punto di vista più tecnico: l'esistenza dei vigilanti, nella rappresentazione che queste Serie Tv vogliono dare della società civile, non può essere in ogni caso accettata.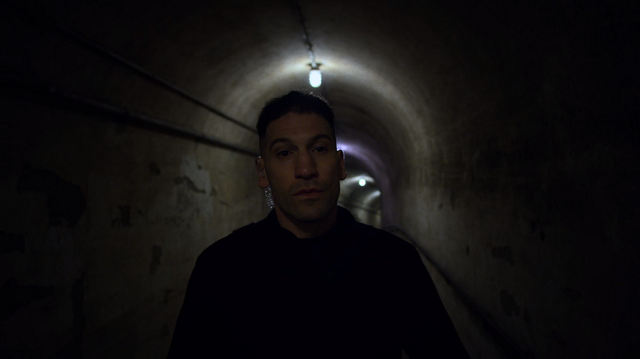 Infatti, il sistema giuridico di un Paese non può basarsi sull'etica individuale di un soggetto, che in un caso può decidere che l'omicidio sia opportuno, in altri casi no. Per quanto affascinante, dunque, il vigilante (e fra questi, in particolare, l'antieroe) non può esistere nella nostra società. È giusto invece che esistano nella fantasia, perché questa può servire, almeno a livello di princìpi, a ispirare verso il bene e verso le buone azioni.