Daredevil diviso tra bene e male, fra passato e presente, tra amicizia e amore, tra amici e nemici: questa è la seconda stagione dedicata al Diavolo.
La seconda stagione di Daredevil si è presentata con aspettative altissime, vista e considerata la grande qualità della prima stagione. Aspettative che, possiamo dirlo senza timore di smentita, non sono state disattese.
Le avventure dell'avvocato Matt Murdock, infatti, riempiono con grande ritmo e grande intensità le 13 puntate che compongono la stagione, rendendola qualitativamente alla pari di quella precedente.
La serie, di produzione Netflix, non ha paura di introdurre nuovi cattivi in qualche modo legati a quelli precedenti, e non teme assolutamente il rischio di rallentamento della storia andando a scavare nel passato del personaggio; anzi, riesce a trovare un equilibrio che per lunghi tratti ruota attorno alla domanda, già immaginabile ma celata nella prima stagione: è giusto o è sbagliato uccidere i cattivi?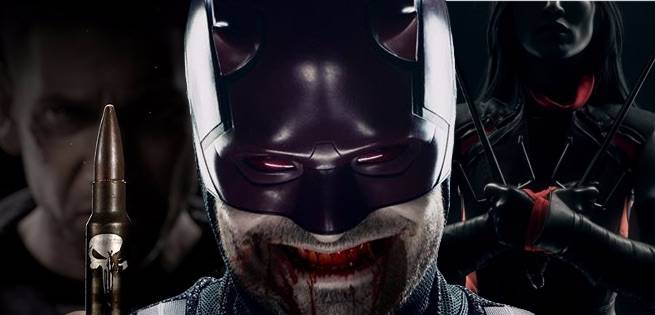 L'importanza della fede cristiana cattolica nel protagonista era rilevante fin dalla prima stagione, in quanto Murdock spesso trovava conforto nel confessarsi con un prete dopo aver picchiato pesantemente i malviventi.
Ora, nella seconda stagione, tutti lo conoscono paradossalmente come "il Diavolo di Hell's Kitchen", proprio per il terrore e l'imprevedibilità che trasmette ai suoi nemici.
Ma la storia di questa stagione sconvolge le carte in tavola, introducendo un personaggio che va a toccare delle corde molto delicate nelle coscienze delle persone, e soprattutto in quella di Daredevil: The Punisher.
Costui, oltre ad essere uno dei personaggi meglio scritti della serie (eccezionale è l'analisi del suo passato), è per il protagonista una vera spina nel fianco: infatti, a causa della tragedia che ha colpito la sua famiglia, The Punisher svolge in pratica lo stesso compito di Daredevil ma, invece di risparmiare la vita ai suoi nemici, li uccide senza problemi.
La domanda inevitabile è dunque:
se per fare giustizia uccidi i tuoi nemici,
cosa ti rende migliore di loro?
Il Punitore risponde che quello che fa Daredevil non li ferma del tutto: in un modo o nell'altro torneranno a commettere crimini, uccidendoli invece spariranno per sempre.
Il punto è quindi che i metodi di Murdock sono inefficaci: lui, avvocato, è un vigilante di notte proprio perchè conosce i limiti della giustizia, ma non ha la voglia e il coraggio di togliere la vita ad un altro essere umano, e la fede qui ha una grande rilevanza.
Compito di Daredevil è dimostrare che i suoi metodi funzionano e ben presto nascerà con The Punisher una grande intesa. Ma costui non è l'unico a porre domande etico-sociali in questa stagione: anche l'ex del protagonista, Elektra, insieme al loro mentore, Stik, hanno bene in mente l'idea che il nemico vada ucciso, e questo è uno dei motivi per cui Murdock si è allontanato da loro.
Questa stagione, tuttavia, se ha come cuore proprio la battaglia ideologica tra Daredevil e The Punisher (senza però dimenticare il ruolo di Elektra), proprio attraverso questo grande interrogativo evidenzia un vuoto notevole legato proprio all'antagonista: non c'è un vero cattivo, come era Wilson Fisk nella prima stagione.
Questo è anche il motivo per cui Daredevil riesce a dimostrare che i suoi metodi funzionano: il finale lo sottolinea, come però dimostra che l'unico modo per sconfiggere qualcuno che per eliminarti ti ucciderebbe è usare i suoi stessi mezzi.
Un cenno merita anche l'indagine nel passato del protagonista (soprattutto per come viene raccontata l'origine del suo rapporto con Elektra, e la purezza di Murdock rispetto alla perfida ragazza) e il rapporto di quest'ultimo con il migliore amico, Foggy, nuovamente in discussione a causa della doppia vita di Matt.
Da un punto di vista prettamente tecnico, tutto funziona come aveva funzionato nella prima stagione: le musiche sono come sempre appropriate alla scena, in particolare a quelle d'azione con cui si sposano alla perfezione; da ciò ne deriva che il ritmo è ben sostenuto quasi sempre, e sono a dir poco inesistenti i momenti di flessione o di lentezza narrativa.
Infine, il fiore all'occhiello rimangono le sequenze di combattimento: perfette, rapide, coinvolgenti; c'è al proposito da segnalare un piano sequenza mascherato (nel senso che tecnicamente avviene un cut, ma è impercettibile), nel combattimento nel palazzo in cui il protagonista viene catturato da The Punisher.
Le conclusioni che si possono trarre sono estremamente positive: come sottolineato, la mancanza di un vero cattivo degno di quello della prima stagione viene compensata da una regia ottima e da una battaglia ideologica fortemente intrigante.
La commistione di riflessione e azione rappresenta dunque il passo in avanti fatto in questa stagione, una vera e propria ciliegina sulla torta nel panorama delle Serie Tv del genere.