The Handmaid's Tale è uno dei prodotti più sbalorditivi degli ultimi anni. In un tempo in cui tutto è già stata raccontato, questa serie tv ci colpisce con la sua tecnica, il cast, la fermezza e crudezza con cui affronta tematiche così delicate in un periodo politicamente e socialmente in fermento. È una delle distopie più ripugnanti che abbiamo visto e una delle più plausibili. Il sangue si raggela nel vedere i vari episodi, in un turbinio e crescendo di emozioni. Non è un caso che abbia vinto tutti quei premi.
La prima stagione era sconvolgente, la seconda un susseguirsi di torture e uccisioni con June alle prese con la gravidanza e i coniugi Waterford. Nella terza il tormento è più psicologico. La casa dei Waterford va in fiamme e questo permette lo sviluppo di una storia diversa: con Fred e Serena fuori dai giochi, June viene ricollocata presso i Lawrence. Mentre Gilead continua a mostrare il peggio di sé e il Canada non si rivela quella Terra Promessa tanto auspicata, appare la tanto attesa Resistenza con la rete delle Marte e la figura ambigua del Comandante Lawrence.
The Handmaid's Tale si rinnova sia nello stile che nella scrittura, in modo da non ripetersi noiosamente, in una stagione di rottura che mantiene alta la qualità dello show. Purtroppo però dobbiamo ammettere che non è tutto rose e fiori. Infatti la terza stagione nasconde più di un difetto.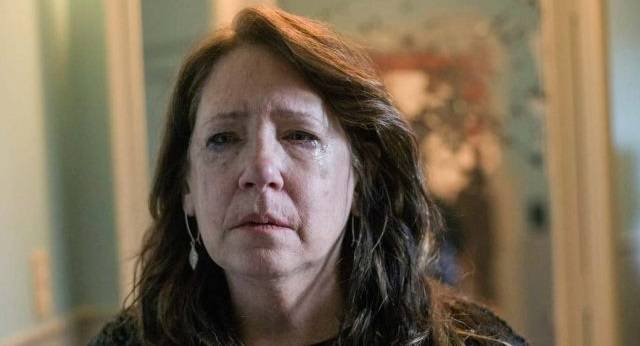 L'intreccio è sottile, complesso e meno ripetitivo rispetto alla stagione precedente. Non ci sono i molteplici tentativi di fuga e ritorni a casa Waterford, ma un percorso di alleanze e di conquiste inquadrate in uno scenario più ampio e internazionale. Nonostante questo, tredici episodi risultano essere troppi. Il ritmo di The Handmaid's Tale è lento, interiore e dilatato poiché racconta una prigionia in cui il tempo non scorre mai. Ma quello della terza stagione non è costante, né accettabile per così tante puntate che, spesso, risultano essere deludenti, fini a sé e dannose nei confronti dei personaggi stessi, soprattutto June.
Inoltre, aver atteso così tanto per mostrare allo spettatore un assaggio di ciò che era stato promesso non è stata una grande mossa e non ha fatto molto bene allo show.
Ci sono interi episodi in cui praticamente non succede niente: potevano tranquillamente essere evitati. Si tenta di smuovere il racconto mediante alcune canzoni che non sempre hanno esito positivo. Basta pensare a "Sunday Bloody Sunday" degli U2 che è stata inserita in un contesto che non ha niente a che fare con il significato più profondo della canzone, al contrario per esempio di "Heaven is a Place on Earth" trasformata in The Handmaid's Tale in un mantra.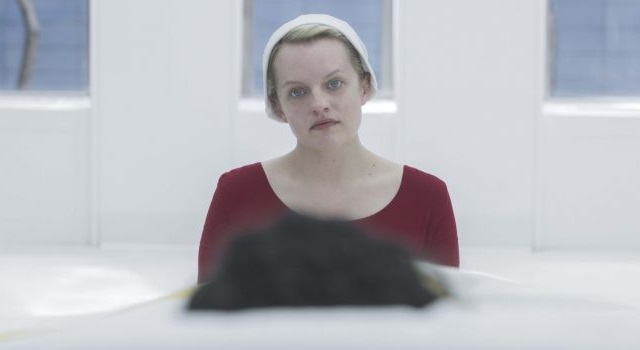 June – interpretata da una sempre straordinaria Elizabeth Moss – realizza il suo cambiamento definitivo, iniziato nel momento in cui ha vestito i panni di un'Ancella. Risorge ancora, dopo aver perso ogni speranza, stavolta come angelo salvatore. È pronta a fare ciò che è necessario per portare avanti la sua causa. La sua umanità viene meno ma è l'unico modo per sopravvivere e riuscire nei suoi intenti a Gilead.
June è arrivata all'inferno ed esso l'ha marchiata in maniera indelebile.
Una trasformazione lenta, sottile ma in qualche modo inconcludente. Nell'ultima puntata capisce di aver sorpassato un limite morale quando punta la pistola contro una bambina di dieci anni. La consapevolezza acquisita non la redime, e la volontà di tornare a essere l'eroina della situazione forse non rende giustizia alle vittime delle sue azioni. Il ritorno alla normalità lo accettiamo in nome di una narrazione più ampia, ma troppo lunga è stata la sua caduta e troppo veloce la risalita perché risulti credibile e digeribile per i fan.
Questa è una delle cose che sarebbero potenzialmente sensate ma sono troppo affrettate e non assumono la forma dovuta. Altri esempi sono l'inaspettato utilizzo della seconda Marta in casa Lawrence nel finale di stagione, oppure il modo confuso di terminare il piano: era necessario un camion ma poi si scopre che l'aeroporto non è distante e che ci si può andare a piedi. Nessuno si era posto prima questo quesito?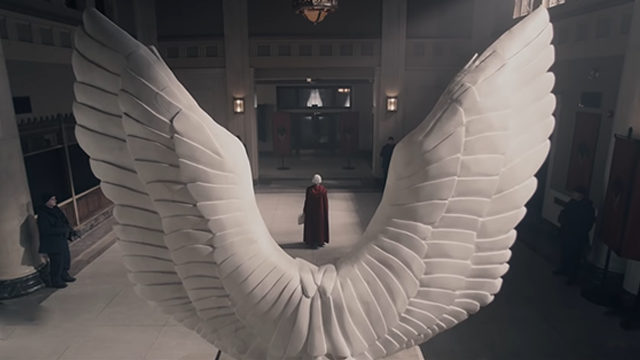 Infine manca quell'approfondimento dei personaggi secondari tipico della serie tv. Essi appaiono per pochi episodi, per pochi minuti, e poi spariscono. A Zia Lydia viene dedicato un episodio esplorativo del suo passato. Capiamo perché sia diventata così e la banalità del male si svela di fronte ai nostri occhi. Proprio per questo però non è avvincente quanto ci immaginavamo, nonostante la grandissima prova attoriale di Ann Dowd. Un discorso simile si può fare per Emily. In una puntata si analizza come la ragazza si riprende dal suo trauma e come cerca di riallacciare i rapporti con l'ex compagna. L'episodio è importante ma non c'era la necessità di mandarlo in onda in quel punto della storia, poiché Emily praticamente non si vedrà più.
E poi abbiamo la sparizione di Nick. È vero che, per come la storia è stata indirizzata, Nick non ha più un'utilità ma forse la scusa del fronte è banale e affrettata. In più ci hanno lasciato con la rivelazione di un Nick che crede in Gilead senza un reale confronto con June.
In conclusione questa stagione di The Handmaid's Tale presenta diverse cose che nella quarta dovranno essere sistemate: l'attenzione al dettaglio è stata come sempre centralissima, ma vanno limati determinati limiti che sono venuti in evidenza. Il tempo per rimediare non manca, e nella prossima stagione The Handmaid's Tale sarà chiamata alla prova del nove per consacrarsi definitivamente come uno dei prodotti migliori degli ultimi tempi.