Attenzione: l'articolo contiene spoiler sulla 3×09 di The Handmaid's Tale
Si arriva a perdere tutto. Il passato, la storia, la libertà, l'umanità.
Ci si sente costretti a combattere contro chiunque. E il più delle volte non si vince. Si arriva a perdere tutto, e quando accade, non ci si riconosce più.
Si dice in questi casi di pensare a qualcosa di bello, qualcosa che riesca a sostituire la realtà, la sofferenza del presente. Ma a Gilead siamo sempre al punto di partenza, non si spera in nulla di meglio, non si può desiderare qualcosa che non si vede, che è troppo lontano.
Non resta che ritagliarsi un piccolo spazio, quello in cui loro non possono entrare, un luogo protetto in cui sentirsi al sicuro. Un paradiso di pensieri che nessuno può sentire, a cui nessuno può avvicinarsi. D'improvviso questa è l'unica cosa che conta, anche se bisogna arrendersi alla follia.
Heaven Is a Place on Earth è manifesto di devozione, rivoluzione e nevrosi. Il nono episodio della terza stagione di The Handmaid's Tale è il crollo inevitabile della protagonista e di chi la ascolta pensare.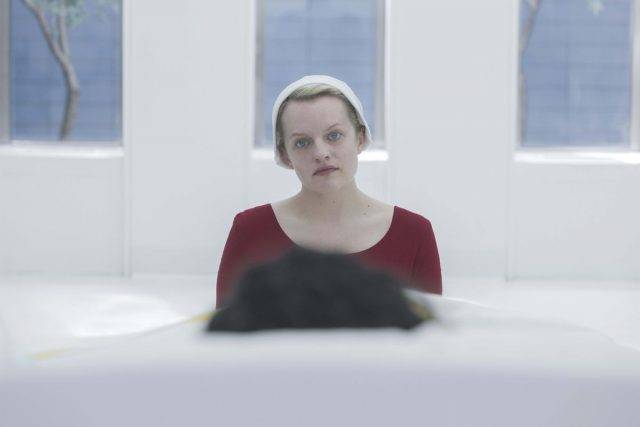 Non poteva essere altrimenti, sopravvivere a Gilead significa distruggersi pian piano, diventare vittime consapevoli di un sistema che non lascia spazio.
E così l'inferno diventa per un attimo paradiso. Qualcosa che in questo sistema sbagliato protegge dal crollo fisico. June si aggrappa a quei primi versi come fossero un mantra per evitare che tutto attorno a lei perda di senso.
Ooh, baby, do you know what that's worth?
Ooh, heaven is a place on earth
D'un tratto tutto quello per cui ha combattuto diventa vano perché di fronte alla crudeltà non ci si abitua mai. June prega il contrario di ciò che dovrebbe pregare e pensa ciò che non dovrebbe pensare. La ribellione che mette in campo stavolta è addirittura inconsapevole, perde anche l'ultima briciola di controllo che ha mantenuto per lungo tempo a Gilead.
They say in heaven love comes first
We'll make heaven a place on earth
Questo è l'unico modo per combattere l'odio ormai. Provare a mantenere l'umanità che si ha dentro e per farlo bisogna provare ad amare nonostante tutto. Bisogna amare persino chi prima si odiava, come Natalie. D'altronde anche lei ha subito e subisce ancora tutto il male di cui Gilead è capace. Non ha saputo contrastarlo rimanendo sé stessa, ha abbracciato l'odio e lo ha alimentato.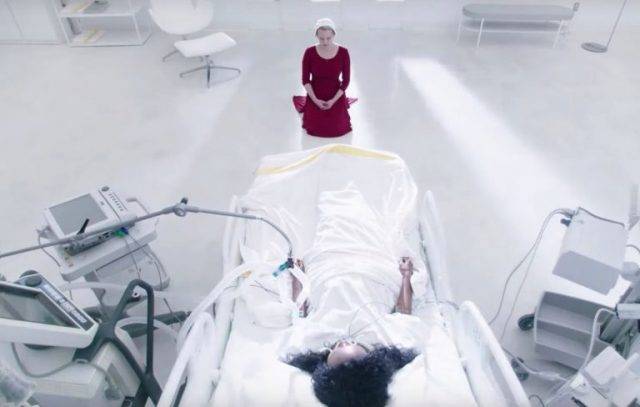 Ma in questo mondo sarebbe impossibile credere di poter fuggire. Devi saper far finta, Natalie non è riuscita a farlo ed è stata punita: da June, dalle ancelle e infine dallo stesso Gilead.
When the night falls down
I wait for you and you come around
Heaven Is a Place on Earth è quindi un messaggio che irrompe con dolcezza e spontaneità in un mondo che sembra non averne più. Come un ricordo che torna in mente per ridare speranza e desiderio. È simbolo del crollo emotivo di June e al contempo è teoria della vita. Significa non abbattersi di fronte alla distruzione, poter fare ancora qualcosa, magari tutto questo servirà per combattere con più dignità. Ogni sussurro, ogni volta che i primi versi del brano vengono cantati ci si concentra sugli occhi celesti di June.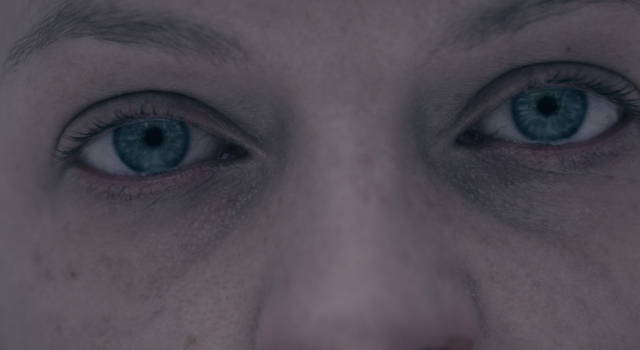 Il bianco delle pareti diventa sfondo del suo volto, fa risaltare ogni segno di stanchezza e la canzone sembra attaccarsi indelebilmente a quelle pareti asettiche per ridare indietro ogni nota pian piano che la follia aumenta.
Anche quando ferisce Serena dopo averla scelta tra tanti con una filastrocca. Nel momento più alto della sua confusione, quella canzone risuona come una melodia costante che solleva la protagonista dalle sue azioni.
Come il medico che cura Natalie e poi June, mostrando dolcezza e comprensione, così anche la stessa June nel suo crollo dimostra vicinanza e devozione di fronte a Natalie.
Il senso di questa puntata è racchiuso quasi completamente negli occhi e nelle occhiaie di June. Il suo isolamento riesce a devastarla come non ci era riuscito nulla prima. E questo sarà solo l'inizio di una nuova rivoluzione, questa volta più grande, più determinata.