Elaborare il finale della terza stagione di The Handmaid's Tale non è semplice. Una stagione che si è distinta per aver mescolato alla perfezione riflessività, il marchio distintivo della serie, con azione e suspense, è arrivata alla fine con il botto.
Il piano di June, nonostante i mille intoppi e imprevisti dell'ultimo minuto, è riuscito. I bambini sono saliti su quell'aereo, hanno oltrepassato il confine e sono arrivati sani e salvi in Canada. Ora potranno fare della loro vita quello che vogliono, vestirsi come gli pare, come suggerisce una delle battute più commoventi della puntata. Tra di loro però non c'è Hannah, la figlia di June. Per l'ennesima volta l'eroica ancella deve rinunciare a salvare la sua bambina, trasferita chissà dove dopo che la sua Marta aveva provato a rapirla.
June ancora una volta si trova a un passo dalla salvezza e decide di voltarsi indietro. Di oltrepassare quella linea che divide l'ingiustizia dal diritto, l'orrore dalla vita normale. La quarta stagione di The Handmaid's Tale, come previsto, ci mostrerà di nuovo una June alla ricerca disperata della figlia. Ma può funzionare ancora dopo che questo espediente aveva tenuto gli spettatori incollati allo schermo durante la terza stagione?
Noi crediamo di sì. Anche perché, in realtà, lo scopo della terza stagione di The Handmaid's Tale non è ma stato unicamente quello di ricongiungere madre e figlia. Lo scopo si era rivelato forse un po' tardi, durante la magnifica nona puntata, ed era quello di salvare quanti più innocenti possibile. Bambini, soprattutto bambine, sottoposte alla sorte peggiore a Gilead, ma anche Marte, che sarebbero state condannate a morte certa.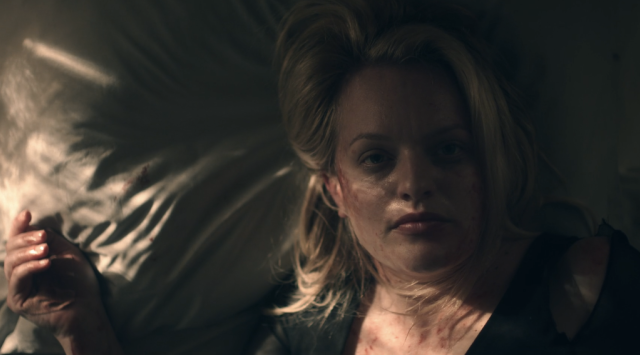 La vicenda della piccola Nichole, che ha tenuto banco per la prima parte della stagione, ci serve per scardinare gli ultimi residui di umanità di uno dei personaggi meglio rappresentati da The Handmaid's Tale, Serena Joy. Ma centrale, in questa serie, sarà sempre il bene di tutti, non del singolo, soprattutto quando passa per le mani di colei che in questa stagione si è dimostrata la vera eroina. June Osborne, l'ancella dalla volontà di ferro che ha saputo piegare a sé comandanti, Marte e altre Ancelle, riuscendo in un piano che a tutti sembrava folle e suicida. Ma ora lei è là, ferita e vulnerabile. E anche le sue amiche ancelle sono là, rimaste a coprire la fuga degli innocenti.
Dunque, cosa potrebbe capitare nella quarta stagione di The Handmaid's Tale alla nostra eroina?
Quello che noi speriamo vivamente è che non ci sia semplicemente un ritorno alla situazione ormai già vista altre due volte, nelle precedenti fughe organizzate da June. Ovvero una punizione "blanda" per l'ancella ribelle e un suo ricollocamento presso un nuovo Comandante. Ma su questo ci sentiamo piuttosto sicuri per due ragioni: non solo questa soluzione è già stata ampiamente usata dagli sceneggiatori, ma a maggior ragione in questa occasione non si potrebbe adoperare perché a essere coinvolta non è solo June.
C'è il comandante Lawrence dietro di lei, ci sono altre sei ancelle tra cui Janine, già coinvolta in numerosi scandali, ci sono le Marte dei bambini fuggiti, non tutte sono salite su quell'aereo. C'è tutto un apparato organizzativo dietro la fuga che Gilead non potrà certo ignorare. Dunque ci aspettiamo una repressione sanguinosa e spietata, in puro stile distopico. Sicuramente Lawrence verrà giustiziato, probabilmente servendosi di questa occasione per manifestare il suo aristocratico disprezzo verso il regime e riabilitandosi agli occhi dei ribelli. Sicuramente molte Marte lo seguiranno sul muro, insieme a un buon numero di ancelle.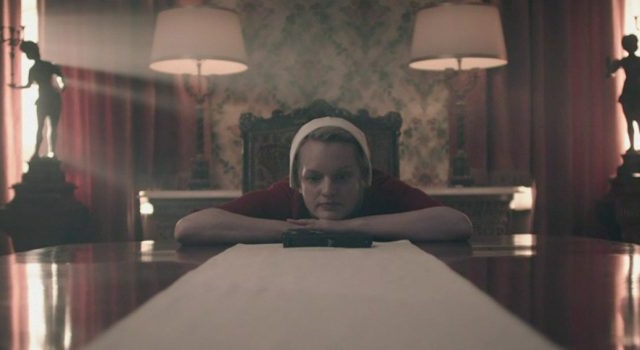 E qui il grande interrogativo sul futuro di June aleggia sulle nostre teste. Che ne faranno di questa ancella incorreggibile? Ammettiamo che il regime non voglia liberarsi di lei in quanto donna fertile e quindi ancora sfruttabile. L'unica soluzione per impiegarla in maniera utile, punendola allo stesso tempo, sarebbe mandarla alle Colonie. Ma questa scelta aprirebbe un capitolo completamente nuovo e inesplorato in The Handmaid's Tale. Abbiamo visto cosa succede nelle Colonie, attraverso Emily, ma il problema di questa scelta narrativa è che non presenta molti sbocchi futuri in quanto taglia fuori i personaggi dal centro dell'azione.
Quindi un'altra possibile soluzione sarebbe continuare a sfruttarla come ancella, dopo averle dato una punizione esemplare. Possiamo solo immaginare cosa voglia dire questa parola in un regime come Gilead. Punizione che, tra l'altro, subirebbero anche le sue compagne, quelle sfuggite dall'impiccagione per direttissima. Cucirle la bocca potrebbe essere un'idea per ristabilire le gerarchie, senza impattare tra l'altro sulla storia: oltre a non essere una soluzione definitiva, chi ama The Handmaid's Tale sa che la trama spesso si regge sui pensieri di June, più che sulle sue parole.
Ovviamente bisognerebbe trovarle un altro comandante, di certo non un personaggio manipolabile come Lawrence. L'introduzione di un nuovo villain potrebbe risultare però ripetitiva, il che ci conduce all'ultima ipotesi. June potrebbe terminare la sua carriera come ancella, per cominciare a prostituirsi a Gestebele. Dopotutto, è lì che Gilead manda le indesiderate, le non-donne ancora capaci però di soddisfare gli uomini. Questa prospettiva la vedrebbe ancora dentro il perimetro dell'arena, seppur in una zona liminale in cui, essendole interdetti i contatti con le ancelle, dovrebbe contare su personaggi nuovi per continuare a complottare.
Quello che è certo è che June non smetterà mai di lottare. Si è spinta troppo oltre per tornare indietro e non esisterebbe The Handmaid's Tale senza di lei. Quindi dovrà per forza sopravvivere, fino alla fine. E se è vero quello che anticipano gli sceneggiatori, ovvero che nella quarta stagione "si scatenerà l'inferno", non abbiamo ancora visto niente. Ma non solo da Gilead. Soprattutto da lei.
Leggi anche – The Handmaid's Tale, recensione 3×13