Due vicende molto diverse tra loro, che eppure hanno in comune più di quanto possa sembrare. The Handmaid's Tale e Alias Grace, infatti, sono entrambe ispirate agli omonimi romanzi della scrittrice canadese Margaret Atwood, nota portavoce dei diritti umani, e in particolar modo di quelli femminili. Proprio sulla scia di questa prospettiva umanitaria, le due serie tv e le rispettive protagoniste, June e Grace, intendono lanciare un unico, potente messaggio. Non importa che si tratti del 1800 o di un inquietante futuro distopico, alcune voci chiederanno sempre di farsi sentire.
The Handmaid's Tale apre la finestra su un possibile futuro in cui i diritti delle donne sono stati cancellati. Alias ​​Grace ci mostra com'era prima che le donne avessero tali diritti.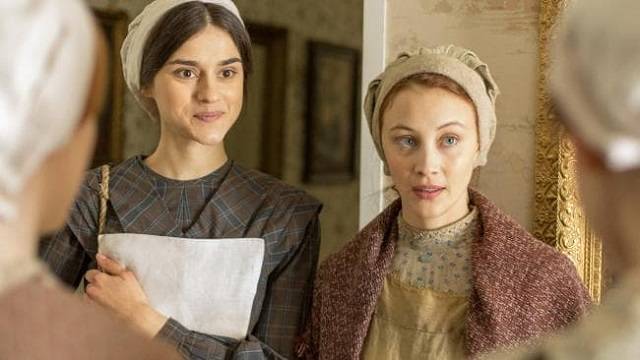 Questa è stata la dichiarazione fatta al New York Times da Noreen Halpern, lo showrunner dell'adattamento televisivo firmato Netflix. Egli sostiene infatti che uno sguardo sia al passato che al futuro sia estremamente importante, soprattutto in un momento storico in cui i diritti di molti sono messi a rischio. Il riferimento al difficile momento attraversato dagli Stati Uniti in seguito alle elezioni presidenziali del 2016, anno precedente all'esordio delle due serie, è palese.
Da Alias Grace a The Handmaid's Tale: una linea del tempo al femminile
A distanza di due anni dalla distribuzione di The Handmaid's Tale, tutti conoscono la tragica distopia che racconta la storia di June, o Difred (Elisabeth Moss), e della sua rivoluzione silenziosa all'interno del regime di Gilead. Alias Grace, invece, pur non passando totalmente inosservata, è rimasta un po' oscurata dal meritato successo dell'altra serie. Vale dunque la pena di riesumarla, scoprendo un quadro di insieme ben più ampio di quanto ci si potrebbe aspettare.
L'Altra Grace di Sarah Polley si basa sull'omonima novella del 1996, e racconta la storia di una giovane irlandese, interpretata da Sarah Gadon, condannata per aver ucciso il suo datore di lavoro nel 1843 (in questo articolo potete trovare un dettagliato identikit della nostra assassina innocente). In veste di narratore c'è lo psichiatra Simon Jordan (Edward Holcroft), il quale, assunto per verificare lo stato di salute mentale di Grace, si lascia completamente assorbire dal caso della ragazza. La serie incute un senso di terrore per la sua intera durata, con atmosfere quasi da film horror, ma senza mai distogliere il focus dalla trama, basata su una storia vera e proprio per questa ragione addirittura più angosciante.
Se nella serie vincitrice dell'Emmy Award le donne sono sottomesse a un regime patriarcale, violentate e sottoposte a torture istituzionali, in Alias Grace queste stesse donne non hanno la possibilità di votare, divorziare o possedere alcunché, poiché la maggior parte di questi diritti verranno affermati nella seconda metà del XIX secolo.
Anche Grace vive dunque in un contesto di soprusi continui: cresce sotto la "tutela" di un padre alcolizzato e violento, per poi passare nelle mani dei dottori del manicomio e delle guardie della prigione in cui viene rinchiusa.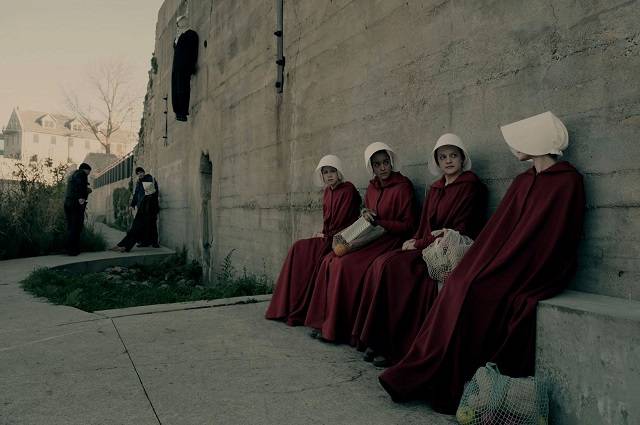 Le due vicende, ambientate in epoche così diverse, si rivelano incredibilmente attuali.
I temi trattati in entrambe ci toccano da vicino, creando una linea del tempo che va dal 1800 fino a un'epoca indefinibile, passando proprio per il nostro incerto e traballante presente. Dalla questione dell'aborto, illegale per il contesto storico di Grace e addirittura inimmaginabile nel regime fondamentalista di June, all'estremismo religioso e alla guerra di classe, le serie tv riprendono delle problematiche reali, ricordandoci che la paura e la discriminazione sono tangibili e mai da sottovalutare.
Il passato può sempre tornare
I due adattamenti si assomigliano anche dal punto di vista stilistico. La maggior parte delle riprese sono caratterizzate da una luce statica, pallida e polverosa. Anche i berretti tipici dell'epoca utilizzati in Alias ​​Grace ricordano gli abiti iconici di The Handmaid's Tale (in cui il simbolismo ha sempre un ruolo centrale, come vi spieghiamo nel dettaglio in questo articolo). Inoltre, sia Grace Marks che June intervengono spesso nelle serie come voci fuori campo, aprendo la propria mente allo spettatore e dando così spazio a tutti i pensieri che non possono esternare nella loro realtà.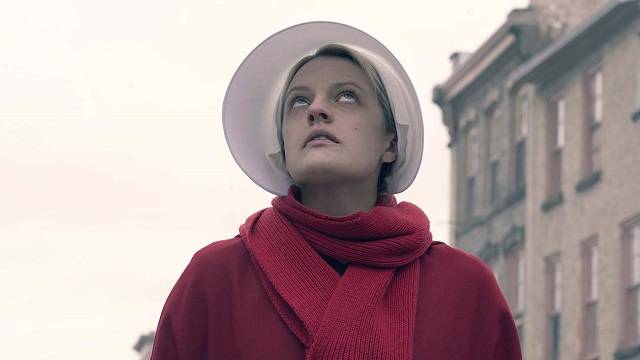 Se i nessi di Alias Grace con il mondo reale sono evidenti, in quanto si tratta sostanzialmente di una ricostruzione storica, non si deve invece credere che The Handmaid's Tale si basi su un assoluto lavoro di fantasia: dopo il debutto sul piccolo schermo, Margaret Atwood ha voluto più volte sottolineare nelle sue interviste il fatto che ogni aspetto della cultura di Gilead è stato elaborato basandosi su episodi realmente accaduti nella storia, da qualche parte nel mondo.
Nei racconti dell'autrice non c'è nessun tipo di crimine "nuovo" all'essere umano, e ciò che avviene sulle pagine non è altro che lo specchio di ciò che l'uomo è già stato in grado di fare. Le sue opere, e di conseguenza i relativi adattamenti televisivi, si trasformano così in una sorta di promemoria per farci riflettere. La storia è il più grande ammonimento che possiamo ricevere, e il fatto che essa si ripeta o meno dipende solo da noi.