Ci siamo. La quarta stagione di una delle migliori serie tv dell'ultimo decennio è alle porte. The Handmaid's Tale 4 arriverà sui nostri schermi il 29 aprile (qui le ultime notizie), pronta come le stagioni precedenti, a disturbare le nostre coscienze in tutti i modi possibili. TimVision ci ha dato l'opportunità di guardare in anteprima i primi 4 episodi della nuova stagione. Inutile dire come le nostre impressioni siano ancora bloccate in fondo allo stomaco assieme all'ennesimo pugno che questa serie è riuscita a sferrarci. Se qualcuno ha ritenuto che la terza stagione fosse leggermente sottotono rispetto alle precedenti, sarà felice di ravvedersi con la quarta. Una stagione che ha deciso di rilanciare la posta in gioco alla massima potenza.
The Handmaid's Tale 4 non risparmia niente e nessuno. "Tutto regolare e niente di nuovo allora" penseranno i fan della serie, ormai più che abituati alle brutalità di Gilead.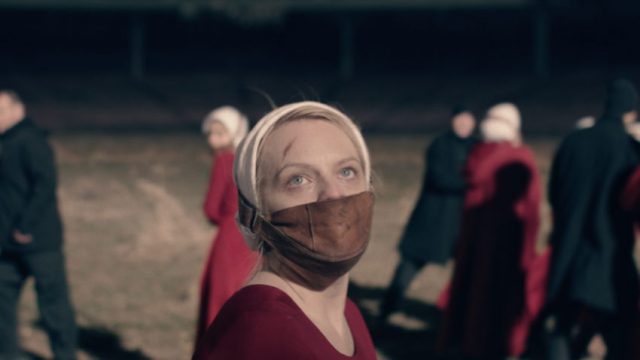 Eppure a una prima e attenta visione di The Handmaid's Tale 4, il quarto capitolo della serie ispirata al libro di Margaret Atwood, sembra aver spiccato il volo verso una frontiera di novità. E quasi tutte vi toglieranno il sonno. Già in passato ci siamo trovati a riconoscere l'incredibile capacità di questa serie di trovare sempre un nuovo modo di sconvolgere lo spettatore. Dopo tre stagioni sembrava ormai legittimo pensare che questa abilità fosse ormai in via d'esaurimento. Ma la visione di questi quattro episodi va di pari passo con la consapevolezza di aver atteso ben due anni per un'ottima ragione.
Perché The Handmaid's Tale 4 non porta semplicemente avanti una storia iniziata quattro anni fa, ma la rinnova con vigore. Nella cupezza intrinseca di una serie in cui sorridere è tanto raro quanto unico, si respira quasi una ventata di freschezza. La stessa che, almeno per adesso, ci fa sperare in una trama che ha saputo giocarsela bene, apportando alla serie elementi nuovi senza tuttavia snaturare un prodotto ormai consolidato. E sì, ancora una volta la serie targata Hulu ha saputo trovare nuovi espedienti narrativi per sconvolgere lo spettatore.
Al netto di alcune novità in The Handmaid's Tale 4 certo non mancano i pilastri della storica narrativa. Ancora una volta ci ritroviamo a gestire innumerevoli momenti di ansia e suspense da perdere il respiro.
Gilead, in fondo, è sempre la stessa se non peggio. Ora che è reduce dell'ultimo inaspettato attacco sferrato dall'offensiva di June nel finale della terza stagione (qui la nostra recensione). Abbiamo ancora a che fare con un regime in cui il "potere vale più di ogni altra cosa". Più di quegli stessi bambini la cui mancanza sembrava essere la piaga sociale che aveva condotto i vecchi Stati Uniti alla deriva del fanatismo religioso di Gilead.
Sotto attacco da più fronti il regime sembra ormai disposto veramente a tutto. Ora come non mai sembrerebbe disposto a sacrificare chiunque sull'altare della propria sopravvivenza, di un potere da preservare in un mondo che guarda sempre più con orrore alle dinamiche interne di un paese devastato. E in questo disperato tentativo di difesa da attacchi interni ed esterni, la guerra è permanente, il fanatismo si inasprisce e il prezzo da pagare per chi resiste diventa ancora più alto.
Lo diventa per il Mayday, movimento di resistenza interna. Per le Marte, per chi combatte al fronte, per le coraggiose ancelle che si ribellano alla brutalità dello stupro sistemico. Lo diventa dunque anche per June, viva come potrete immaginare, ma in modo diverso dal passato. The Handmaid's Tale 4 racconta quello che è ormai il cuore della rivoluzione iniziata pian piano nelle scorse stagioni. E le rivoluzioni, si sa, non sono mai semplici. Non lo sono per chi le subisce, e tanto meno per chi le combatte, che vive sulla propria pelle la dualità dei sentimenti.
Da una parte la paura costante di tutto ciò cui si va incontro combattendo. La repressione, il dolore e la violenza da subire in caso di cattura. E dall'altra il fuoco della rabbia, il desiderio di vendetta, la voglia senza fine di cambiare finalmente le cose, la stessa che porta a fare ciò che mai si sarebbe creduto. Nel mezzo, i rivoluzionari. Nel mezzo c'è June.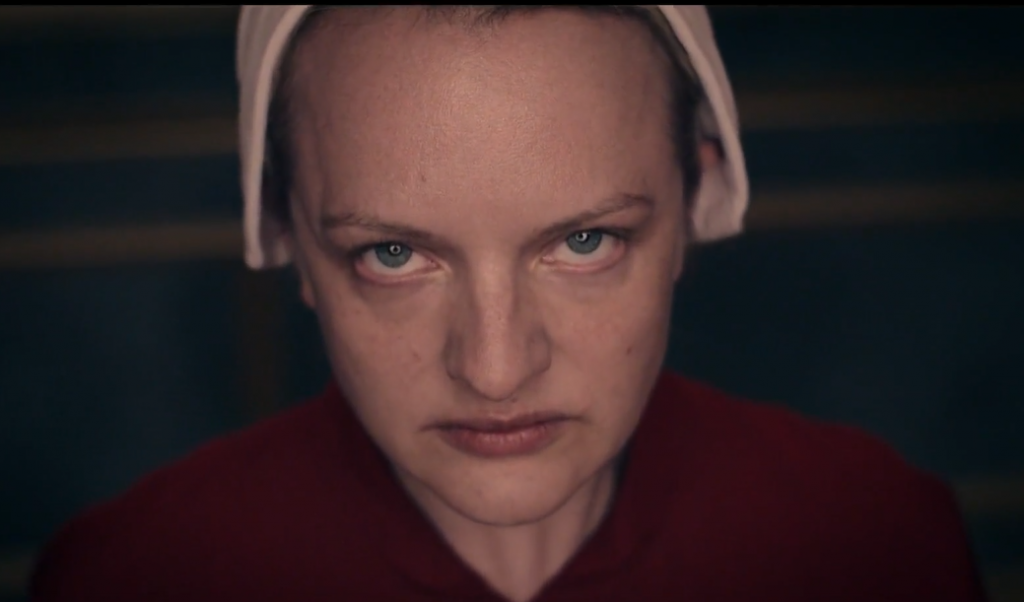 Ancora una volta ci troviamo a lodare la bravura senza fine di una Elizabeth Moss tanto convincente da sembrare ormai la stessa June Osborne che interpreta. Come se attrice e personaggio si fossero fuse assieme in un unico blocco emotivo. Mai come nei primi episodi di The Handmaid's Tale 4 il percorso di June appare altalenante e dinamico. Ad accompagnare performance impeccabile e ottima sceneggiatura, una scelta di musiche che ci porta su un'altalena di emozioni divergenti. Musiche tanto in contrasto col contesto raccontato da sembrare poesia.
The Handmaiàs Tale 4 ci regala finalmente qualche altro sorriso, come raramente la serie ci ha concesso. E al tempo stesso ci butta giù in fondo al burrone. Più e più volte. Ogni volta sarete portati a pensare "questo, questo è davvero il peggio che avrebbero potuto fare". Per poi dovervi ricredere. Ma la bellezza di questa quarta stagione è proprio la dinamicità aggiunta a una storia che si è mantenuta a lungo vagamente più statica.
In The Handmaid's Tale 4 ogni volta che vi sembrerà tutto finito, succederà qualcosa che rinnoverà la vostra speranza. Salvo vederla distrutta da nuovi episodi di brutalità che, per quanto attesi, riusciranno ancora una volta a farvi venire il magone. Non mancheranno colpi di scena dal sapone tutto nuovo. Sorprese come mai se n'erano viste nella serie. Nuovi approfondimenti di vecchi personaggi e diverse angolature di punti di vista che non avevamo ancora considerato. E ancora molto, molto di più.
The Handmaid's Tale 4 sembra andare per la tangente in più di un'occasione, portando in tavola spunti di riflessione su temi tremendamente attuali che, per quanto non nuovi alla serie, vengono affrontati con una nuova lente di ingrandimento.
A volte risulterà difficile comprendere cosa passi per la testa di alcuni personaggi. E altre volte invece sarete portati a mettervi nei panni di qualcuno per immaginare anche solo lontanamente come ci si possa sentire a vivere in una situazione così dannatamente lontana dalla nostra fortunata realtà. Se la pandemia vi ha messi a dura prova The Handmaid's Tale 4 è pronta a ricordarvi, ancora una volta, che può sempre andare peggio. Che dietro l'angolo c'è sempre il pericolo di una deriva sociale pronta a scattare da un momento all'altro.
Dunque tenetevi pronti, perché sta per tornare la vostra dose settimanale di irrinunciabile paranoia. Più vigorosa di prima, più dolorosa che mai.