In attesa di capire se la dodicesima sarà davvero l'ultima stagione, che ne dite di un ripassino veloce veloce dei principali eventi avvenuti finora in The Big Bang Theory? Ci vorrà solo un minuto e mezzo, promesso. Indossate pure la vostra t-shirt di Flash e… partiamo!

Attenzione: evitate la lettura se non volete imbattervi in spoiler su The Big Bang Theory
Leonard e Sheldon fanno la conoscenza della nuova dirimpettaia, la bionda e spigliata Penny. Leonard, classico nerd timido e impacciato, se ne invaghisce mentre a Sheldon, scienziato geniale ma totalmente fuori dal mondo, interessa solo la fisica. La prima stagione si fonda sul tira e molla tra Penny e Leonard, sull'approfondimento delle stranezze di Sheldon e sulla conoscenza degli altri amici, Howard e Raj, anche loro scienziati e nerd fino al midollo.
Nella seconda stagione Leonard e Penny provano a stare insieme, ma tra i due non funziona perchè, udite udite, non si sentono l'una all'altezza dell'altro.
Terza stagione: i due piccioncini continuano la loro relazione altalenante; Sheldon conosce Amy Farrah Fowler e Penny presenta ad Howard la sua amica Bernadette.
Nella quarta si balla in coppia: Sheldon sta con Amy, Howard con Bernadette, Leonard (a sorpresa) con Priya, sorella di Raj, e quest'ultimo finisce (sorpresa sorpresa) a letto con Penny.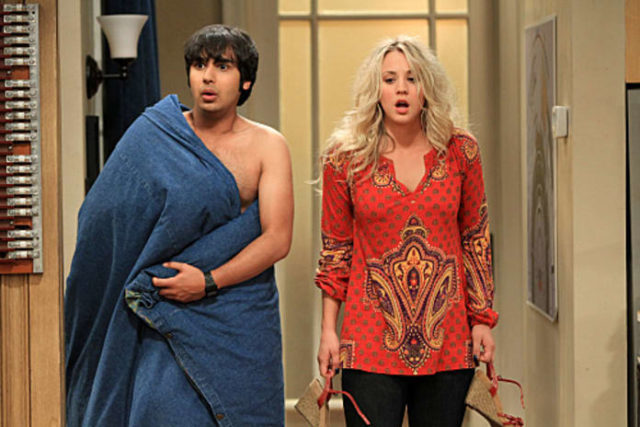 Quinta stagione: Howard si sposa con Bernadette e poi va nello Spazio. Leonard rompe con Priya e torna con Penny. Di nuovo.
Sesta: nulla da segnalare, tutto vecchio. Ah già, Raj impara a parlare da sobrio alle donne.
Settima stagione: Penny accetta la 2537° proposta di matrimonio di Leonard. Viva gli sposi!
Ottava: muore la signora Wolowitz, madre di Howard, ma il vero colpo di scena è Amy che rompe con Sheldon.
Nona: Leonard e Penny si sposano, ma tutto ormai ruota intorno a Sheldon che, riconquistata Amy, arriva a copulare con lei per la prima volta.
Decima: Howard e Bernadette hanno una figlia, Halley, mentre Sheldon ed Amy convivono nell'appartamento di Penny, passata a sua volta in quello di Leonard. Finale di stagione con proposta di matrimonio di Sheldon ad Amy.
Ultima stagione: Sheldon ed Amy convolano a nozze mentre Howard e Berny hanno un altro figlio, Neil Micheal. Eeeee, stop!
That's all folks, arrivederci alla prossima stagione!