In questi giorni una brutta notizia ha sconvolto i fan di The Big Bang Theory: la comedy è stata cancellata. Si concluderà con la dodicesima stagione.
Questa notizia ha in realtà diviso il pubblico. C'è chi crede che la cancellazione sia prematura e chi invece è convinto che The Big Bang Theory era destinata a concludersi da tempo. Contenti oppure no, una cosa è certa: la serie avrà sempre un ruolo speciale tra le comedy.
Anche il cast, proprio come i fan, ha reagito alla conclusione di The Big Bang Theory. Ecco le dolci parole spese per omaggiare questa serie!
KALEY CUOCO (PENNY)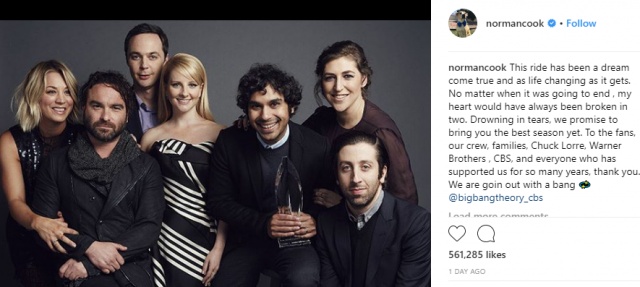 Questo viaggio è stato un sogno diventato realtà e mi ha cambiato la vita. Non importa quando sarebbe finito: il mio cuore si sarebbe comunque spezzato in due. In lacrime, promettiamo di regalarvi la miglior stagione di sempre. Ai fan, alla crew, alle famiglie, a Chuck Lorre, alla Warner Bros., alla CBS e a tutti quelli che ci hanno supportato per anni: grazie. Ce ne andremo con un'esplosione.