# #
The Big Bang Theory è una Serie Tv comedy divertente e sempre ricca di gag simpatiche. Talvolta però il confine tra divertente e grottesco è molto sottile. In alcuni episodi gli autori hanno davvero esagerato caricando i personaggi di Howard e Sheldon di caratteristiche assurde e ne sono venuti fuori degli episodi davvero inquietanti. Simpaticamente inquietanti.
# #
Vediamo quali sono gli episodi di The Big Bang Theory che potremmo definire inquietanti!Ecco Max Black è davanti a noi. Cosa le domanderemmo? 
1) The Hot Troll Deviation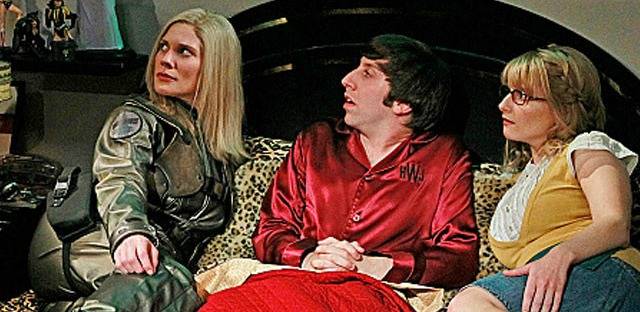 Questo è uno degli episodi che presenta più guest star, ma è anche uno dei più inquietanti! Howard ha conosciuto Bernadette e vorrebbe continuare a vederla, ma lei lo ha lasciato perché lo ha scoperto a fare del cybersex con un altro utente di World of Warcraft. Lui vorrebbe riconquistarla, ma ha paura che frequentandola sarà deluso da lei. Del resto Howard non ha mai avuto una relazione seria ed ha vissuto solo di fantasie… e sono proprio queste a diventare inquietanti!
# #
Comincia ad immaginare la stella di Battlestar Galactica, Katee Sackhoff, nella sua vasca e nel suo letto. Anche Bernadette però gli appare e lui non sa chi scegliere. Quando al triangolo amoroso si aggiunge anche George Takei, che comincia a provarci con lui, il sogno erotico diventa un divertente e terribile incubo! Comunque sono loro a convincerlo a dare una chance a Bernadette ed a cominciare a vivere davvero! Un tempo Howard era davvero inquietante!