Pasadena, 2007. Due ragazzi intelligenti lavorano all'Università, uno è un fisico teorico, l'altro un fisico sperimentale. Sono patiti di fumetti, fantascienza e videogiochi e molto poco abili nei rapporti umani. Un giorno incontrano la nuova dirimpettaia, una procace bionda allegra e svampita, niente di più lontano dal loro mondo. Sarà il fuocherello che incendierà le loro semplici vite, cambiandole per sempre.
Questo è The Big Bang Theory.
Bastano poche righe per capire che è la descrizione della puntata pilota, in cui abbiamo appena conosciuto i personaggi di Leonard Hofstadter, Sheldon Cooper e Penny (cognome ancora sconosciuto).
Sono passate 11 stagioni, la dodicesima è in fase di registrazione e, purtroppo, sarà l'ultima (i commenti del cast sulla cancellazione della serie sono davvero toccanti, li abbiamo raccolti qui). Ci siamo affezionati a tutti i protagonisti, Rajesh Koothrappali, Howard Wolowitz, Bernadette Rostenkowski, Amy Farrah Fowler, a come questi personaggi sono evoluti nel corso delle stagioni. Eppure è così difficile dimenticare come tutto è iniziato.
Ma se vi dicessi che The Big Bang Theory non doveva cominciare così? Mettetevi comodi e leggete un po' qua.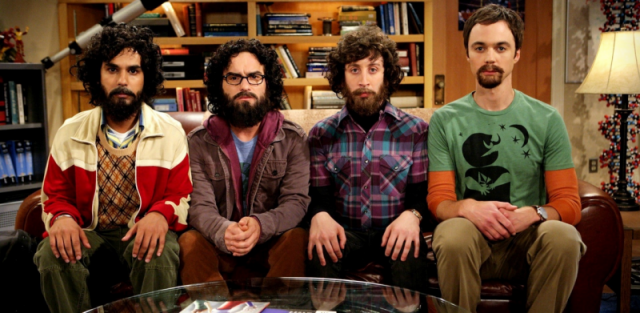 Siamo nel 2005. Gli sceneggiatori e produttori Chuck Lorre e Bill Prady hanno un'idea: una Serie Tv con protagonisti due giovani scienziati tanto intelligenti quanto incapaci di uscire dal mondo fittizio rappresentato dai fumetti e dalla fantascienza. Una serie in cui far fronteggiare a un gruppo di nerd incalliti il mondo reale fatto di ragazze, feste e persone super normali. Decidono di girare un pilot, proposto inizialmente per la stagione televisiva 2006-2007.
The Big Bang Theory: what if…
Nel pilot originale due nostre vecchie conoscenze, Johnny Galecki (Leonard) e Jim Parsons, (Sheldon), incontrano Katie, una ragazza che piange seduta sul marciapiede perché, dopo una brutta litigata col fidanzato, è stata cacciata di casa. Leonard, nonostante le critiche di Sheldon, la invita a cena e a stare momentaneamente nel loro appartamento. Un appartamento che notiamo essere molto più caotico di come ce lo ricordavamo, con una grande lavagna che occupa una parete sopra il camino e scartoffie sparse dappertutto.
A questo punto ci viene presentata l'unica altra protagonista presente nella puntata: Gilda, un'amica nerd di Leonard e Sheldon, innamorata di Leonard e subito gelosa di Katie. La puntata prosegue in modo piuttosto banale e piatto con Katie che, tornando a casa ubriaca, parla con Leonard e cerca di capire con un'equazione fittizia fatta di disegni sulla lavagna che cosa ha fatto di sbagliato nella vita e si fa altre domande esistenziali onestamente inutili in un pilot. La puntata finisce con Katie che decide di fermarsi un po' a vivere con i ragazzi e porta tutti in discoteca.
Tutta un'altra storia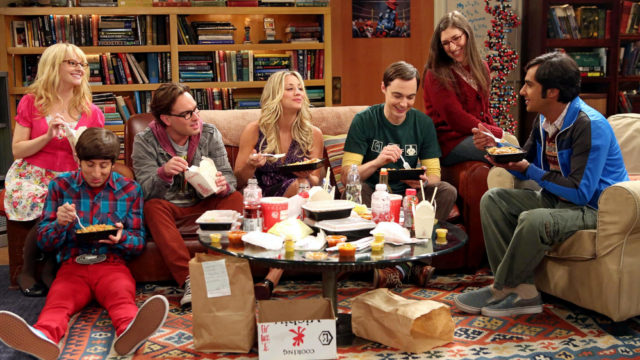 Ebbene sì, questo avrebbe dovuto essere l'originale pilot di The Big Bang Theory. Penny non esisteva, in questa linea temporale alternativa. Raj e Howard non esistevano. O magari sarebbero stati personaggi introdotti in un secondo momento rispetto a Gilda (Irish Bahr). Il personaggio femminile Katie, interpretata da Amanda Walsh, è una ragazza che ci viene presentata come rude, sexy e tosta, ma con un animo sensibile. Molto diversa dalla Penny sexy, ma dolce e svampita degli inizi (anche se le ultime teorie la danno come spia russa). La sigla, per questo pilot, era She Blinded Me with Science di Thomas Dolby.
L'episodio è un disastro, la CBS lo boccia in toto. Non nega però il potenziale dell'idea e concede a Lorre e Prady una seconda possibilità. I produttori riscrivono la sceneggiatura e affidano la regia al veterano della Tv James Burrow (l'ideatore della Sitcom Cheers e regista di oltre cinquanta pilot dagli anni '70). La puntata è un successo e il 24 settembre 2007 il pubblico entra per la prima volta nell'appartamento "started with the Big Bang". Siamo nel 2018 e se ne stiamo parlando, qualcosa vorrà pur dire.
Anche se l'episodio non è mai stato diffuso ufficialmente, Chuck Lorre stesso ha raccontato come si sono svolti i fatti e la storia originale. Non è il massimo da vedere, ma è divertente chiedersi "cosa sarebbe successo se…"