Nella nostra mente si era già insinuato il pensiero che la terza stagione di Stranger Things sarebbe arrivata in ritardo, nei mesi estivi del 2019. Oggi abbiamo un'ulteriore conferma del periodo di uscita.
Netflix ha rilasciato il nuovo teaser della terza stagione di Stranger Things e con esso sono stati svelati i primi dettagli dei nuovi episodi.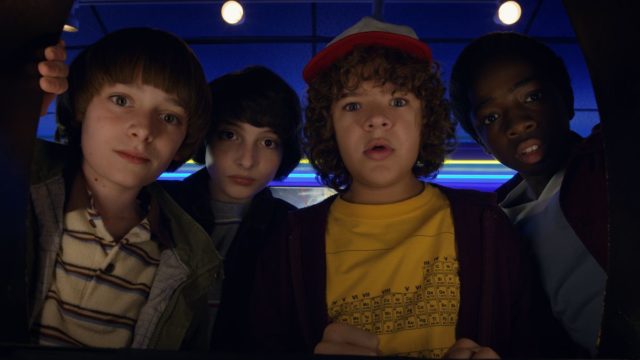 Nonostante la data di uscita ufficiale dei nuovi episodi non sia ancora stata rilasciata, è chiaro il periodo di lancio. Il teaser mostra infatti la scritta "Nell'estate del 1985, l'avventura continua". Dopo il primo teaser rilasciato mesi fa, anche questo secondo video conferma che l'estate sarà la stagione in cui usciranno i nuovi episodi di Stranger Things. Questi nuovi episodi arriveranno in ritardo rispetto ai precedenti.
Questa conferma è arrivata in via ufficiale anche da Cindy Holland, responsabile della programmazione Netflix, che tempo fa ha dichiarato che i nuovi episodi della serie non sarebbero arrivati prima dell'estate 2019.
Oltre al periodo di uscita della nuova stagione, questo teaser ci offre i titoli degli otto episodi che vedremo:
"Suzie, Do You Copy?"
"The Mall Rats"
"The Case of the Missing Lifeguard"
"The Sauna Test"
"The Source"
"The Birthday"
"The Bite"
"The Battle of Starcourt"
L'attesa per questa terza stagione di Stranger Things sembra infinita, ma le parole della Holland ci danno conforto: i nuovi episodi saranno più dark dei precedenti e capiremo che sarà valsa la pena aspettare.
Dopo aver finito il countdown per le feste natalizie possiamo quindi iniziare quello per la terza stagione di Stranger Things. In base ai titoli degli episodi e alle porte lasciate aperte dal finale della seconda stagione, cosa possiamo aspettarci? Non ci resta che attendere ulteriori dettagli sui nuovi episodi da parte di Netflix.