Le anime del club dei Sons of Anarchy percorrono insieme, sulle amate due ruote, le stesse pericolose e corrotte strade della realtà californiana. I SoA sono impegnati a rifornire di armi i vari clan malavitosi o intenti a sfuggire dal controllo dell'autorità poliziesca, che deve placare l'istinto anarchico di questi bikers fuorilegge. Corrono insieme, vivono insieme, soffrono e muoiono, sempre insieme, nonostante qualche tradimento e qualche ingombrante menzogna che riemergerà dall'oceano del passato.
Il sentiero che i Sons of Anarchy percorrono più di frequente non è nè una strada secondaria e dismessa, utile ad eludere il controllo della legge, nè la strada per uscire o rientrare nella loro sanguinaria e complicata Charming. Il sentiero che i Sons consumano, erodono e continuano a percorrere senza tregua, è quello del dolore. L'unico tortuoso e straziante percorso che conoscono veramente alla perfezione.

Ogni membro del Sons of Anarchy motorcycle club Redwood original (Samcro) conosce, interiorizza e subisce sulla propria pelle, il senso più crudo e veritiero del termine "dolore". Il dolore che è sempre diverso, il dolore che si può contenere ed assimilare, il dolore che non vede l'ora di esplodere per mezzo della rabbia, il dolore che costringe ad essere prudenti ed il dolore che segna per sempre ogni anima.
Chi come Jax- Amleto è logorato internamente dalla lettura del diario di suo padre John Teller ed inizia a comprendere che la morte paterna non è solo un tragico misfatto, ma un'architettatura diabolica di sua madre Gemma-Gertrude e del suo patrigno Clay-Claudio. Chi come il fedele ed altruista Opie-Orazio, vive uno strazio multiplo, il padre Piney e l'amico fraterno Jax, vorrebbero quanto prima riabbracciarlo nel club dei Sons, mentre la madre e la moglie cercano di tenerlo stretto al "guinzaglio" della famiglia. Ma il richiamo della fratellanza è troppo forte ed impossibile da ignorare.
Il nome dei Sons of Anarchy continua ad avere un ruolo chiave nella malavita, e spesso lo spettatore si convince inconsciamente che saranno i SoA a recare dolore agli altri. I SoA invece, vivono nel dolore, lo subiscono, lo restituiscono, lo temono e soprattutto lo conoscono, come nessuno vorrebbe. In questa Serie unica anche i momenti apparentemente felici sono sempre coperti da un sottile velo di dolore onnipresente. Ogni membro dei SoA desidera trovare una via d'uscita, anche se sa di vivere nell'Inferno, tra i veloci proiettili di un clan rivale e le fiamme di una violenta esplosione.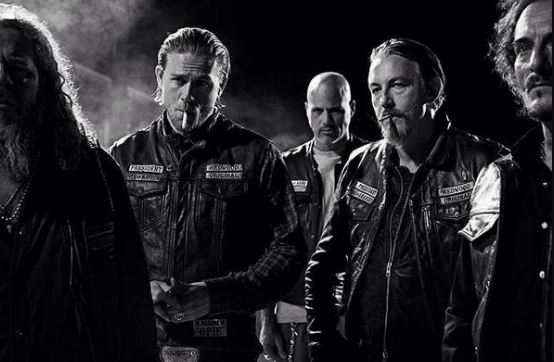 Neanche un vero leader, come il tormentato e ribelle Jax, può porre rimedio al dolore dei Sons, alle prepotenze di Clay-l'usurpatore, al dolore delle strazianti perdite del club, alla macchinazione subdola di mamma Gemma-la matriarca, ai contrasti violenti e ai ricatti con i rifornitori della Real Ira. Il dolce ricordo del puro amore adolescenziale con la bella dott.ssa Tara rivive nel nuovo incontro tra i due e i fan conoscono benissimo come la strada del dolore, sia anche in tale circostanza, irrimediabilmente compromessa. La stessa Tara che sacrifica parte della sua carriera da chirurgo, per ritornare con il suo Jax, mettendosi contro il tandem Clay-Gemma. Lo stesso dolore dei soggetti drammatici dell'Amleto di Shakespeare, la tragedia più straziante di sempre.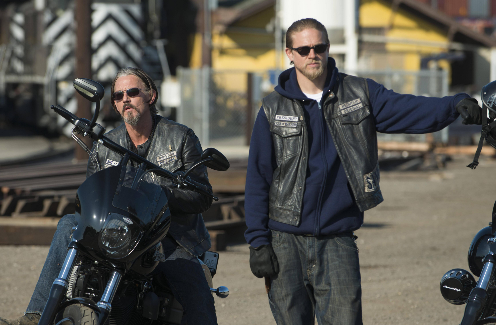 Il volto di Chibs, ad esempio, ha i segni fisici ed evidenti del vero dolore, il dolore simbolico di una profonda cicatrice che ne compromette in parte l'espressione facciale. Chibs è uno degli alfieri più fedeli, più sinceri e più adatti a condividere l'oceano di dolore dei Sons; Opie, Tig, Jax, Elvis, Juice sanno benissimo di avere un fratello generoso, disposto a tutto. La storia di Juice-il bugiardo-Giuda, che ha semplicemente un' unica famiglia : quella dei Sons, è anch'essa segnata da momenti di buio senza alcuna via d'uscita .
Per non farsi mancare proprio nulla, nel retro-officina della Teller-Morrow Repair, ovvero l'effettivo quartiere generale dei SoA, è esposta come una sorta di reliquia, la famosissima  del defunto John Teller. L'oggetto della memoria sofferente è il cimelio della memoria paterna, un oggetto che Jax guarda spesso con aria intrisa di malinconia, rabbia e ammirazione. Lo stesso John che nella "Vita e morte dei Samcro", aveva deciso di mettere su carta tutti i suoi dubbi e la sua sofferenza, anticipando un futuro nefasto ad un club che aveva ormai perso la sua direzione primaria.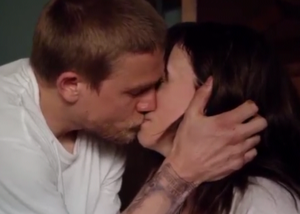 Un club che si era esposto a ritorsioni, vendette e sangue; John vuole far semplicemente capire a suo figlio Jax cosa siano veramente diventati ora i Sons of Anarchy. John vuole guidare suo figlio verso la via del cambiamento, quella più tortuosa e ricca di insidie, il sentiero più sofferente ma una strada che deve essere perseguita, per salvare il club. Gemma da moglie, isolerà il suo John, perchè il cambiamento fa sempre paura e divide. Clay Morrow si trasforma così nel braccio violento della mente autarchica di Gemma, rendendosi partecipe della frattura del triangolo e sostituendosi a John. Proprio come Claudio fa nell'Amleto, diventando il nuovo marito di Gertrude e tradendo il fratello.
Tutto in Sons of Anarchy è vero e puro dolore, ma l'unica cosa straordinariamente positiva del dolore è quella di cementificare i rapporti come nient'altro. Sons of Anarchy è tutto ciò che una Serie Tv del genere deve essere: cruda, non ipocrita e soprattutto accattivante; anche se SoA è molto, anzi, troppo di più di un'opera televisiva seriale, è un'esperienza che turba e stravolge la coscienza. Il dolore della commemorazione, la vera e propria sofferenza fisica, lo strazio delle nuove morti, il contrasto interiore del dubbio amletico di Jax, quello dei tradimenti inaspettati e della vecchia menzogna, coscienze distrutte da azioni insostenibili, la lotta per percorrere la via del cambiamento contro chi continua a sopprimerla e l'amore indissolubile.
Breve viaggio nella dolorosa vita dei Samcro, dove l'asfalto cede il posto al sangue e alle lacrime
Un saluto agli amici della pagina Sons of Anarchy Italia