Mother: una parola così bella e spesso confortante, delle volte può essere invece letale. Non continuare la lettura per non imbattersi in spoiler sulla serie Sons of Anarchy.
Mother, canzone dei Pink Floyd dall'album The Wall del 1979, è una delle più angoscianti dell'intera discografia del gruppo. La sua melodia sembra una confortante ninna nanna, ma leggendo il testo emerge ben altro, l'esatto opposto di quel che la musica soave ci lascia credere, ingannandoci spudoratamente. Il testo è un botta e risposta tra madre e figlio, ma per ogni dubbio di quest'ultimo c'è una risposta eccessivamente rassicurante da parte della madre. Il contrasto tra musica e parole rende questa canzone tremendamente inquietante, e ci trasmette tutto il malessere di Pink (protagonista della canzone) causato da sua madre. Questa stessa sensazione la proviamo per Jax Teller durante le sette stagioni che compongono la serie Sons of Anarchy.
Analizzando la canzone dei Pink Floyd, infatti, troviamo molti punti che accomunano l'esperienza di Pink e di Jax con le loro madri iperprotettive. La canzone è l'insieme di tutte le insicurezze di Pink, che chiede alla madre consigli e mostra le sue preoccupazioni, dalla quale riceve consolazioni soffocanti.
Sebbene in Sons of Anarchy sia meno evidente, anche Jax si fa condizionare da sua madre Gemma, a volte anche indirettamente. Altre volte è lei stessa a comandare la vita di suo figlio senza che lui ne abbia bisogno. Se associamo questa canzone al rapporto tra Jax e Gemma troveremo diversi punti che descrivono perfettamente il rapporto tra i due. Ripercorriamo dunque le strofe di questa splendida canzone, e immaginiamo siano Jax e Gemma a parlare.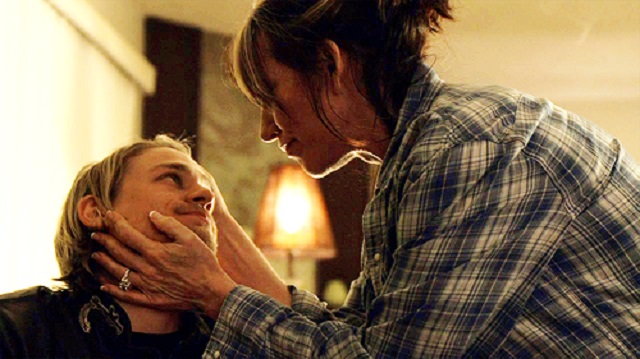 Mother do you think they'll drop the bomb?
Mother do you think they'll like this song?
Mother do you think they'll try to break my balls?
Ooh ah,
Mother should I build the wall?
La canzone inizia così. Emergono i primi dubbi di Pink, il quale si domanda se sia giusto costruire un muro intorno a sé, come protezione dal mondo esterno. In un certo senso anche Jax si pone lo stesso quesito, e far parte dei Samcro è un po' come avere una protezione, un muro che tiene ben lontano quello che è fuori dal club. In modo particolare però, il vero muro di Jax non è quello che circonda il club, ma quello che circonda solo lui.
Mother should I run for President?
Mother should I trust the government?
Mother will they put me in the firing line?
Ooh ah,
Is it just a waste of time?
Jax, insicuro, si chiede se sia il caso che diventi Presidente (dei Samcro), inizialmente non sa se è in grado di ricoprire quel ruolo. «Madre dovrei fidarmi del governo?» Questa frase si associa molto bene al pensiero su cui ruota Sons of Anarchy. Soprattutto nell'ultima stagione, Jax si fa questa domanda più volte.
Hush now baby, baby, don't you cry.
Mama's gonna make all your nightmares come true.
Mama's gonna put all her fears into you.
La mamma zittisce il suo bambino tranquillizzandolo, penserà lei a tutto. Avvererà tutti i suoi incubi, anche quelli che non ha mai nemmeno immaginato, come quello di tornare a casa e trovare sua moglie morta, uccisa proprio da sua madre. La paura che Tara allontanasse i bambini, è diventata poi anche una paura di Jax, influenzato proprio da Gemma, la quale non si è mai fidata completamente di Tara e ha trasmesso i suoi timori al figlio, condizionando il suo pensiero.
Mama's gonna keep you right here under her wing.
She won't let you fly, but she might let you sing.
Mama's gonna keep baby cozy and warm.
Gemma ha sempre tenuto Jax sotto la propria ala, l'ha sempre protetto, anche quando lui non ne aveva bisogno. «Lei non ti farà volare ma ti lascerà cantare». Questa è un'illusione. Gemma non permette a Jax di essere come vuole, ma gli lascia l'illusione che lo sia. Non gli permette di andare via da Charming e dai Samcro, raggirandolo in ogni modo pur di farlo rimanere. E ovviamente ci riesce.
Ooh baby, ooh baby, ooh baby,
Of course mama's gonna help build the wall.
La risposta al dubbio iniziale. «Ovviamente mamma ti aiuterà a costruire il muro». Sin dal primo momento Gemma è intenzionata a costruire questo muro intorno a Jax. Sia per tenerlo vicino a sé, a Charming, nei Samcro, sia per non permettergli di diventare come il padre e condannarlo allo stesso terribile destino.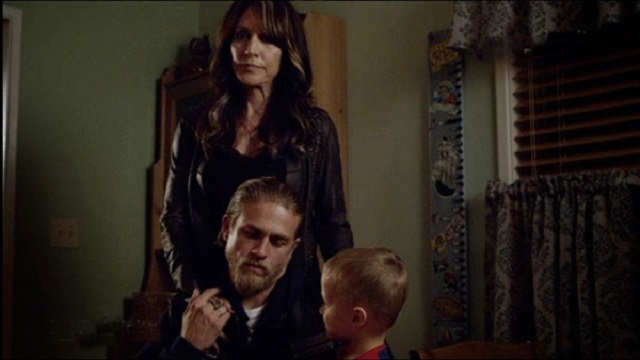 Mother do you think she's good enough, for me?
Mother do you think she's dangerous, to me?
Mother will she tear your little boy apart?
Ooh ah,
Mother will she break my heart?
Ci sono momenti in cui Jax ha dei dubbi su Tara, condizionato sempre da sua madre. E proprio per colpa sua si chiede se Tara sia quella giusta, se sia tanto pericolosa da allontanarlo da lei o se gli spezzerà il cuore. Tutti questi dubbi sono sempre inculcati da Gemma, che non ha mai simpatizzato per Tara (né per nessun'altra), vedendola come una minaccia per il suo ruolo nella vita di Jax. Non vuole essere sostituita. Lei deve essere l'unica donna importante nella sua vita.
Hush now baby, baby don't you cry.
Mama's gonna check out all your girlfriends for you.
Mama won't let anyone dirty get through.
La mamma risponde con queste frasi che esprimono perfettamente il controllo maniacale di Gemma. Lo si nota anche da come cerca di allontanare le ragazze secondo lei sbagliate per Jax. Inizialmente vuole far fuori Wendy, riportandola nella dipendenza da droghe, poi cambia idea e cerca di farla rientrare nella vita di suo figlio per allontanare Tara.
Mama's gonna wait up until you get in.
Mama will always find out where you've been.
Mama's gonna keep baby healthy and clean.
Ooh baby, ooh baby, ooh baby,
You'll always be baby to me.
A Gemma non sfugge nulla. Lei sa sempre cosa ha fatto suo figlio, scoprirà sempre dove è stato e con chi. Perché nonostante tutto, per Gemma, Jax è e rimarrà sempre il suo bambino.
Mother, did it need to be so high?
La canzone si conclude con questa frase in cui emerge il dubbio e il rimorso. C'era davvero bisogno di fare il muro così alto? Anche Jax inizia ad avere dubbi sull'iperprotettività di sua madre e si pente di averle lasciato esercitare tutto quel potere su di lui. Il problema, però, è che se ne accorge troppo tardi. Il muro costruito da Gemma, alla fine, è così alto e così stretto da aver lasciato fuori chiunque. E Jax, sentendosi soffocare da questo muro, prende quella tragica e inevitabile decisione finale che chiude la serie Sons of Anarchy.