# #
Le storie si lasciano dietro sempre una serie di spunti che ognuno di noi è in grado di cogliere oppure no, a seconda dell'esperienza personale e del grado di coinvolgimento nel racconto. Le Serie TV, in virtù del loro perdurare nel tempo, si prestano favorevolmente ad essere de-costruite sotto ogni aspetto. Siamo noi che le plasmiamo e che le manteniamo in vita anche dopo la loro fine. E due storie viscerali come Sons of Anarchy e The Shield non sono da meno.
# #
ATTENZIONE: Stiamo per addentrarci in un campo minato di SPOILER. Se non avete visto Sons of Anarchy o The Shield si salvi chi può. Fuggite sciocchi. Look away. E correte a guardarle, per la miseria!
Tra le due Serie Tv esiste un legame profondo e lo si respira nell'aria. Non solo la miriade di attori che ha preso parte all'uno e all'altro prodotto. Anche elementi tecnici come il ritmo della narrazione, costantemente adrenalinico e borderline, rappresenta un tratto comune. D'altra parte, l'autore di Sons of Anarchy, Kurt Sutter, è stato uno degli sceneggiatori di punta di The Shield.
# #
Il suo omaggio al telefilm di Shawn Ryan ha preso pieghe inaspettate durante le sette stagioni di SoA. Basti pensare al parallelo tra la morte di Kozik (SoA) e Lem (The Shield), interpretati dallo stesso attore, in entrambi i casi avvenuta per mano di una granata. Ma chi ha veramente vissuto le due Serie Tv non può essere rimasto indifferente a un altro dettaglio, mostratoci nell'atto finale di Sons of Anarchy. Nella fattispecie, chi è l'autista che guida il camion che si scontra con Jax. Già, proprio lui: Michael Chiklis. Il Vic Mackey di The Shield.
Non può essere un caso. Non in una serie così pregnante di riferimenti simbolici come Sons of Anarchy.
Un collegamento di tale portata deve essere ricondotto alla visionaria forma mentis di Kurt Sutter. Lui stesso, in effetti, a precisa domanda sulla questione rivela di aver trovato "ironico" che proprio Chiklis abbia ricoperto un ruolo tanto decisivo. Non è esattamente l'ironia la prima reazione che abbiamo avuto noi ma tanto basta per alimentare la nostra fantasia. Ma procediamo con ordine.
Il finale di SoA, come abbiamo rimarcato più volte, mette in luce la volontà di redenzione di Jax Teller. Redenzione verso sé stesso, nei confronti della famiglia e nel rispetto del club. Soltanto la sua morte avrebbe garantito la salvezza a ciò che gli è rimasto di più caro. Jax si rivela, alla fine, un uomo migliore di quanto Vic sia mai stato. Fino all'ultimo, infatti, questi ha fregato la morte e la legge, sacrificando, nel mentre, la famiglia, gli amici e il distintivo.
In questo senso, il loro accostamento diventa un ossimoro.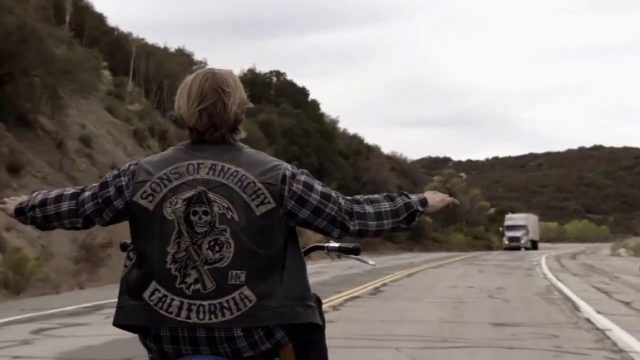 E se invece quello scontro rappresentasse l'occasione per Vic Mackey di fare, finalmente, ammenda? A supporto di questa tesi abbiamo dalla nostra le teorie esoteriche e, nella fattispecie, l'opus alchemicum di Jung. Ripensando alla scena finale di SoA dal punto di vista di Milo, infatti, Jax che si scaglia con la sua moto contro il suo camion altro non sarebbe che la proiezione materiale del suo inconscio, il mezzo attraverso il quale liberarsi dei conflitti interiori.
La resa dei conti, prima o poi arriva per tutti. Anche per chi è stato così abile manipolare la stessa dea bendata. Nel suo caso arriva sotto forma di un Amleto versione biker, i cui valori perpetrati in punto di morte non hanno fermato la loro corsa contro quel maledetto camion, ma potrebbero aver raggiunto l'autista alla guida. Come la senzatetto per lui Jax diventa l'angelo salvatore di Vic Mackey. Come join the murder, come fly with black, we'll give you freedom, from the human trap.
Per arrivare a partorire una simile follia bisogna presupporre che Milo sia in realtà Vic Mackey sotto mentite spoglie. Ripensando a un altro finale, quello di The Shield, non è scandaloso immaginare una sorta di metempsicosi da un personaggio all'altro. Dopotutto quel Mackey esce dall'ufficio dell'FBI e si avvia verso un ignoto destino. Non sappiamo chi o cosa lo attenda lì fuori. Adesso un chi lo abbiamo: Jax Teller.
È una supposizione assurda e pretestuosa, forse dettata dalla nostra necessità di far rivivere le storie anche quando queste sono concluse. Eppure, apparentemente, è una teoria calzante. Dopotutto, da uno che ti crea una tragedia shakespeariana in sella a una Harley Davidson, puoi veramente aspettarti di tutto.