# #
[Allerta spoiler sul capolavoro Sons of Anarchy]
Il principe dei Samcro spoglia desolato un diario. La solitudine dell'autore John coincide con quella del lettore Jax e l'estraniazione apre spiragli impensabili sulla morte e la coscienza del fondatore dei Sons of Anarchy, sua maestà John Teller. La solitudine è una condizione dello spirito e Jax quando può, si nutre del valore sacro di quella solitudine.
# #
È il diario del suo defunto padre, è il pensiero e la voce spettrale che parla dall'oltretomba al biondo Jackson, è la volontà testamentaria di puri ideali di un padre a suo figlio, è la morte che chiede giustizia alla vita.
Jackson potrebbe ignorare quella voce ma non può fingere a se stesso.
# #
L'essenza che sovrasta il possesso, la morte che pesa più della vita.
John il capostipite dei Samcro, prova a esplicare i danni e le fallacità del pensiero anarchico che sfocia in sangue e distruzione. La purezza di una fratellanza, si biforca in crimine e peccato e i Samcro non ne sono esenti.
La morte soffia, unisce, accarezza e piega tutti i fratelli dei Sons of Anarchy. L'oscura signora si presenta a tutti i SoA, sia essa una conoscenza diretta o indiretta.
La vita che confonde il possesso e l'essenza, la volontà e la realtà, in un percorso traballante fatto di lacrime, sangue e sorrisi. L'essenza è la purezza di uno spirito non soggetto a modifiche e le esperienze sono un involucro tale da rafforzare o indebolire un'essenza.
Jax Teller, il principe dei SamCro è intrappolato tra l'idealismo di John, la viziosità di Clay e l'empatia di Nero.
L'amato padre che la vita ti toglie, il padre despotico che la vita ti consegna e il padre generoso che forse avresti sempre voluto. La storia di Jax simboleggia la paternità di un trittico, tre figure che legheranno il destino tortuoso e impavido del fuorilegge dei Sons of Anarchy.
John è l'impossibilità a cambiare, perchè ormai per Jax è veramente troppo tardi.
"It's too late for me… I love you JT" (Jax a John)
La figura di John simboleggia la glorificazione degli ideali del manoscritto di Re Amleto che tanto inquietano e scuotono il sentiero di Jax-Amleto. La figura del patrigno Clay convalida i sospetti degli abusi idealistici anarco-criminali a cui il caro John prestò tanta attenzione. La terza figura è quella di Nero, l'amore di un uomo che soffre per la piega tragica degli eventi che vedono Jax sempre più protagonista in negativo, la catarsi di cui il principe Samcro avrebbe sempre beneficiato.
Quel Jax ancora più maledetto e risoluto che pianifica e uccide con residui quasi impercettibili di pietas. Quel Jax magnetico e accentratore che finisce col piegare il punto di vista di chi gli è accanto, quel Jax che per uccidere Clay finisce in parte col somigliargli, quel Jax fuori controllo che uccide Jury, l'amico reduce dal Vietnam di suo padre John.
"You had the chance to be something good for this club, but you turn into everything he hated. You became the poison" (Jury a Jax)
Nero Padilla è la compassione, la stima, la fedele spalla su cui piangere. Il padre che si sarebbe dovuto frapporre temporalmente tra la morte del saggio Re-John ed il potere assoluto del tiranno-Clay.
Nero che ama Gemma, Nero che ama Jax, Nero che accompagnerà con Wendy, i figli Abel e Thomas all'ultimo saluto con loro padre. Nero, è semplicemente colui che Jax avrebbe sempre voluto. L'uomo che prima di stigmatizzare, prova a capire la contraddittoria anima del fuorilegge.

Chiusa la trinità delle figure paterne sul sentiero di Jax, non potrebbe mai esser dimenticata l'importanza delle donne nel dramma Sons of Anarchy. Un altro tridente di figure decisive per Jackson.
Gemma la matriarca è una madre amorevole e protettiva che ha comunque illuso e ingannato Jax, colei che ha affidato al tiranno Clay la sostituzione paterna del defunto John per Jackson.
Wendy è la donna debole, fedele al club e compagna del biondo Jax protetta da Gemma.Wendy insegna che nella vita non si può avere ciò che si vuole, Jax avrebbe voluto salutare i suoi figli in presenza di Tara.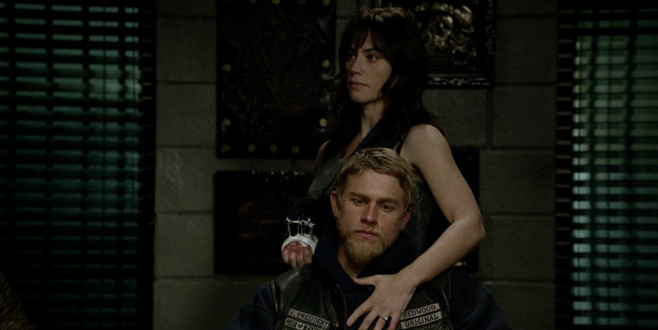 Tara è la voce della verità, l'amore adolescenziale osteggiato dalla matriarca Gemma, nonchè colei che desidera allontanare l'amato dalla deflagrazione criminale con i Sons sospesi sempre tra vittime e carnefici. Tara è colei che con la sua morte ingiusta e violenta, aprirà per sempre gli occhi al suo amato.
L'esempio ed il rito della trinità ritorna prepotente nel finale, dal sapore cristiano e trascendentale. Jax saluta le 'tre' persone più amate: il fratello Opie, l'amata Tara e l'epitaffio di papà John. Jax l'angelo della morte, uccide altri tre malviventi prima di scegliere la via luminosa della sua stessa morte.
Il biondo e tormentato Jax che apre le braccia come l'iconica e poetica posa della croce cristiana.
Jax imbocca l'ultima e decisiva curva, il suono sordo dello schianto. I frantumi della coscienza, i residui dello spirito, i frammenti della poesia. Le cose buone di Papà.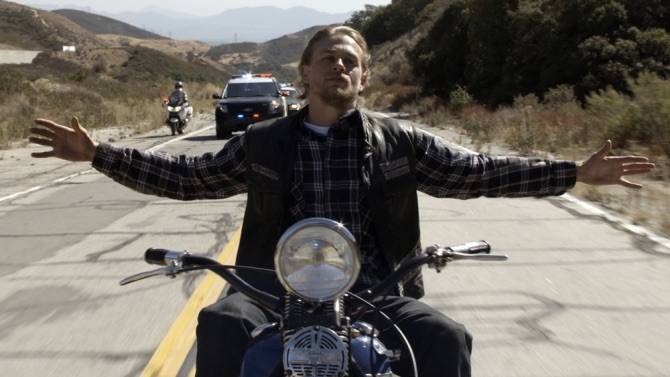 Il sollievo dell'abbraccio alla morte, il suo peso, il suo valore… il suo silenzio.

Un padre, suo figlio e la metafisica del loro spirito eterno

Leggi anche:
Ode alla morte in Sons of Anarchy di Andrea Lupo
Il simbolismo in SoA. Cosa rende SoA un capolavoro eterno di D.S.
La terza stagione di SoA ha inciso sull'idea di eredità di Vincenzo Bellopede
Lettera di Gemma Teller a Tara Knowles di Dorotea La Donna
La depressione abissale che assale dopo aver visto l'ultima puntata di SoA A. Lupo