Quando vediamo Charlie Hunnam non possiamo non pensare automaticamente al Jax Teller di Sons of Anarchy. Sarà perché l'attore sembra nato proprio per interpretare quel ruolo, o perché forse siamo stati abituati per anni a vederlo con giacca in pelle e banda di motociclisti al seguito.
Qualunque sia il motivo, è come se ormai Charlie si fosse tatuato addosso il ruolo a cui è stato legato per così tanti anni. È stato proprio lo stesso attore che, in varie interviste, ha dichiarato che Jax è ancora parte di lui. In un modo o nell'altro.
Non ho mai provato in vita mia un legame così forte, toccandomi nel profondo, nell'interpretare un personaggio. Una volta finito Sons of Anarchy, ho sentito di dover affrontare un vero processo di riequilibrio, cercando di esorcizzarlo il più possibile dalla mia psiche, perché ho vissuto con lui per 8 anni mentre provavo a portarlo in vita.

Ho iniziato questo film [King Arthur], forse 3 mesi dopo aver concluso Sons of Anarchy, quindi sono sicuro che ci siano stati dei riflessi della sua personalità [mentre recitavo Artù] ma non è stato intenzionale. Ovviamente vuoi che ogni personaggio che interpreti sia il più possibile originale, unico e fresco, perciò provi a dimenticare tutto ciò che conosci. Però, quella in Sons of Anarchy ha costituito la mia formazione. Per me è come aver frequentato un'università prestigiosa, per l'enorme lavoro che abbiamo fatto, a ritmi elevati, dovendo trovare velocemente soluzioni a problemi di ogni tipo… Kurt, poi, ha un modo di scrivere per cui non si sottrae mai dal portare in scena dramma ad alta tensione, spingendosi oltre il limite quasi in ogni scena.

Quindi, dopo aver girato 4 o 5 grandi scene al giorno in quello show e dopo averlo fatto per 8 anni, mi sento in un certo senso come 'laureato' e proprio perché la mia educazione proviene dall'esperienza di Sons of Anarchy, sono sicuro di portare molto di ciò che ho imparato lì in qualsiasi cosa faccia
Il ruolo di Jax Teller è dunque ormai parte integrante della vita di Charlie Hunnam. Come se non bastasse, in realtà l'attore è molto simile al personaggio a cui ha prestato il volto per anni. È stato lo stesso Charlie a parlare di quanto in realtà il ruolo di biker sembrasse creato appositamente per lui. In un'intervista ha infatti dichiarato:
Sono cresciuto combattendo ed essendo un ragazzo difficile, perciò sentivo che il modo nel quale apparivo non rifletteva quello che provavo. Quindi ho provato a far capire in ogni modo alle persone, quando stavo cercando ruoli, di non scartarmi per il fatto che fossi carino, perché picchiavo duro!
Charlie Hunnam è cresciuto in un modo che non ha fatto altro se non avvicinarlo a Jax. L'attore ha infatti vissuto da solo con suo padre, un uomo che stava molto sulle sue. Cresciuto nella povera classe operaia di Newcastle, ha dichiarato riguardo l'uomo che l'ha cresciuto:
Avrebbe potuto essere un minatore, un costruttore navale, un operaio o un gangster. Era coinvolto in varie cose, ma mai narcotici, era più un tipo di comportamento scorretto, illegale tipico della classe lavoratrice inglese
Sappiamo dunque che Charlie ha compreso alla perfezione la violenza e il mondo di Sons of Anarchy perché, in un modo o nell'altro, è come se ci fosse cresciuto dentro. Durante un'intervista l'attore ha dichiarato di avere ancora il gilet di Jax a casa e di non averlo fatto indossare a nessuno, neppure per un istante. Quell'indumento che per il suo personaggio era così importante, infatti, è diventato quasi sacro per lo stesso Charlie Hunnam. Ha infatti più volte affermato che durante le riprese era quasi diventato Jax Teller e che dopo aver girato le ultime scene di Sons of Anarchy ha attraversato delle settimane di lutto.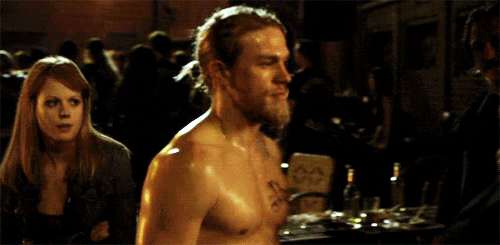 Cresciuto in un contesto simile, amante delle motociclette e pronto a combattere (in ogni senso), Charlie è stato semplicemente la scelta perfetta per Sons of Anarchy. Chi meglio di lui avrebbe mai potuto prestare il volto a un personaggio così completo e complesso? Noi siamo senza dubbio d'accordo con lo stesso Sutter, che ha dichiarato a tal proposito: "Le somiglianze con la vita personale di Charlie erano a dir poco perfette". 
Come dargli torto?