# #
Infame, ma necessaria premessa: codesto insieme di sillabe contiene qualche spoiler, se ne raccomanda la lettura a un pubblico di adulti consenzienti e coscienti di aver appena letto questo mini-foglietto illustrativo d'apertura. Tenere lontano dalla portata degli analfabeti.
Ogni cosa di Piermont "Piney" Winston ispira (non esiste un modo democristiano di dirlo) "cazzutaggine". Vero? Il naso a patata, lo sguardo torvo, il giubbotto in jeans, l'andatura incerta ma orgogliosa, la splendida voce prestata all'interprete William Lucking  da Bruno Alessandro: tutto questo e molto altro contribuisce a fare di questo personaggio un elemento di grande spessore, importantissimo nella narrazione del folle viaggio dei Sons of Anarchy.
# #
Egli è fondamentalmente l'anima dei SAMCRO, l'incarnazione dei valori originari del club come il senso di fratellanza o la leatà e non è un caso se ci viene presentato fin dalle primissime battute come malato, con quel respiratore così scomodo e un senso costante di fatica a comprimergli le spalle. Perché questa necessità? Perché non mostrarcelo al pieno delle sue forze? E' necessario per farci vedere che, al netto della grintosa resistenza, la decadenza di Piney va di pari passo con una sorta di "secolarizzazione" dei Sons of Anarchy, ma a questo torneremo più tardi.
Piney è uno dei co-fondatori del club, grandissimo amico John Teller, di cui non manca mai di ricordare le citazioni e gli insegnamenti, quasi fosse un suo apostolo. I due si conobbero sotto le armi, in Vietnam, e una volta tornati da quell'inferno si resero conto che la società che avevano difeso li aveva ripudiati, perciò decisero di mettere insieme questa combriccola di motociclisti, ignari di dove li avrebbe potuti portare quella decisione. Tutto rosa e fiori insomma, una bella storia di riscatto, molto americana e positiva : non proprio!
# #
Ben presto gli eccessi dei suoi anni ruggenti lo portarono a soffrire di alcolismo e successivamente ad abbandonare la sua famiglia. "Tutto per il club" direbbe lui, un po' per discolpare sé stesso dagli errori commessi, ma un po' anche per la sincera convinzione che i SAMCRO fossero quanto di più bello lui avesse messo insieme nella vita e per questa ragione i Sons andavano messi al primo posto sempre e comunque, sacrificando sul loro altare anche gli affetti più cari. Giusto o sbagliato che sia, va riconosciuto al vecchio di essere stato coerente con questa visione fino alla fine.
Come dicevamo, Piney si ritrovò a dover abbandonare la sua famiglia in gioventù, compreso il figlio Harry, che noi conosciamo col nome di "Opie".
Stessa espressione perennemente incazzata, stessa inquietudine di fondo, stessa fedeltà nei confronti di motociclette, giubbotti di pelle e compagni d'avventura: i due si assomigliano in una maniera incontrovertibile, senza mai concedere all'altro il lusso di riconoscere questo parallelismo, che senza dubbio inorgoglirebbe Opie e renderebbe fiero Piney. D'altronde, il peso di quella lontananza infantile è difficile da dimenticare, eppure, nonostante le dosi omeopatiche di affetto, rimane chiaro a tutti quanto quei due si rispettino e si vogliano bene.
Particolare è anche il suo rapporto con Jax, figlio del già citato JT. Dopo la morte del padre fondatore del club, Piney ha idealmente preso sotto la sua ala il "principe", trasmettendogli il più possibile tutti gli insegnamenti del suo vecchio e mettendolo sulla strada…sbagliata, che sarebbe poi quella giusta per diventare un membro dei Sons of Anarchy. Nel momento in cui la leadership di Clay inizia a vacillare, è proprio Piney il principale sostenitore della candidatura di Jax, anche perché nel frattempo egli era venuto a conoscenza delle pesanti responsabilità di Morrow nella dipartita di John: tutto ciò è molto intricato, ma quello che è fondamentale è la conseguenza di queste sottili tensioni.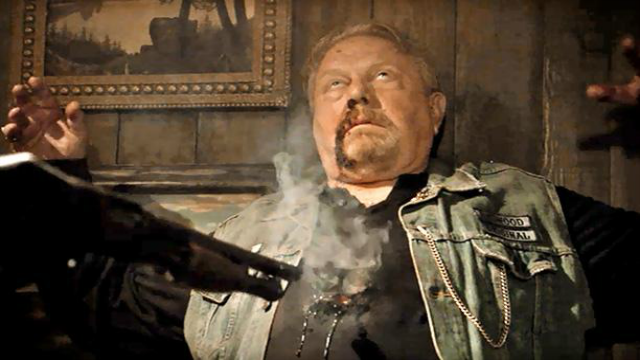 Clay fa secco Piney. E' inevitabile, cruento, orribile, ma per certi versi anche giusto. I valori storici del club, la voglia di stare insieme, quell'unità che un tempo era la chiave di tutto quanto è ormai solo un lontano ricordo, ora c'è solo egoismo, politica e tradimenti. Il vecchio burbero doveva uscire di scena, se non fosse stato quel colpo di fucile al cuore sarebbe stata la malattia a portarcelo via: la sua catarsi era già stata raggiunta da un pezzo e ciò in cui credeva non era più unanimemente condiviso, per questo la sua dipartita era necessaria da un punto di vista logico.
L'anima del club si spegne in un lamento di dolore davanti al diavolo con il mascellone, salvo poi tornare proprio nell'epilogo della serie, attraverso gli innumerevoli sforzi di quel principe biondo, che seguendo le orme lasciate da Piney e suo padre riporta in auge quello spirito, quel filo rosso che ha sempre tenuto insieme tutti i SAMCRO, quell'indefinibile modo di intendere la vita che non può che farci amare la banda di motociclisti più famosa della Tv.