# #
Infame, ma necessaria premessa: codesto insieme di sillabe contiene qualche spoiler, se ne raccomanda la lettura a un pubblico di adulti consenzienti e coscienti di aver appena letto questo mini-foglietto illustrativo d'apertura. Tenere lontano dalla portata degli analfabeti.
Cosa sono i Sons of Anarchy se non un sinolo selvaggio tra follia e libertà? In fin dei conti la missione è quella di sopravvivere il più a lungo possibile sul sottilissimo filo di un rasoio che potremmo anche chiamare "vita" correndo incredibili rischi, prendendo decisioni impossibili e senza mai rinunciare alla propria indipendenza, all'osservare la società da lontano immergendosi in essa di tanto in tanto per prenderne il meglio e darle il peggio.
# #
Quel figlio di buona donna che risponde al nome di  Filip "Chibs" Telford è probabilmente il membro che personifica di più questo concetto borderline dotato di una logica perversa e un fascino illegale, esattamente come l'uomo con le cicatrici arrivato dalle Highlands.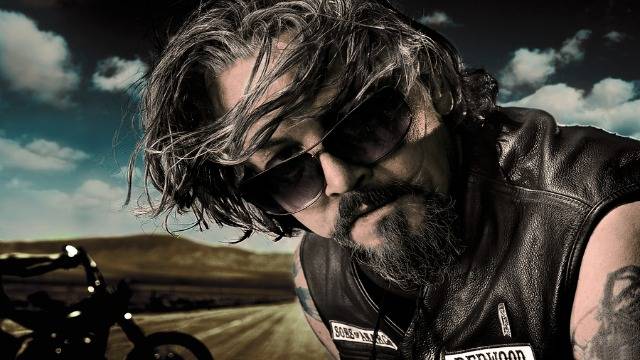 Prima di ogni cosa, il soprannome: "Chibs", che in gergo scozzese significa "lama affilata". Fighissimo. Certo, il riferimento neanche troppo celato è diretto a quelle cicatrici (che l'attore Tommy Flanagan, idolo, possiede veramente), però c'è dell'altro; il personaggio è controverso, tanto scorbutico e abrasivo con chi non conosce quanto comprensivo e accomodante con i membri del club e i loro affetti, come se avesse fatto dei SAMCRO il suo branco, la sua ragione di vita, e per questa ragione volesse onorarlo in tutto e per tutto, a partire dal suo atteggiamento.
# #
Di quelle cicatrici, simbolo del suo passato, si sa davvero poco: l'unico dato certo è che a fargliele è stato Jimmy O'Phelan, poco prima di sottrargli la sua famiglia e spedirlo a calci fuori dall'Irlanda. Di lì a poco, Telford attraversa l'Atlantico e sbarca a Charming, dove ricomincia una vita tra le fila della sede californiana del club. Inizialmente, data la sua attitudine naturale per l'uso delle armi da fuoco e da taglio, il suo ruolo è quello di "Sergeant at Arms", ma vedremo come le cose evolveranno nel corso della narrazione.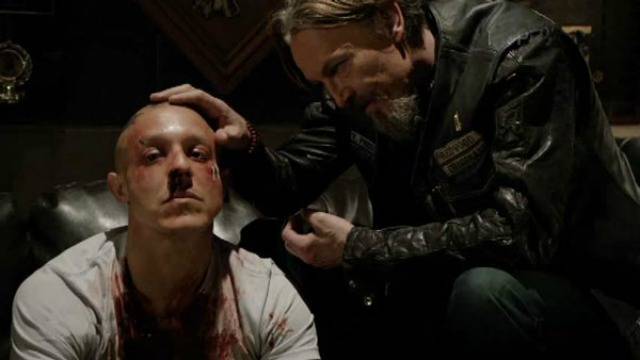 Ti puoi fidare di Chibs. Sai perfettamente che quel pazzo si trasformerà in diavolo sul campo di battaglia pur di proteggerti le chiappe, salvo poi assumere le fattezze di un angelo quando avrai bisogno di cure. Lui ci sarà sempre, il suo animo è troppo nobile e la sua essenza troppo fedele per non farlo, ma vi conviene evitare di farlo incazzare. Filip è dotato di una corazza speciale, la sua tempra, che gli permette di affrontare tutti i giorni quelle cicatrici allo specchio, di sopravvivere a esplosioni, di uscire vincitore da scontri epici per il loro squilibrio. Proprio per questo è bene non farlo arrabbiare, come ben potrebbe testimoniare Juice.
La persona con cui Chibs ce l'ha di più, però, non è quella testa bacata piena di tatuaggi, bensì il già citato Jimmy O'Phelan: il maledetto leader dell'IRA gli ha tolto gli affetti, e questo si può sopportare, ma non appena minaccia di far del male anche ai Sons of Anarchy ecco che idealmente Telford scende nuovamente sul sentiero di guerra. E' impressionante osservare la determinazione e la serietà con cui affronta ogni scontro, con cui schiva ogni pallottola, con cui compie tutte le tappe necessarie per portarlo lì, davanti a Jimmy, con due coltelli in mano che di lì a poco squarciano la faccia dell'avversario e gli infilzano il cuore con l'implacabilità che solo la vendetta può conferire a un atto di violenza (o forse di giustizia?). D'altronde gliel'aveva promesso e di Chibs, vi abbiamo avvisati, c'è da fidarsi.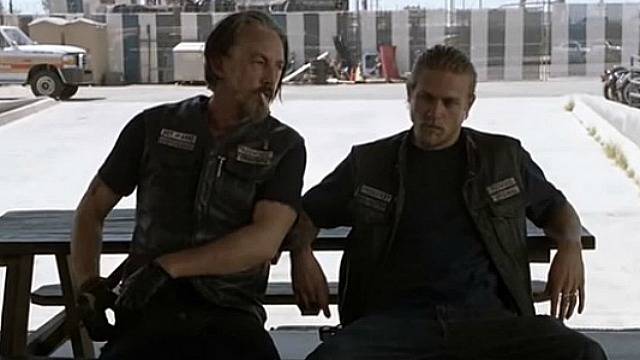 Lo sa bene anche Jax Teller, il principe dei SAMCRO, che in quella faccia sfregiata trova sempre un amico e un fratello esemplare, pronto a consigliarlo nel migliore dei modi in ogni situazione, che si parli di sentimenti, politica o armi. Proprio questo secondo lato, quello che abbiamo già definito angelico, porterà Chibs a scalare le gerarchie del club fino a diventarne, nel meraviglioso e decadente epilogo della serie, il presidente.
Non si poteva scegliere uomo migliore: lo scozzese ha la saggezza per portare il club ancora più lontano, il coraggio di difenderlo, l'età giusta per conoscerlo appieno, il rispetto per esigere dai suoi membri quella fedeltà che lui stesso mostra quotidianamente a quei colori e quei valori, di cui ormai è divenuto il simbolo per eccellenza. Tutti noi vorremmo avere al nostro fianco uno come Chibs, perché nel mondo instabile di oggi c'è bisogno di qualcuno abbastanza sveglio da mantenere gli equilibri e sufficientemente folle per scatenarsi in una vampata di determinazione per riconquistarli quando essi, inevitabilmente, verranno meno.