La vita è una folle corsa. Un'epopea per lo più drammatica costernata da qualche effimero e passeggero momento di gioia. Quest'ultimi rappresentano il nostro elisir di lunga vita, il deterrente per alimentare quei sorrisi isolati in grado di illuminare i nostri volti. Sono pochi, pochissimi, questi istanti di pura e sincera felicità. Ed è per quegli attimi che lottiamo, sbraitiamo e soffriamo. È per quell'estasi derivata da un senso di appagamento temporaneo che arriveremmo persino ad uccidere. Ed è la malvagità racchiusa in questo orrendo compromesso che spacca la nostra coscienza. Soffrire vivendo o gioire della morte? Uno dei dilemmi amletici più ardui dell'umana esistenza. Conflitto che ha attanagliato l'essere umano fin dal fiorire della propria coscienza e che il finale di Sons of Anarchy prova a dissipare attraverso un senso di spaesamento misto a terrore, amore e gioia. Il mix micidiale! Un cocktail maledetto!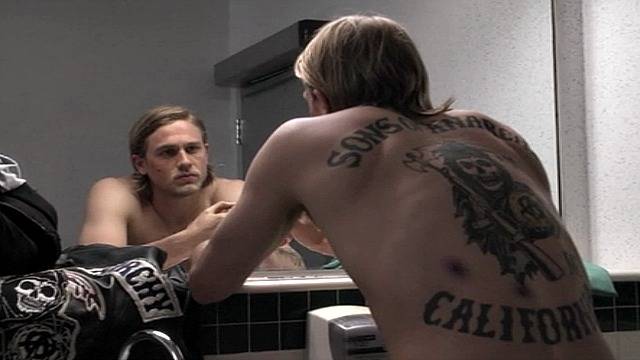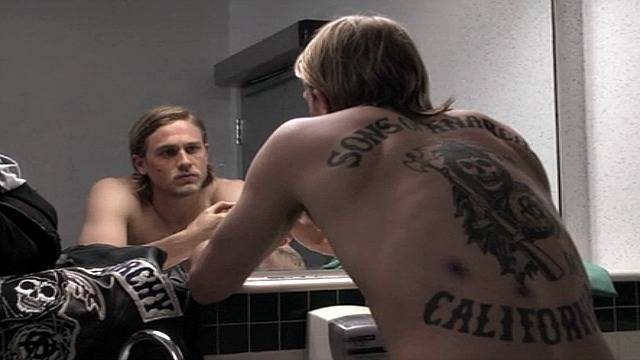 Non si parla propriamente di astinenza o depressione dopo tale visione ma di stravolgimento assoluto della propria vita. Assistere all'epilogo del dramma più poetico ed evocativo della serialità intera è un'esperienza che si colloca al centro tra distruzione e redenzione dell'individuo. Un inganno malevolo e benevolo al contempo che solo un'opera sublime come Sons of Anarchy può formulare. Parliamo senza dubbio alcuno di uno dei finali più emblematici e lunatici della storia capaci di destabilizzare l'io dell'inerme e stremato spettatore.
Perché esso, forte di una nuova consapevolezza, scruterà il mondo e i suoi abitanti con altri occhi, quelli di colui che ha visto la morte in faccia e che ha capito la benevolenza del suo gelido abbraccio. Un'esperienza mistica che catapulta la tua concezione di vita e amore verso un altro livello, verso nuovi orizzonti.
Gli stessi confini che Jax, in quell'attimo di lucida pazzia, rompe definitivamente. Il sorriso beffardo davanti al richiamo della cupa mietitrice è rivelatorio ed esplicativo. Quel movimento di labbra enigmatico nasconde un mondo, una dimensione nel quale gli spiriti dei morti possono toccarci e illuminarci e dove lo scorrere degli eventi converge in un unico bivio che ti mette davanti due scelte: vivere morendo, o morire vivendo. Perché in una vita turbolenta, violenta, egoista, e sanguinosa come quella di un Samcro la morte può rappresentare ciò che può dare veramente un senso a tutte quelle brutalità. Il nostro retaggio.
Ed è quello che abbiamo capito mentre prendevamo a pugni il muro durante l'ultima corsa di Jax. E sebbene in cuor nostro speravamo in un classico epilogo felice e appagante per tutti, d'altro canto abbiamo ritagliato un angolino della nostra coscienza per sperare che finisse com'è finita. Perché quando la vendetta diventa l'unico scopo e quando l'unica via per la redenzione consiste nel trasformarsi in un angelo della morte dobbiamo capire che la mietitrice non delega qualcuno che non può reclamare. Essa è una madre che concede solo tramite il pagamento di un ingente tributo. In questo caso la vita di Abel e Thomas in cambio di quella di Jax.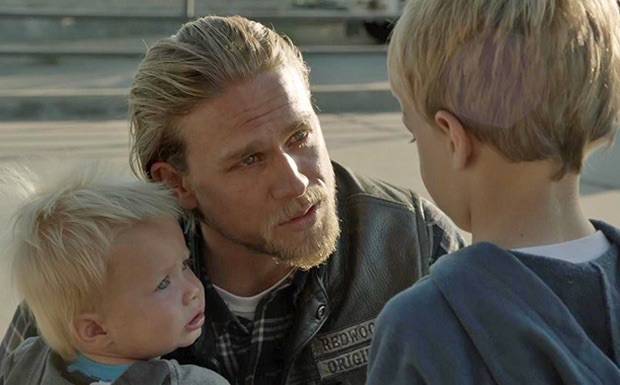 Ed è inevitabile gioire di fronte a questo. È impossibile non pensare al fardello che i piccoli angeli non porteranno mai. È commovente ciò che Jax ha fatto per loro ed è struggente pensare che quello che ha fatto John non sia stato sufficiente. È stremante apprendere che il padre di Jax abbia vissuto quegli stessi istanti di amore/terrore/speranza nella mera illusione di illuminare la vita del figlio vanificata dalla sete di potere e dai vizi della carne di coloro che una volta gli erano più vicini.
E qui torna la bilateralità di un atto. Perché la tragedia che lega John e Jax differisce per il risultato postumo. L'epilogo del primo diverrà una macchia nera e segnerà la rovina del suo erede, mentre il sacrificio titanico di Jax esploderà in un'aurora boreale di speranza per i suoi figli. Tuttavia la scintilla che lascia John è destinata a scoppiare anni dopo, perché egli non avrà garantito una vita lunga, prosperosa e lontana da loschi traffici a Jax ma gli avrà sicuramente regalato la pace nella morte e l'illuminazione per redimere la sua anima corrotta dal sangue e dalla sete di vendetta.
La depressione che ti assale dopo aver visto l'ultima puntata di Sons of Anarchy non è dovuta al finale in sé per sé, ma al fatto di aver capito che l'intera vita è una crudele illusione derivata dall'inganno della paura della morte. Una bugia colossale ingigantita dall'effimera gioia della vita.
La brutalità di un rimedio che diventa armoniosa sinfonia d'amore. La pace che deriva dal richiamo dell'oscura signora. L'allarmante ciclicità degli eventi e la malevola essenza rassicurante di una soluzione disperata.
La Morte che diventa poesia, la luce che diventa ombra, l'odio che si tramuta in amore, il sangue che segna la fine e la paura che diventa coraggio. Il finale di Sons of Anarchy è indubbiamente un mix di emozioni fatali e struggenti. La trasposizione scrupolosa di un sentimento e un trionfo di poesia.
COME JOIN THE MURDER!
FOREVER SAMCRO!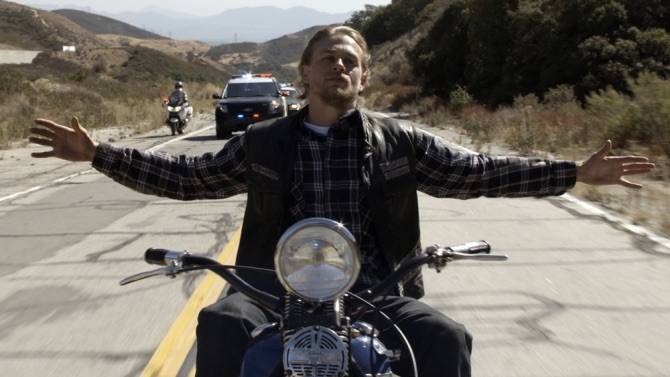 Mi raccomando! Passate tutti dagli amici di To be a Samcro – Sons of Anarchy nell'anima.
LEGGI ANCHE:
SoA: quando Sutter creò un virus incurabile;
SoA: Shakesperare tra anarchia, morte e vendetta;
Perché SoA mi ha cambiato la vita;
Il romanticismo e il titanismo in SoA, i dolori del giovane Teller.