# #
Sons of Anarchy è un prodotto realizzato dalle menti e dalle forze di coloro che l'hanno ideato, e come tutte le opere di fattura umana per avere un senso deve possedere un'anima: l'anima di chi le ha concepite, la quale attraverso l'oggetto creato comunica con i fruitori; un utensile assemblato pezzo per pezzo da un artigiano parla, come parlano un abito confezionato da uno stilista, un palazzo disegnato dal suo architetto con una forma volutamente particolare… E anche una serie tv è in grado di parlare.
# #
Sons of Anarchy ha una voce perchè deriva dall'ingegno di non uno, ma ben due uomini capaci di mettere se stessi nelle proprie opere: infatti il risultato è stato un telefilm filosofico, crudo, forte ma mai opprimente, a volte poetico. La gravità delle convinzioni e degli atteggiamenti dei personaggi viene mitigata dall'atmosfera in qualche modo irreale dell'ambientazione, una città fittizia assai caratteristica (si chiama Charming… Sembrerebbe il nome di un regno delle fiabe, però qui vuole sottolineare con una fine ironia il fascino perverso che gli eventi che accadono in questo luogo possono esercitare sugli esterni, quindi su noi spettatori), un posto in cui i membri di un club illegale solcano le strade a bordo di moto bellissime e dove ognuno di loro possiede uno pseudonimo di sapore romanzesco; ciò crea un piacevole contrasto che ci permette di comprendere i messaggi trasmessi dalla serie pur restando sempre coscienti della dimensione metaforica e simbolica di essa.
Colui al quale va il merito principale della nascita di Sons of Anarchy è senza dubbio il suo ideatore, l'eclettico Kurt Sutter. In effetti possiamo affermare con certezza che per lui il telefilm non sia solo un lavoro o un parto creativo: perchè questo signore ha investito nel progetto tutte le sue energie, il tempo e le speranze, e l'ottimo risultato raggiunto deve valergli una grande soddisfazione…
# #
Egli non si è occupato unicamente della realizzazione generale e della sceneggiatura, ha voluto al contrario partecipare alla storia in prima persona recitando il ruolo di Otto Delaney (un membro del SAMCRO arrestato per omicidio e rinchiuso sino alla morte nella Stockton State Prison): il suo amore per Sons of Anarchy è testimoniato, tra le altre cose, dal fatto che abbia optato per un personaggio molto complicato, il quale in carcere diviene più volte vittima di abusi sessuali e infine muore in modo orribile, non con una pacifica esecuzione ma sotto i colpi sparati da due guardie della prigione; insomma, Sutter non ha scelto di comparire sul set del telefilm con un breve cameo, come molti registi e produttori amano fare, ha deciso invece di entrare con anima e corpo nello show, sentendo sulla propria pelle ciò che vivono i protagonisti.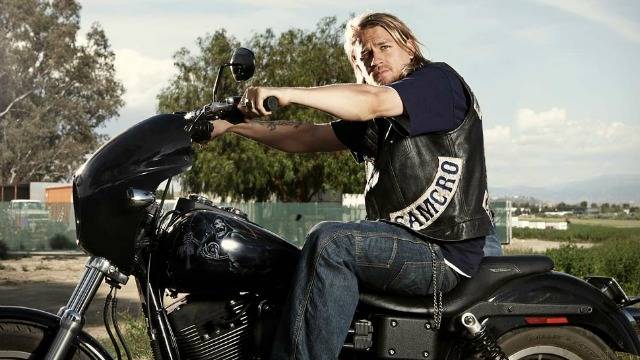 Inoltre non ha saputo trattenersi dal coinvolgere nel progetto anche la moglie Katey Sagal, cui ha assegnato una delle parti principali (quella di Gemma Teller-Morrow, madre di Jackson). Sarà stata forse una scelta dettata dalla comodità di avere un'attrice fidata a portata di mano e dal desiderio di aiutare la consorte nella sua carriera, eppure non riusciamo a non pensare che lui le abbia dato il ruolo di Gemma perchè ama il personaggio tanto quanto ama Katey, e di conseguenza non avrebbe potuto vedere nessun'altra donna nei panni della signora Teller.
Per loro è quindi diventata una questione di famiglia: possiamo quasi immaginarceli mentre lavoravano fianco a fianco, condividendo le idee e cercando di far crescere Sons of Anarchy, creatura cui entrambi paiono essere parecchio affezionati.
Tuttavia il lato più stupefacente della faccenda è che a quanto pare Sutter ha persino corso dei rischi per raccogliere le informazioni necessarie a conferire realismo agli atteggiamenti dei personaggi: sembra infatti che prima di dedicarsi al telefilm sia andato a osservare molto da vicino i componenti di un club di fuorilegge della California del Nord, studiandone a lungo le abitudini.
D'accordo, forse parlare di pericolo è un po' esagerato, poichè lui si trovava là soltanto in qualità di ricercatore e in ogni caso non dobbiamo credere che i criminali, anche quelli veri, siano pronti a fare del male sempre e a chiunque… Ma quanti altri autori possono dire di essersi infiltrati in una banda di delinquenti per il bene della loro opera?
E' questa dedizione che differenzia un prodotto anonimo, confezionato al solo scopo di vendere, da una creazione unica, complessa, realizzata con impegno da un essere umano con il cervello, le mani e il cuore.
Sons of Anarchy ha conquistato il pubblico, riempiendo senza problemi sette stagioni e aggiudicandosi quattro premi, tra i quali un Golden Globe a Katey Sagal come Miglior attrice in una serie drammatica nel 2011.
Non possiamo che essere felici per Sutter, perchè ogni tanto la vita sa anche ripagare la fatica e l'amore per il proprio lavoro 🙂
Sons of Anarchy ci parla in versi: echi di Amleto nella famiglia Teller
Veniamo ora al secondo uomo geniale che ha permesso, seppur molto alla lontana, la nascita di Sons of Anarchy… E stavolta andiamo a disturbare un signore davvero importante, ossia il grande William Shakespeare. Perchè, di sicuro l'avrete già intuito, la trama della serie ricalca vagamente quella dell'Amleto, una delle tragedie più complesse e filosofiche del poeta di Stratford-upon-Avon (un'opera "sacra" al punto che solo nominarla provoca un certo disagio, se non si possiede come minimo una laurea in lettere).
Tuttavia noi siamo audaci e osiamo parlarne per farvi notare come i Teller ricordino per alcuni versi i componenti della famiglia di Amleto: abbiamo un sovrano ucciso dal complotto di un invidioso, il quale gli ruba il trono e la moglie; una vedova piuttosto compiacente, un figlio condannato a portare con sè i segni di tale disgrazia e a scoprire la terribile verità sulla morte del padre… Un regno ormai corrotto dal pessimo governo del nuovo capo.
Sì, perchè John Teller è stato il fondatore del SAMCRO e in esso ha riversato gli ideali che lo rendevano un progetto a proprio modo nobile: egli conferiva all'organizzazione un equilibrio, uno scopo, un codice che il successore Clay Morrow, responsabile della dipartita di John, non è stato in grado di mantenere e anzi ha deformato in maniera irrimediabile, sino a tramutare il club in un gruppo di uomini allo sbaraglio ed eccessivamente violenti. Con Morrow il SAMCRO marcisce nel profondo, proprio come il regno di Danimarca perisce sotto il comando dello zio di Amleto.
Come l'apatica regina Gertrude, anche la madre di Jackson ha accettato nel suo letto un nuovo marito senza indugiare troppo sulle ceneri di quello defunto, e se la prima al momento delle nozze poteva essere ignara dei misfatti di colui che stava per sposare, la seconda è invece stata la mente dell'assassinio di John.
Entrambe mostrano comunque una certa colpevolezza, conscia o inconscia: Gertrude la manifesta cedendo alle lusinghe di re Claudio nonostante i rimproveri del figlio, Gemma invece la lascia trasparire dal proprio carattere machiavellico e un po' fanatico (anche perchè essendo la matriarca dei Sons of Anarchy non può in ogni caso definirsi una santa).
Tuttavia, le figure più miserabili sono senza dubbio quelle di Amleto in Shakespeare e di Jackson nel telefilm: essi conoscono la corruzione della realtà in cui si trovano, ma almeno inizialmente non possono fare granchè, dato che sono soltanto dei principi e che il sovrano da deporre è potente; amano una donna che finiranno per veder morire (rispettivamente Ofelia e il suo alter ego della serie tv, Tara Knowles).
E sono dotati di idee forse ragionevoli, però con tutto il loro coraggio non riescono a celare una lieve forma di viltà, la quale per Amleto si esprime nell'essere o non essere (si interroga su cosa siano la morte, la non esistenza e il suicidio, in parte li desidera ma non può staccarsi dall'abitudine all'essere), mentre per Jax risiede nell'incapacità di cambiare davvero e di salvarsi, cosa che va avanti sino alla sua tragica e inevitabile morte.
Le similitudini tra Sons of Anarchy e Amleto si possono ben riassumere citando due frasi dal testo di Shakespeare; ecco la prima:
"Questa voglio annotarmela: che un uomo possa sempre sorridere, sorridere, ed essere il peggiore dei ribaldi. Almeno in Danimarca" (Atto I, scena V)
Il principe ha appena scoperto dallo spettro del padre la verità sulle azioni malvagie di Claudio, e queste parole si riferiscono proprio allo zio: egli sembra un uomo buono, sorride e si comporta in modo affabile, eppure è il peggiore dei traditori. E come è possibile che nessuno si renda conto della sua vera natura? Semplice, perchè la Danimarca è ormai una terra di menzogne e sudiciume morale e laggiù gli uomini subdoli prosperano; quindi Amleto, pur continuando ad amare il Paese cui appartiene, si rende conto della depravazione di questo, la disprezza e si estranea da lei.
In Sons of Anarchy Jackson fa lo stesso: non abbandona la creatura di suo padre (il SAMCRO), però è diverso da Clay e dagli altri componenti della banda, che non comprendono o fingono di non vedere la degenerazione delle loro azioni.
La seconda frase di Shakespeare che lega le due opere è quella che Jax recita appena prima di morire:
"Dubita che le stelle siano ardore, che il sole ruoti intorno alla sua sfera, dubita che la verità sia vera, ma dubbio non avere del mio amore" (Atto II, scena II)
Amleto la inserisce in una delle sue giovanili lettere d'amore per Ofelia, e sebbene il sentimento che prova per lei sia autentico e i versi bellissimi potremmo dire che si tratti solo della sviolinata di uno spasimante a una dama, tant'è che nella tragedia queste parole vengono lette e svilite da Polonio con una risata. Nel telefilm invece Jackson le pronuncia in un momento fatale, e soprattutto le dedica al padre, a colui che davvero non ha mai smesso di amare e che non ha mai tradito.
Per concludere, osserviamo che le analogie tra Amleto e Sons of Anarchy non si fermano al livello di trama o di personaggi; infatti il capolavoro di Shakespeare è stato concepito per venire rappresentato a teatro (per una visione esemplare rimandiamo allo sceneggiato del 1955, disponibile su Youtube, in cui il protagonista è impersonato da Vittorio Gassman), laddove di sicuro l'apparenza fisica degli oggetti, e i gesti e i movimenti delle persone sono assai importanti, poichè la vicenda si svolge sotto gli occhi del pubblico… Beh, anche nel telefilm l'aspetto e l'estetica sono fondamentali per la riuscita dello spettacolo: non abbiamo forse fatto una leggenda del look dei motociclisti, del loro stile, dei loro visi caratteristici?
In Sons of Anarchy gli attori hanno qualcosa in più rispetto a quelli delle altre serie, perchè la loro presenza davanti alla cinepresa incide così a fondo nell'immaginario degli spettatori da assumere quasi lo spirito sacro delle opere teatrali.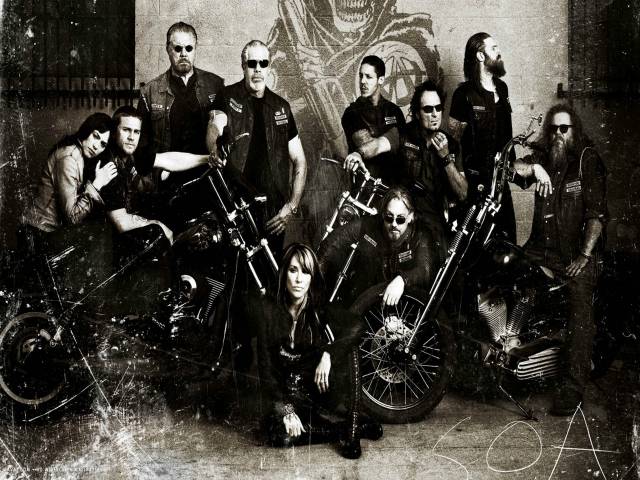 Insomma, abbiamo Kurt Sutter, abbiamo William Shakespeare: da un'accoppiata del genere non poteva che nascere un telefilm con i controc… Ehm, un vero capolavoro!