Bobby "Elvis" Munson è stata una delle colonne di Sons of Anarchy: qualora foste ancora dubbiosi sul perché dovreste amarlo, dovreste leggere questo pezzo!
Per far parte dei SAMCRO, non puoi essere uno qualunque.
Jax Teller è l'epitome dell'eroismo, Tig ha dalla sua una serie infinita di stranezze, Clay rappresenta al meglio la secolarizzazione della società e dei valori…e Bobby è intelligente. Anzi, Bobby è FOTTUTAMENTE intelligente.
Dietro ogni operazione, ogni idea, ogni trovata del gruppo di motociclisti più famoso delle Serie Tv, c'era sempre la raffinata mente di Munson, la qualità che l'ha sempre contraddistinto dai suoi fratelli e che ha fatto innamorare di lui orde di fan.
Tuttavia, non può essere solo questo il motivo della sua popolarità; noi di Hall of Series siamo convinti che ci siano almeno 10 ottime ragioni per amare Bobby "Elvis" Munson e oggi ve le illustreremo tutte quante, convinti di rendervi istantaneamente degli adoratori di quest'uomo tozzo e non certo di bell'aspetto, ma ugualmente degno di ammirazione assoluta.
Attenzione però, per riuscire nell'impresa sarà necessario includere qualche SPOILER all'interno delle nostre righe. Se non volete rovinarvi la visione di Sons of Anarchy, saltate in groppa al vostro destriero d'acciaio e tornate tra queste righe più avanti!
10) La calma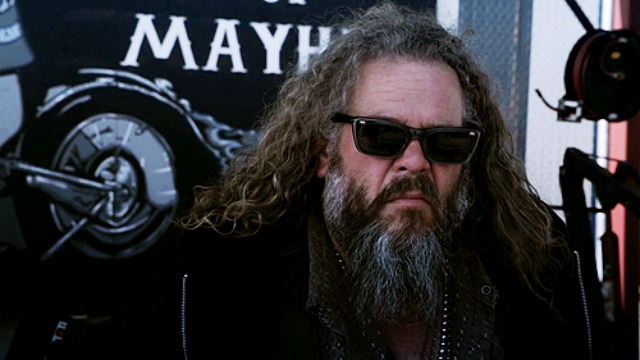 All'interno di un club così densamente popolato da teste calde, c'è bisogno di qualcuno che raffreddi il termometro emozionale per non mandare in malora le cose prima del dovuto. Quel qualcuno è Bobby. Il suo sguardo, le sue espressioni facciali e il suo tono rimangono sempre grintosi ma immutati, scolpiti nell'epico volto di Mark Boone Jr. Questo non significa affatto che, se istigato, Munson non sia in grado di scatenare la sua furia omicida, bensì che i suoi nervi saldi hanno fatto le fortune dei Sons in innumerevoli occasioni (vedi la faida contro Zobelle).