Marcus Alvarez non lascia mai indifferente e immutabile il giudizio e le gradazioni dello spettro emotivo nei cuori dei Samcro, nè tantomeno l'idea vacillante del malcapitato spettatore. In quella coltre cinerea, sanguinaria, fumosa e violenta di Charming, gli ispanici motociclisti ricoprono un ruolo decisivo.
Tutto scaturisce con il caos di un'esplosione, tutto inizia con un sopruso, tutto nasce con l'inimicizia.
I Mayans vogliono legittimare la loro superiorità sul territorio, i Mayans devono far saltare l'accordo tra i trafficanti d'armi dei SoA e la gang criminale afroamericana dei Niners. Mentre il biondo e dannato principe dei Samcro, Jackson Teller, entra in una tabaccheria eludendo le avances di una giovane commessa, una forte esplosione in lontananza illumina il cielo serale.
Il clan di Alvarez ruba i fucili d'assalto M4 modificati, in sintesi il non plus ultra dell'armeria del genere e fa esplodere il resto dell'artiglieria Samcro nel magazzino occultato. La serie sembra voler sottolineare l'antagonismo di Alvarez e del suo clan, ma tutto a Charming è caotico e intricato.
La dicotomia Sons of Anarchy-Mayans, Men of Mayhem-Los asesinos de Dios, ha così inizio nel sontuoso dramma FX dei record.
Tra le due bande rivali si frappone anche un sanguinario evento storico. Esai Alvarez, figlio di Marcus Alvarez, è ucciso dall'ancora Nomads, Happy Lowman, prima che costui diventasse un Samcro a tutti gli effetti (1×09). Marcus era davanti suo figlio e conosceva il piano dei SoA: "I love you, mijo". Happy uccide Esai per il tentativo fallito da quest'ultimo nell'uccidere Clay, Marcus fa un accordo con i SoA e perde suo figlio.
Tutti i seguaci di SoA, oltre al peccaminoso dilemma morale eternamente sospeso tra l'assecondare ed il condannare questi centauri fuorilegge, hanno dovuto empatizzare, prima o poi, con il carismatico leader dei Mayans , nonchè presidente del charter californiano di Oakland.
È soprattutto con Jax che Marcus Alvarez ha modo di instaurare una sorta di tacito accordo, i Sons of Anarchy sono i fornitori indispensabili per la spartizione criminale del territorio. I Sons of Anarchy rappresentano il pericolo e la tutela, al contempo. Il senor Alvarez deve ancora destreggiarsi nel discernimento di interesse e potere del suo clan.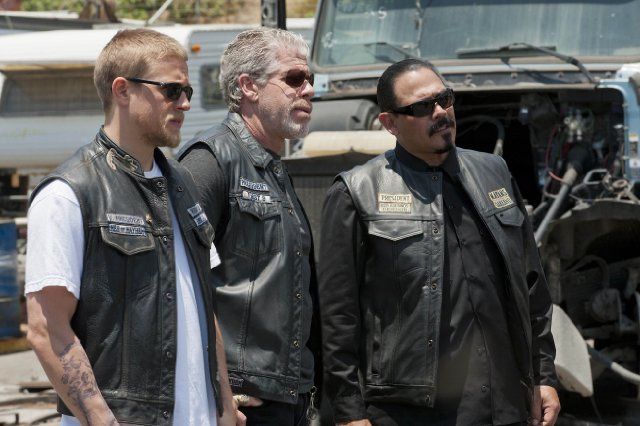 La fenomenologia di questa relazione criminale è di difficile sintesi , ma eternamente basata sulla sincera rivalità, sul rispetto e sull'onore. Le contese devono essere evitate perchè intaccano l'interesse, le alleanze devono essere stipulate per eludere le forze dell'ordine e altre pericolose minacce in quel di Charming. Ma la sinossi non è così lineare, sintetica e limpida.
La contesa Sons of Anarchy-Fratellanza ariana, vede ad esempio ribaltato il patto di non belligeranza. In tale contesto "Los Asesinos de Dios" si schierano con gli ariani che vogliono far pullulare di metanfetamine ed eroina la città di Charming, ma i Sons fanno di tutto per impedirlo.
C'è gia il patto storico, la vecchia amicizia e la strana compiacenza anarchia-legge personificata dalle figure di Clay Morrow e Wayne Unser, il presidente dispotico e l'anziano sceriffo. Charming non deve conoscere direttamente la piaga socio-economica delle droghe o quantomeno bisogna fare di tutto per impedire ciò.

Dietro lauto compenso, i Mayans devono scortare l'ariano che ha perso i suoi principali soci di malaffare. I Sons of Anarchy devono estirpare da Charming il seme del male degli ariani capeggiati da Darby, Zobelle, AJ Weston.
Samcro-Mayans è ancora una stagnante e decisa dicotomia ma la base è sempre la stessa: il rispetto. In un clima dal sapore western alla 'Mezzogiorno di fuoco', le fila anarchiche dei SoA sono parallele alle fila criminali dei Mayans e Zobelle è il fulcro della catapulta tra una sponda e l'altra.
Quando Clay, Jax e tutti i SoA, riescono a stanare Ethan Zobelle in fuga con i Mayans, i SoA avrebbero avuto l'opportunità di uccidere molti membri del clan di Alvarez, invece nulla. Essere rivali non significa avere nemici. Solo Zobelle merita il saluto mortifero della mietitrice oscura, anche se in questa situazione riesce fortunosamente a sventare l'agguato firmato Sons of Anarchy.
Le rivalità devono essere accantonate, la storia ritorna uguale ma cambia sempre un ordine. Il nuovo ordine vedrà impegnati Mayans e Sons con il cartello messicano di Galindo, avente come sottotenente Romeo Parada (Danny Trejo), che collabora meschinamente con la Cia. Droghe, esigenti richieste di armi nuove e costose, rapporti da partnership ben celati da finalità di tradimenti, la rimodulazione dei trattati con la Real Ira: Mayans e SoA gestiranno più affari ma una caterva di problematiche in più.
Alvarez e Teller uccideranno insieme Brendan Roarke e soci, in una scena mozzafiato. I proiettili dei due club si intersecano nella stessa traiettoria. Connor è ricattato da Jax: i Mayans distribuiranno le armi nella California del nord. La suggellazione di un sodalizio criminale, Mayans-SoA non è più rivalità e dicotomia, è finalmente un binomio.
Nella labirintica perdizione della morale e dell'onestà, avere davanti un guerriero è sempre la cosa migliore. Jax avrebbe potuto uccidere Marcus, Marcus avrebbe potuto sparare in testa a Jax, ma i leader hanno un'aura diversa, una luce che funge da ascendente per i loro fratelli e per le loro stesse immagini. Essere un Presidente non basta, la scala gerarchica è poca cosa se non si è veri fratelli e motivatori. I leader scuotono le coscienze, i leader cambiano il punto di vista, i leader affascinano e turbano lo spettatore, i leader plasmano le ideologie.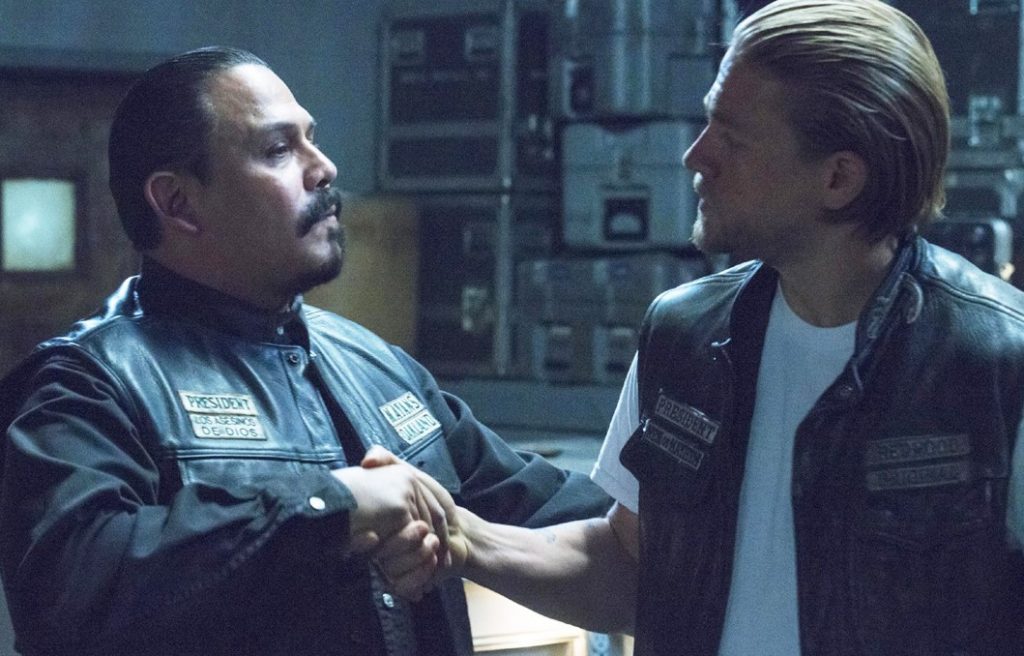 Marcus Alvarez è semplicemente il rivale, il criminale, il socio, il soldato, il leader. L'uomo con gli occhi del guerriero, l'uomo fiero che conosce il peso e il valore sacro del rispetto e della lealtà.
L'uomo da avere come alleato e a cui poter stringere con orgoglio la mano.

Leggi anche:
Ode alla morte in Sons of Anarchy di Andrea Lupo
La verità definitiva sull'identità della vagabonda in SoA di V.Bellopede
Mayans Mc, ha trovato i suoi protagonisti di Debora Bolis