Sappiamo tutti quanto possa essere infelice la vita di un fan di Sherlock, che si alterna a brevi stati di euforia da messa in onda seguiti da lunghi periodi di brancolamento nel wide web alla ricerca di dichiarazioni di Moffat sull'inizio delle riprese della prossima serie. E sappiamo tutti che le notizie non sono mai quelle che ci aspettiamo.
L'ansia e l'inquietudine crescono proporzionalmente al tempo che trascorre dal finale di stagione di Sherlock, e tu sei sempre lì che ti domandi se tutti si facciano di droghe pesanti, e Moriarty è tornato o no!?
Tutto questo patema si protrae fino al fatidico giorno, l'ormai canonico primo di gennaio. Ormai ogni due anni per i fan di Sherlock capodanno smette di essere quel momento in cui, sbronzo, ti affliggi per un altro anno che è passato senza aver concluso niente di buono ed il male di vivere viene scalzato dalla trepidazione per il nuovissimo episodio di Sherlock.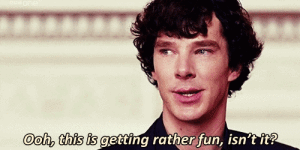 Poiché il primo episodio va generalmente in onda il primo giorno dell'anno, possiamo ben immaginare lo stato confusionale in cui gran parte dei fan di Sherlock versano per l'intera giornata, intontiti a metà tra un post-sbronza e la confusione mentale dovuta all'avvicinarsi della puntata. Ma per le due puntate che seguono, cosa farà mai il fan di Sherlock per prepararsi alla fatidica ora?
Ore 7:00 Suona la sveglia, rigorosamente la sigla della serie.
Il nostro campione si alza per andare al lavoro o adempiere ai suoi compiti e si avvolge nella sua vestaglia. Come al solito, si aspetta di trovare in cucina una tazza di tè fumante con accanto i suoi biscotti preferiti; come al solito, non è inquilino di Mrs. Hudson e non troverà nulla di tutto ciò.
Se lo Sherlockian invece è uno studente alle prese con la sessione invernale, si limita a spegnere la sveglia ché tanto l'aveva impostata per illudersi di essere produttivo, ma l'unica cosa che gli interessa è la puntata.
Quando il fan di Sherlock si prepara per uscire, sceglie senza il minimo dubbio di indossare la sua maglia della serie, che lascerà intravedere dal cappotto aperto seppure fuori minacci una nuova glaciazione: non si sa mai che qualche amico Sherlockian lo riconosca per strada e condivida con lui l'esaltazione per la nuova stagione. Si scambierebbero le teorie e speculerebbero su quello che accadrà.
Di norma, ciò non accade quasi mai e il fan finirà per congelare inutilmente. Nelle eccezioni si sentirà molto meno solo nella sua ansia per l'avvicinarsi della puntata.
Ore 10:00 Il fan di Sherlock inizia ad avvertire un'incalzante inquietudine che somatizza con un incessante formicolio allo stomaco.
Si rende conto di aver fissato il cellulare per tutto il tempo, procedendo sistematicamente ad aprire le app dei social in ordine: Facebook, Twitter, Tumblr.
Sa che non è una cosa sana e nel caso, per evitare spoiler o informazioni trapelate fino a sera, cancella suddette app.
A pranzo il fan di Sherlock vuole onorare la tradizione inglese con un fish and chips, e se non lo può reperire per cause di forza maggiore ripiegherà sulla cucina cinese in onore di The Blind Banker, ed è già tanto! Come sostiene Sherlock, la digestione rallenta i processi cognitivi e non può permettersi di essere scemo se deve elaborare e capire fino in fondo la puntata.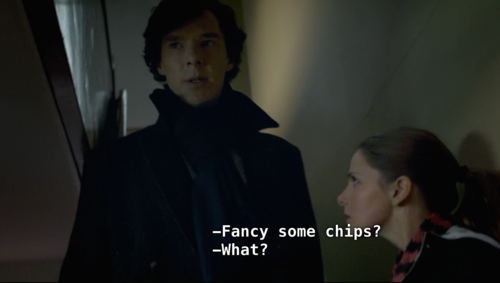 Dopo pranzo il fan di Sherlock si dedica alle sue attività giornaliere, che improvvisamente sembrano molto faticose perché al lavoro i colleghi gli chiedono se sia ancora tra di loro e se invece sta studiando, il libro sembrerà una sequenza incoerente di parole.
Fisicamente è dove dovrebbe essere; mentalmente è rinchiuso nel suo mind palace (dei poveri) a fare elucubrazioni su tutto il materiale e gli indizi che ha raccolto negli episodi precedenti per poter arrivare a formulare delle ipotesi veritiere sullo sviluppo della trama.
Per quanto il fan di Sherlock si possa applicare, però, Moffat e Gatiss saranno sempre un passo avanti. Nonostante questa scomoda consapevolezza, ci prova comunque. Se c'è una qualità propria del fan di Sherlock, quella è la perseveranza.
La tecnica del mind palace in questa occasione è molto utile per evitare qualsiasi forma di vita estranea al fandom mentre si è in preparazione psicologica per la puntata.
Ore 17:00 L'ora del tè. E della merenda.
Il fan di Sherlock, per l'occasione, si gusta una grassa e golosissima fetta di torta. Si può dire che non abbia la stessa fobia di ingrassare che ha Mycroft Holmes.
E non si punirà nemmeno con una sessione estenuante di tapis roulant, perché oggi se la merita, la torta.
Quando la sua giornata è finita e sta tornando a casa per la parte più emozionante, il fan di Sherlock monta in macchina o sui mezzi. Se opta per quest'ultima opzione, passerà l'intero viaggio prima mettendo in mostra la sua maglietta per ottenere consensi da un ipotetico collega di fandom, poi scruterà i suoi compagni di viaggio per affinare le sue tecniche di deduzione.
Osserverà chiunque per scoprirne l'occupazione, la provenienza e la destinazione, ma soprattutto cercherà di scoprire se qualcun altro, come lui, sta tornando a casa per vedere la puntata.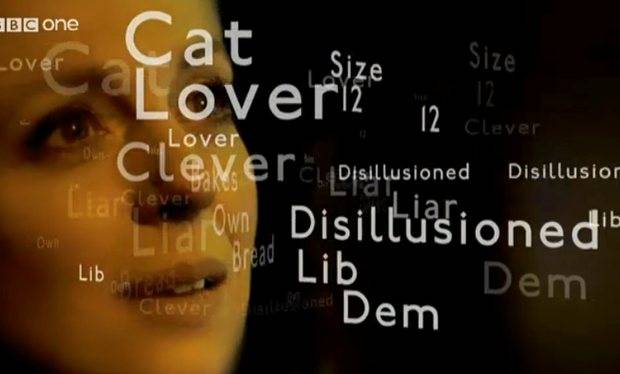 Tornato finalmente a casa, scongela una pizza e la caccia in forno; avvia il computer e minaccia con prepotenza chiunque viva insieme a lui, sequestrando cellulari, tablet, e qualsiasi altro dispositivo possa rubargli la banda. Il fan di Sherlock deve avere il completo dominio sul WiFi.
Tolta la pizza dal forno, magari dopo la doccia, ma non possiamo dirlo con certezza scientifica, si sigilla in camera e finalmente può permettersi di sbirciare i social network per cibarsi – oltre che della pizza – dell'hype dei suoi simili.
Per ingannare l'attesa della diretta riguarda minuziosamente l'ultimo episodio andato in onda, per carpire anche i dettagli più piccoli che potrebbero essergli sfuggiti. Annota tutto sul suo quaderno delle teorie, per essere sempre sul pezzo.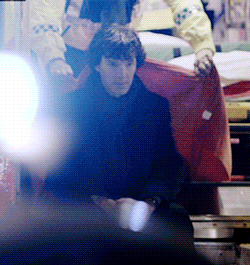 Alla fine, una volta combattuto e vinto FilmOn e sintonizzato su BBC One con la sua shock blanket, che gli servirà senza ombra di dubbio, il fan di Sherlock si godrà la sua meritata puntata.