Attenzione: evitate la lettura se non volete imbattervi in spoiler sulla 4×03 di Sherlock.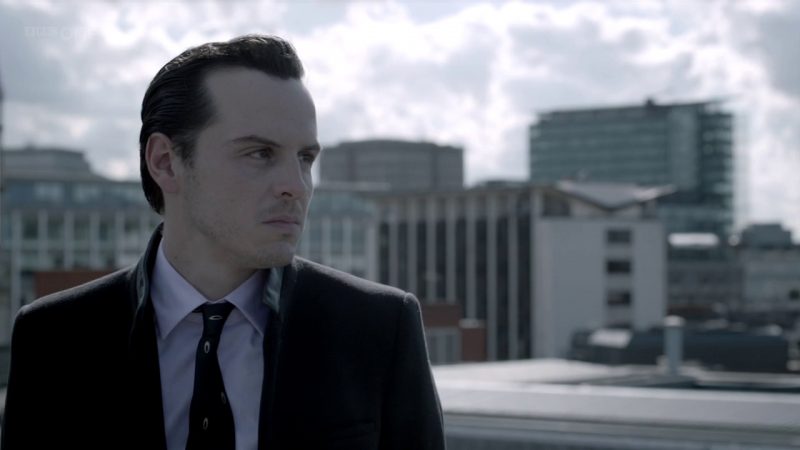 Pensavate seriamente che Sherlock potesse chiudersi con un finale chiaro e senza ambiguità? Vi eravate convinti che quei cinici di Moffat e Gatiss non avessero un asso nella manica per tormentare i nostri incubi e alimentare allo stesso tempo i sogni più proibiti? Poveri illusi, voi come noi. È bastato un video di pochi secondi per rimettere in discussione tutto per l'ennesima volta, dalla conclusione di Sherlock alla morte di Jim Moriarty. È stata sufficiente una frase per mettere da parte per un attimo buona delle considerazioni fatte nei giorni scorsi sul meraviglioso ultimo atto della quarta stagione. Basta poco certe volte, soprattutto se si è in bilico.
Partiamo dalla cronaca: domenica scorsa, dopo i titoli di coda di The Final Problem ed un breve montaggio di filmati del backstage di Sherlock, è andato in onda un video di pochi secondi. Non ovunque, però. Su Netflix no, per esempio. Al cinema sì. La 4×03 del capolavoro della BBC, infatti, è stata trasmessa in diretta in diverse sale cinematografiche britanniche e statunitensi, e quando ormai il pubblico si apprestava ad andare a casa ancora in preda all'adrenalina e con le note di I Want to Break Free in testa, è arrivato un clamoroso colpo di coda.
Eccolo:
"You don't think I can just disappear, isnt' it?!" ("Non pensavate che potessi scomparire così, giusto?").
Partiamo da un presupposto: questo messaggio di Jim Moriarty può voler dire tutto o niente e probabilmente non significa nulla, ma non possiamo esimerci dal fare qualche piccola considerazione. Perché è stato inserito dopo i titoli di coda e non in tutte le versioni? Vi proponiamo quattro ipotesi.
Moffat e Gatiss avevano voglia di divertirsi 
Se volete scommettere dei soldi sulla risoluzione della vicenda, vi consigliamo caldamente di optare per questa ipotesi. Moffat e Gatiss si divertono e ridono alle nostre spalle: lo fanno continuamente, ormai è una filosofia di vita e probabilmente lo faranno pure dopo aver visto le reazioni al breve filmato. Volevano tenerci sulle spine persino dopo un finale chiusissimo, e ci sono riusciti. Perché noi non crediamo al ritorno di Moriarty, ma ci speriamo sempre. Maledetti.
Moffat e Gatiss vogliono mettere sotto pressione Cumberbatch e Freeman
Questa è più seria, ma allo stesso più improbabile. Moffat ha chiarito nelle ultime ore la sua posizione sulla realizzazione della quinta stagione: The Final Problem ha chiuso un arco narrativo centrale, ma è pronto ad andare avanti a patto che Cumberbatch e Freeman siano a disposizione. Dipende da loro e solo da loro, insomma. E alimentare l'hype del fandom di Sherlock con il possibile ritorno di Moriarty potrebbe essere un modo per metterli sotto pressione e spingerli a rivestire i panni di Sherlock e Watson. D'altronde stiamo parlando di un genio del male, non possiamo escludere un'ipotesi del genere.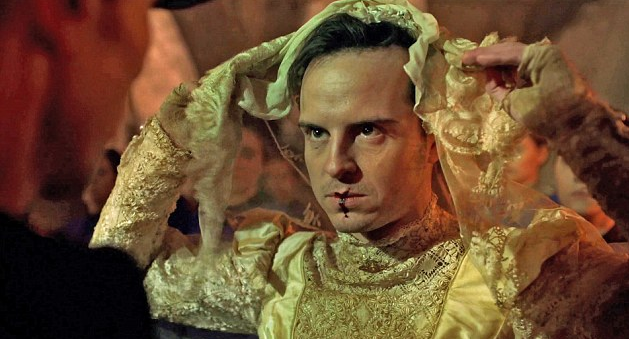 Andrew Scott voleva congedarsi dopo l'ennesimo ritorno a metà
Il filmato potrebbe essere idealmente l'ultimo dei piccoli video registrati da Moriarty per Eurus: invece di prendere in giro Sherlock, Watson e Mycroft, ci saluta. "Non pensavate che potessi scomparire così, giusto?", dice. E potrebbe riferirsi alla fine che aveva fatto in The Abominable Bride, oppure alla sua stessa morte. Difficile avventurarsi oltre in interpretazioni prive di fondamento, ma una cosa è certa: la sua presenza in The Final Problem è stata eccezionale e ci siamo accontentati dei pochi minuti che ha avuto a disposizione per rubare la scena a tutti.
Jim Moriarty è vivo. Oppure è ancora un pericolo
È arrivato il momento di affrontare il nodo più ostico: e se Jim Moriarty fosse ancora vivo? Ce lo domandiamo da anni e ne abbiamo parlato diverse volte, ma The Final Problem sembra aver messo l'ennesima pietra tombale sulla vicenda. Abbiamo scoperto che la nemesi di Sherlock è sempre stata una parte del piano di Eurus e il famigerato ritorno al termine di His Last Vow non era altro che un filmato registrato. Potrebbe essere così anche stavolta, e il messaggio potrebbe rappresentare la minaccia incombente di parte della sua rete sopravvissuta allo smantellamento di Sherlock, oppure la conferma della sua clamorosa sopravvivenza. Difficile pensarlo, visto che si è sparato un colpo di pistola in bocca, ma Fight Club ci insegna che tutto è possibile e restare in vita dopo un tentato suicidio così plateale non è da escludere del tutto a seconda dell'angolazione del colpo, seppure altamente improbabile.
Se andasse veramente così, la quinta stagione di Sherlock assumerebbe nuovi significati, tutti da scoprire. In ogni caso, qualcuno ci sta prendendo in giro: quei pazzi di Moffat e Gatiss, oppure quel genio di Moriarty. Nel dubbio, guardate in faccia la persona che intende verificare la validità del vostro biglietto quando prendete un treno: non si sa mai.
Antonio Casu 
LEGGI ANCHE: