They say nothing lasts forever; dreams change, trends come and go, but friendships never go out of style.
Carrie, Samantha, Charlotte e Miranda sono quattro amiche single che vivono e lavorano a New York. Sono le protagoniste di Sex and the City, Serie Tv tratta dall'omonimo libro di Candace Bushnell. Tra brunch domenicali, infinite paia di scarpe e un Cosmopolitan sempre a portata di mano, la Serie Tv racconta la vita amorosa e l'amicizia delle quattro ragazze. Prodotta dalla HBO e ideata da Darren Star, la Serie è stata trasmessa dal 1998 al 2004. Dal prodotto televisivo sono poi nati due film e un prequel, The Carrie Diaries.
Rivoluzionaria nel suo genere, ha fatto sì che molte produzioni televisive successive parlassero di sesso in modo più esplicito rispetto a quanto si faceva in precedenza. Sex and The City è una Serie Tv tuttora seguita da molte donne, che per un motivo o per l'altro, riescono a vedere una parte di se stesse in ognuna delle quattro ragazze.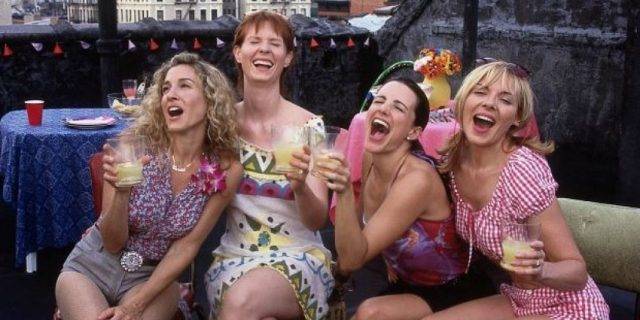 Sex and The City è molto più di "quattro amiche che parlano di sesso". Come si evince dal titolo stesso, anche la City è importante. Si parla di New York, una delle città più conosciute d'America. La Serie ci catapulta nel capitalismo americano, nell'epoca del consumismo e dell'attaccamente ai beni materiali. A tutto ciò si affiancano inoltre le innumerevoli possibilità offerte dall città. Carrie, Samantha, Charlotte e Miranda ricoprono dei ruoli di spicco all'interno della società. Sono donne forti e libere.
Sex and the City è attuale e per questo motivo sono molte le donne a essere legate a questa Serie. Per loro abbiamo oggi una bellissima notizia. Potrebbe esserci la possibilità di un revival? Personalmente, ne sarei contentissima! Kristin Davis (Charlotte) ha pubblicato questa foto sul suo profilo Instagram: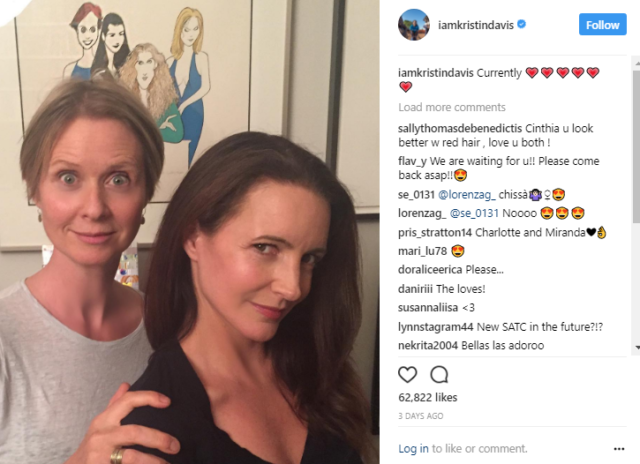 Potrebbe sembrare un semplice incontro tra due colleghe di vecchia data. Ma avete notato il quadro sullo sfondo? L'immagine che ritrae le quattro amiche, accompagnata alla caption "currently" farebbe pensare a un revival o, eventualmente, a un terzo film. Ai commenti dei fan non è arrivato alcuna risposta e non c'è nemmeno una notizia che ufficializzi il progetto.
Speriamo di avere notizie a breve! Stay tuned!