"Prima di costruire un muro, voglio sapere cosa chiude dentro e cosa chiude fuori."
Questo cosa fa? Ci chiude dentro o chiude fuori qualcosa?
Peter McCall che cita Robert Frost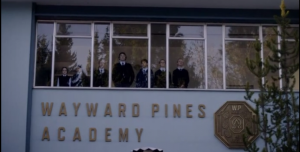 A tratti è WOWward Pines, a tratti no. Insomma, questa nuova serie FOX continua a far parlar di sé. Cerchiamo di tirare un poco le somme e vediamo di capirci qualcosa. La FOX si inventa un superlancio e tutti si aspettano di vedere sullo schermo il quarto segreto di Fatima e l'ottava meraviglia del mondo, insieme. Le critiche si sprecano: a conti fatti, il pilot di Shaymalan che dopo Il sesto senso poteva permettersi tutto, ma temo abbia superato il limite con L'ultimo dominatore dell'aria), pare essere un patchwork di già visto. Questo è il pensiero di quasi tutti. Il punto è: questa cosa può costituire davvero solo un deterrente per la serie o può trasformarsi in un trampolino di lancio? Wayward Pines, la serie che ci hanno venduto come l'Eldorado della serialità, è veramente tutta racchiusa in un gioco di citazioni? Quello che luccica è solo oro rubato che non ci serve più a niente?
Un pilot che, in qualche modo, ha funzionato: ce lo diceva Wilde, no? «Bene o male, purché se ne parli».
UNO A ZERO, PALLA AL CENTRO
PUNTATA 2 (Don't Discuss Your Life Before): Boom! L'imprevedibile morte di Beverly (Juliette Lewis) alla fine del secondo episodio lascia tutti a bocca aperta. Ribaltone: la serie inizia a prendere una sua strada. Nelle pause caffè dei veri nerd si vocifera che è impossibile, io sapevo che la Lewis ha firmato il contratto per tutte le dieci puntate! Vedrai che avranno fatto una scemata delle loro: la faranno "tornare in vita" in qualche modo. A dirla tutta, noi speriamo di no! Non che il personaggio di Beverly fosse il più tremendo mai incontrato, anzi (qualcuno di noi ha anche sopportato James Hurley per ben due stagioni di Twin Peaks!), ma perché far morire – sgozzato come un capretto – uno dei personaggi che sembravano essere portanti, nella seconda puntata, è una bella mossa capace di far nascere in noi ancora più interrogativi di quanti non ne avessimo già!
PUNTATA 3 (Our Town, Our Law): Badaboom! Ma no, ma anche lo sceriffo mangiaconialrum Pope (Terrence Howard) mi crepa già? FANTASTICO. Fantastico davvero, perché uno poteva anche aspettarsi un colpo di scena paraculo alla puntata due, ma quello della terza puntata è un colpo di scena paraculo doppio e a forza di personaggioni morti, ci scappa il capolavoro. Qualche altro appunto su questa terza puntata densa di interrogativi. Innanzitutto, anche qui, la citazione non manca: a un certo punto Ethan Burke ha un'idea di quelle che vengono sempre agli agenti segreti. Vede transitare per la città un camioncino, targato Wyoming, che porta delle scorte alimentari e ci salta dentro. Quando questo si ferma, il Nostro si trova in una tipica stanza da futuro distopico: una specie di magazzino con mille porte, attraverso le quali si può arrivare a Wayward Pines e… dove? In altri luoghi come quello? In altre cittadine malefiche? Ognuno nella casa della propria suocera? Non ci è dato ancora saperlo. Certo è che quelle riprese ci ricordano il – ben  più minimal – corridoio di Matrix e i suoi mille accessi virtuali. Nel magazzino, oltre alle porte, ci sono anche tutte le macchine dei fortunelli che hanno deciso di fare una scampagnata a Wayward Pines e si sono trovati incidentati, ospedalizzati e, infine, imprigionati per sempre in una ben poco ridente cittadina dell'Idaho. Ma aspettate! L'agente Burke riconosce l'auto di sua moglie! Fermi tutti: ma allora, quelli che avevamo visto a metà del secondo episodio erano davvero Theresa e Ben? Che, però, sono partiti alla ricerca del capofamiglia solo alla fine del secondo episodio e arrivano a Wayward solo all'inizio del terzo. Mmmmmm… A Wayward dove la gente pensa siano trascorsi dodici anni, quando sono passati solo un paio di mesi, o dove sono convinti sia il 2001 mentre siamo nel 2014? Ok, passino il tempo spazializzato e la durata reale di Bergson e la Teoria della relatività einsteiniana, ma qui, con il tempo, non ci si capisce una cippa! Un'ultima cosa, su questa puntata: quando Burke senior e junior ammazzano Pope, si apre una porta nel recinto circondante la città e appare "una cosa" (un animale? Un alieno? Sempre vostra suocera?) che ne ruba il corpo. Di cosa si tratta? Che piega prenderà la narrazione dipenderà anche da questo. «È molto peggio di qualsiasi cosa tu possa immaginare» dice Pope a Burke prima di morire.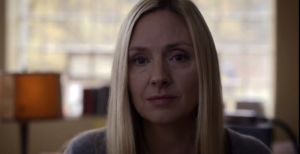 Ed eccoci finalmente alla PUNTATA NUMERO 4: One Of Our Senior Realtors Has Chosen To Retire. Le sorprese della cittadina-prigione non sono finite e sono sempre più disorientanti. Ethan Burke è il nuovo sceriffo di Wayward Pines. Sì: a quanto pare, a Wayward pare che se ammazzi qualcuno prendi il suo posto (valesse così in Italia: mai fare fuori uno che lavora nelle Poste!). O forse funziona così solo per il signor Burke? Anche perché pare proprio ci tengano tutti ad avere come compaesano il povero Matt Dillon. È così che Ethan ha la possibilità di scoprire – in un cassetto nascosto nel pavimento sotto il tappeto – i fascicoli degli abitanti di Wayward Pines, contenenti le informazioni sulla loro vita precedente e su quella nel paesino stregato, più qualche numero in copertina, ma non si sa bene ancora cosa ci stiano a significare. È proprio grazie a questi fascicoli che Burke scopre, ad esempio, che la nuova insegnante del figlio Ben, la signora Fischer, nella "vita reale" faceva l'ipnoterapista. Se ci pensate bene, che una che sa fare l'ipnosi abbia in mano tutta la gioventù del villaggio non è proprio rincuorante. D'altro canto, l'indottrinamento di qualsiasi dittatura transita sempre anche attraverso l'istruzione. Il marito della Fisher, altro non è che il sindaco di Wayward e pare voler suggerire qualcosa al nostro agente preferito. Ma cosa? Manco ha iniziato a fare lo sceriffo che già Pam – l'infermiera più tremenda della storia, dopo Annie Wilkes di King, ovviamente! – gli porta un tizio da "RICONSIDERARE", che a Wayward Pines significa che può far la fine del solito capretto sgozzato. La colpa dell'uomo? Aver imbrattato la città di graffiti con scritto cose come: «Nel tempo dell'inganno universale dire la verità è un atto rivoluzionario» che l'aveva già detto un certo George Orwell che con la serie pare c'entrare parecchio (telecamere ovunque? Si pensi al Big Brother di 1984!). Ovviamente Ethan non ha intenzione di fare il giustiziere, ma Peter l'imbrattatore non ce la fa più e, anche per dare a Burke una possibilità di scappare, si ammazza. Nessun'altra citazione? Oh sì. Mentre i Burke e i Fisher (e tutta la restante parte della città) stanno consumando una cena "intima", Pam decide di brindare al nuovo sceriffo e, a un certo punto (giuro che non ci volevo credere!), dice: «Un grande potere comporta grandi responsabilità» controlla! Rifaccio: UN. GRANDE. POTERE. COMPORTA. GRANDI. RESPONSABILITÁ. E dopo essermi accertata di non star guardando Spider Man, ho seriamente pensato di aver capito tutto il senso della serie, un senso metafilmico: a Wayward Pines vengono rinchiuse le persone per simulare serie e film che abbiamo già visto e per dare uno spettacolo nuovo, fatto di queste citazioni, alla gente che è a casa, agli spettatori: a noi! Per questo la città è disseminata di telecamere e microfoni! Wayward Pines è la casa del Grande Fratello della serialità! Ok, ora basta vaneggiare. Con la sua media di un morto a puntata, per ora, questo prodotto ci sta ingolosendo e convincendo. E voi? Voi cosa ne pensate?
Un saluto agli amici di Wayward Pines Italia