Quante volte abbiamo cercato di convincere i nostri amici, o siamo stati convinti da loro, a guardare incredibili serie tv? E quante volte, cercando di descrivere al meglio anche la trama più semplice, ci siamo accorti di non poter dir nulla perché altrimenti avremmo fatto spoiler? Lo so, è un tranello bello e buono in cui tutti almeno una volta sono inciampati. Inoltre la difficoltà aumenta con trama e tematiche complesse e strettamente intrecciate ai plot twist. Vi rivelo che spesso hanno cercato di introdurmi Watchmen, ma la verità è che, come molte di quelle in lista, appartiene alle serie tv che bisogna solo iniziare affidandosi a un'unica possibile descrizione: è spettacolare.
Quindi, mentre sconsolati ci mordiamo la lingua trattenendo lo spoiler che probabilmente avrebbe convinto il nostro interlocutore ma che, a conti fatti, non vogliamo davvero rivelare, vediamo un po' se anche voi avete avuto difficoltà a descrivere queste serie tv.
1) Patrick Melrose
Dopo il successo ottenuto con il ruolo di Sherlock, nel 2018 Benedict Cumberbatch ricopre i panni di un altro difficile personaggio: Patrick Melrose. Composta da 5 episodi, Patrick Melrose, racconta la vita di un uomo tossicodipendente costretto ad affrontare differenti problematiche familiari. Dietro il volto di questo personaggio si nasconde la personalità dell'autore dei romanzi da cui la serie è tratta. Purtroppo non possiamo dirvi altro su quest'opera dai tratti autobiografici, ma ve la consigliamo caldamente anche solo per poter godere di un'altra magnifica performance di Cumberbatch.
2) Dark
Dark è una delle serie più complesse, contorte e difficili da spiegare in tutto il catalogo Netflix, tanto che per introdurre il discorso forse sarebbe comodo partire da una frase specifica: se ti piacciono i viaggi nel tempo allora Dark è la serie che fa per te. In realtà sarebbe anche la serie perfetta per iniziare ad amare i viaggi nel tempo. Cercare di spiegare le dinamiche significherebbe solo fare spoiler, perché anche i nomi e i cognomi dei personaggi lungo le diverse linee temporali finiscono per essere parte integrante degli eventi, tanto da non poter essere più pronunciati con tranquillità. Ogni cosa in questa serie tv, come in Watchmen, è un tassello collocato strategicamente al fine di creare un quadro più vasto.
3) Taboo
Cosa si potrebbe dire di Taboo? Al contrario di Dark la trama lungo cui si muovono i personaggi non è contorta o eccessivamente complessa da spiegare. Con Taboo, infatti, affrontiamo un altro problema fastidioso: cercare di rendere la spettacolarità della storia potendo sfruttare facilmente l'incipit lineare, ma che in realtà poi si rivela comunque non essere abbastanza. Fortunatamente dalla nostra parte abbiamo la possibilità di citare un cast affermato e una fotografia evidentemente curata nei minimi dettagli.
4) Sense8
Sense8 è i suoi protagonisti. La serie ideata da Lana Wachowski e presente nel catalogo Netflix racconta del mondo, dei legami, dell'uomo, delle gioie e delle difficoltà. Si potrebbe ovviamente aggiungere che narra di tutti questi temi creando tra i personaggi un legame sensoriale che va oltre l'umana comprensione, ma cos'altro potremmo dire? Sense8 è contemporaneamente semplice e complessa e io stessa ho difficoltà, come in passato, nel trovare le giuste parole. Quindi taccio e vi chiedo di fidarvi quando affermo che si tratta di una serie che vi entrerà nel cuore e che a ogni rewatch migliora sempre di più.
5) Utopia
Utopia, serie tv ideata da Dennis Kelly nel 2013 e che purtroppo ebbe vita breve poiché venne cancellata solo dopo due stagioni, suscita tantissime domande anche solo leggendo il titolo o notando la predominanza del colore giallo in molti frame sparsi per tutto il web. Che significa Utopia? Perché tutto questo giallo? Chi sono i protagonisti? Ci chiedono. Ma noi sappiamo che rispondere a queste domande è difficile perché significherebbe dover spiegare la filosofia alla base della storia, approfondirla attraverso le azioni dei personaggi e rivelare la chiave di volta che racchiude tutte le risposte dietro un incipit che stride apertamente con il titolo della serie tv. La prima stagione infatti narra di una strage avvenuta in una fumetteria per mano di due killer mentre cercavano di rubare una Graphic Novel su cui sarebbe stato scritto il futuro del mondo.
6) The OA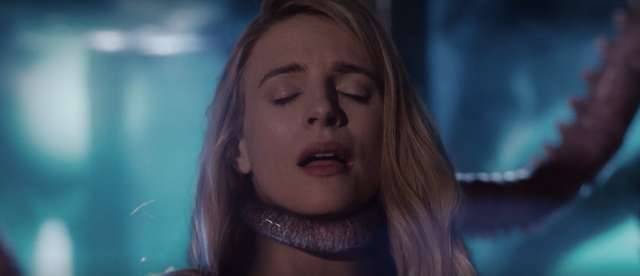 Definire The OA è una vera impresa. Vi sfido a trovare le parole più adatte a descrivere organicamente questo prodotto, senza spoilerare l'identità dei personaggi, cosa fanno e perché lo fanno. La serie Netflix che come molte altre è stata vittima di un'improvvisa cancellazione è davvero difficile da spiegare.
Sotto alcuni aspetti la difficoltà di raccontare The OA la avvertiamo anche volendo descrivere Watchmen.
Parliamo di un vero e proprio mind-blowing dall'inizio alla fine. L'unica certezza è che nel momento in cui si decide di iniziare questa serie è impossibile dimenticarla. The OA non ha neanche bisogno dei viaggi nel tempo per tenerci sulle spine, bensì sfrutta i viaggi tra le dimensioni e probabilmente anche questa frase è un piccolo spoiler.
7) The Wire
Raccontare The Wire significa dire tutto e allo stesso tempo dire niente. La serie, trasmessa in America nel 2002, è arrivata in Italia su Fox a partire dal 2005. Al contrario di molti altri telefilm polizieschi, The Wire non ha puntate auto conclusive, ma è nella sua trama lineare che si racchiude tutto il succo. Non annoia né delude, al contrario attira sempre di più lo spettatore mostrandogli la feccia della società, sfruttando come simbolo di tutto la città di Baltimora che non fa solo da sfondo alle vicende, bensì ne diventa attiva protagonista.
8) Watchmen
Watchmen ci ha sorpreso, attratto e convinto. In tutta sincerità si tratta di una serie tv che non ha bisogno di presentazioni o descrizioni. L'unico ostacolo che lo spettatore è costretto a superare è quello di dover decidere se iniziarla oppure no. È Watchmen e porta con sé un bagaglio di storia che il solo udire il titolo ci fa capire che sarebbe inutile fare domande perché nessuno potrebbe dare una risposta adatta ed esaustiva.
Possiamo definire Watchmen solo tramite aggettivi o emozioni.
Si tratta di un'esperienza soggettiva e diversa per ognuno e raccontarla non renderebbe l'idea.
9) The Man in the High Castle
C'è un uomo nell'Alto Castello che diffonde cinegiornali che raccontano una storia mai accaduta ma che nutrono la speranza. The Man in the High Castle si potrebbe introdurre in questo modo, ma sembrerebbe quasi di leggere una di quelle scarne e poco attraenti descrizioni e anteprime che Netflix affianca ai prodotti del suo catalogo. The Man in the High Castle è molto più di questo, ma è difficile trovare le parole adatte.
10) Mr. Robot
Mr. Robot è quel tipo di serie tv sempre pronta a ingannarti. In fin dei conti è apparentemente semplice da spiegare: il protagonista è un ragazzo di nome Elliot ed è un hacker che non ama relazionarsi con gli altri ma che desidera capovolgere il sistema. Ma avrò davvero detto tutto e bene? Io penso proprio di no. Mr. Robot, come Watchmen, è impossibile da introdurre perché discuterne senza conoscere gli eventi significherebbe dire il banale, il superficiale della storia. Con questa consapevolezza ci accorgiamo che quando ne parliamo cercando di non eccedere in realtà non stiamo rendendo giustizia alla serie. Non vogliamo raccontare troppo, ma quasi lo desideriamo per far capire a chi ci ascolta che ne vale davvero la pena iniziarla.
Così, quando davvero ci troviamo in difficoltà, ma desideriamo a tutti i costi che i nostri amici comincino la serie che in quel momento stiamo amando, cediamo e sconfitti finiamo per far loro una sola domanda: posso farti almeno un piccolo spoiler?