Il mondo dell'intrattenimento non è mai stato così variegato come negli ultimi anni. Dal cinema alle serie tv, fino alla musica e ai videogiochi: non abbiamo mai avuto così tanta scelta come adesso. Grazie allo sviluppo della tecnologia e a produzioni sempre più di alto livello, ognuno di noi ha avuto la possibilità di accedere a una libreria di titoli per tutti i gusti. Inoltre, l'introduzione delle piattaforme streaming ci ha permesso di poterli apprezzare dalla comodità del nostro divano, aumentando così la nostra voglia di svago e divertimento. Ad oggi, risulterebbe quasi impossibile non trovare un film, una serie tv o un videogame (o uno show ispirato a romanzi e videogiochi come The Witcher) che non riesca a soddisfare le necessità degli utenti.
Questa abbondanza di prodotti non solo ha attirato un pubblico sempre più ampio, ma ha anche spinto i vari media a intrecciarsi fra di loro. Uno degli esempi più attuali è il salto crossmediale dal mondo del gaming a quello della serialità. Prendiamo The Witcher: l'originale Netflix si ispira principalmente ai romanzi di Andrzej Sapkowski, ma gran parte del suo successo è dovuto a coloro che hanno vissuto le vicende di Geralt sul loro pc o console. La storia videoludica dello strigo non è la sola ad aver attirato l'attenzione del microcosmo seriale. Pochi giorni fa l'emittente americana HBO ha ufficialmente ordinato la produzione di The Last of Us, l'adattamento dell'acclamato franchise creato da Naughty Dog. Nel 2021 dovrebbero uscire Resident Evil: Infinite Darkness (serie animata in CGI ispirata ai videogiochi della Capcom) e la serie di Showtime su Halo, celebre gioco per Xbox. Inoltre, sembra che Amazon Prime stia lavorando su un adattamento di Fallout, saga di giochi ambientati in un futuro post-apocalittico.
Così come è successo con le serie tv, anche i videogame sono andati incontro a una crescita esponenziale negli ultimi anni. Che sia per la qualità tecnica, l'immersività, lo sviluppo della trama o per il semplice divertimento, i migliori videogiochi sono stati attesi e giocati da milioni di gamer, generando così un vero e proprio fenomeno culturale. Considerando il loro successo mondiale, non c'è da stupirsi se il piccolo (e grande) schermo si siano interessati più volte alle storie per PlayStation e Xbox.
Eppure, nonostante non manchi materiale originale da cui trarre spunto, il più delle volte risulta difficile far diventare un videogame una serie tv. Ma da dove nasce questa difficoltà?
Malgrado molti videogiochi abbiano dimostrato di essere una forma d'arte capace di catturare il pubblico, il mondo del gaming è ancora circondato da un alone di diffidenza. Rispetto ad altre forme di intrattenimento, questa non viene sempre vista di buon occhio, soprattutto a causa di pregiudizi stereotipati: un adulto che gioca è immaturo. I gamer sono incapaci di relazionarsi con il mondo reale. I videogame incitano alla violenza. Sentenze dure per una realtà ben diversa, che può invece offrirci le stesse gioie e soddisfazioni che una serie tv può darci. Ciononostante, questa diffidenza ha ancora un certo peso, ed è proprio per questo che molti adattamenti sono costretti a partire con un budget ridotto, che ovviamente crea dei limiti su ciò che è possibile portare sul piccolo schermo.
Il caso di The Witcher è particolare: lo show creato da Lauren Schmidt Hissrich ha potuto contare su un budget di circa 10 milioni di dollari per episodio, una somma non affatto indifferente. Eppure, la prima stagione ha diversi difetti, che sono stati notati sia dal pubblico che dalla critica. Sin dal primo episodio ci sono scene a tratti povere e incomprensibili. Nonostante la bellezza degli evocativi scorci medievali, il ritmo delle puntate non è sempre particolarmente sostenuto. Infine, la narrazione della storia è piuttosto complicata, poiché divisa su più piani temporali non sempre così chiari per i nuovi spettatori.
Ma il successo dello show è dovuto non tanto alla sua perfezione tecnica, quanto più al fatto di essere esattamente ciò che i fan di Geralt volevano: un mondo familiare, in cui ritrovare i personaggi e le atmosfere dei libri e dei giochi. In questo The Witcher ha sicuramente centrato il segno: la narrazione non lineare ricalca la struttura a racconti dei primi romanzi, i dialoghi lenti e pacati richiamano quelli del materiale originale e la fotografia contrastata e fumosa dona alla serie un sapore quasi artigianale, dandole così personalità.
Al di là del budget, uno dei più grandi ostacoli per il salto crossmediale è la difficoltà nel ricreare l'interattività e immersività del videogioco.
Negli ultimi anni Netflix ci ha proposto dei prodotti interattivi, in particolare Black Mirror: Bandersnatch e il film Unbreakable Kimmy Schmidt: Kimmy vs the Reverend. Tuttavia, nonostante le buone intenzioni, questi due esperimenti non sono riusciti minimamente ad avvicinarsi all'interattività dei titoli videoludici. Per quanto una serie possa farci appassionare alla storia e immedesimare nei personaggi, non esiste ancora uno show che ci permetta di vestire direttamente i loro panni e prendere decisioni insieme a loro. Ciò che rende i giochi così affascinanti è proprio la possibilità di diventare il protagonista di narrazioni di diverso tipo e vivere in prima persona le azioni compiute e subite. Dunque, mentre il mondo del gaming offre un'immersività tale da farci diventare parte attiva della storia, serie tv e film ci permettono di seguire il racconto solamente da un punto di vista esterno.
Con i suoi personaggi reali, le ambientazioni suggestive e una storia incredibilmente umana, The Last of Us è il perfetto esempio di ciò che significa trovarsi di fronte a un videogioco estremamente coinvolgente e immersivo. Con la produzione di HBO alle porte, speriamo che Neil Druckmann (scrittore e direttore creativo del gioco, sceneggiatore e produttore esecutivo nella serie) e Craig Mazin (scrittore e co-produttore esecutivo) riescano ad adattare al meglio il materiale originale e tutte le sue complessità.
The Witcher è riuscita nel compito di ricreare fedelmente la storia dello strigo sul piccolo schermo, ma ciò non significa che questa impresa sia sempre facile.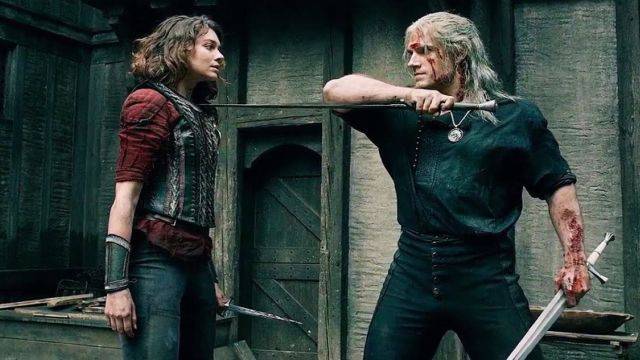 In passato, il cinema si è trovato più volte ad adattare dei videogiochi per delle pellicole cinematografiche: basti pensare a Tomb Raider, la saga di Resident Evil, Sonic – Il film o Pokémon: Detective Pikachu. Anche se alcuni di questi titoli hanno avuto un discreto successo di botteghino, non sono stati comunque in grado di creare storyline coinvolgenti o personaggi memorabili. Questa difficoltà si potrebbe presentare anche nelle serie tv, che rischiano di commettere due errori. Il primo sarebbe l'allontanarsi talmente tanto dal materiale originale da snaturare completamente lo spirito del gioco. Il secondo invece consisterebbe nel rimanere fin troppo fedele al prodotto videoludico tanto da non riuscire a portare niente di nuovo o stimolante agli spettatori. La formula perfetta starebbe idealmente nel mezzo, ma non sempre le produzioni sono in grado di raggiungere questo obiettivo.
Alla luce di tutto ciò, è chiaro che la trasformazione da videogioco a serie tv ha i suoi ostacoli da superare. Ma una cosa è certa: mentre un film ha la necessità di condensare la sua storia nel giro di un paio di ore, uno show ha invece la possibilità di darle maggior respiro e di approfondire tutti gli elementi essenziali nel corso di vari episodi. Ed è proprio questo che ci auguriamo succeda con The Last of Us, Resident Evil: Infinite Darkness, Halo e tutti i futuri adattamenti di videogame: un attento studio del materiale di supporto, il tempo necessario per dare il giusto sviluppo ai personaggi e alle vicende, e quel pizzico di originalità che possa sorprendere sia i fan di vecchia data che coloro che si avvicinano per la prima volta a questo mondo.