Si avvicina sempre di più la fine di agosto e il rimpianto per tutte le cose che avremmo voluto fare quest'estate inizia a prendere il sopravvento. Chi, nei mesi estivi, non ha mai provato la sensazione di non aver abbastanza tempo per fare tutto quello che aveva programmato? Eppure alcune serie tv, come la famosissima The O.C., riportano in continuazione la nostra mente a quelle calde giornate. Ci aiutano a compensare la mancanza che quelle serate in spiaggia e quei giorni con gli amici provocano in noi durante l'anno.
I meravigliosi tramonti che tingono il mare di rosso, la sensazione di sentirsi giovani per sempre. L'idea che d'estate qualsiasi cosa è motivo di festa, gioie, ma anche di dolori e delusioni. La magia che una sera estiva ci regala è qualcosa di inspiegabile e, in fondo, ci va bene così.
Serie tv come The O.C. ci hanno spezzato il cuore innumerevoli volte, ma altrettante ci hanno fatto sognare e gli saremo debitori in eterno.
Queste sono solo alcune delle molte serie che ci fanno respirare l'estate ogni volta che le vediamo. Trasmesse in tv o cercate sui cataloghi streaming, ognuna di queste ha una storia, e almeno un motivo per spingerci a ricordarla ancora.
1) The O.C.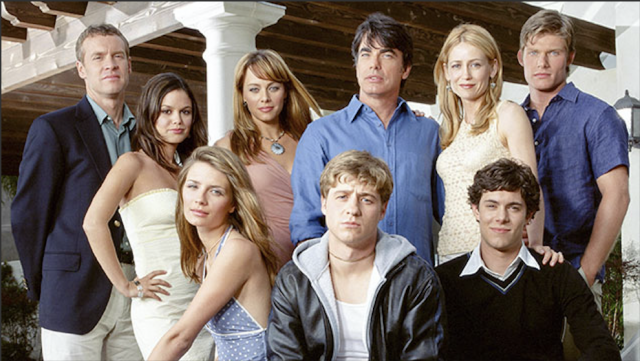 […] Caifornia here we come

Right back where we started from […]
Solo al sentire la sigla di questo teen drama statunitense viene la pelle d'oca! Quante emozioni ci hanno regalato Ryan, Marissa, Seth e Summer? Con le loro avventure adolescenziali nella splendida città di Newport Beach, in California. Facevano venire voglia a chiunque di prendere il primo aereo, abbandonare tutto e tutti e tuffarsi in quello splendido mare al tramonto. Serie tanto amata quanto odiata per il modo in cui ci ha fatto piangere più volte, è composta solo da 4 stagioni (di cui qui abbiamo provato a individuare la migliore). Venne cancellata da Fox per mancanza di fondi ma, col senno di poi, è stata forse la scelta più saggia.
Cosa avreste dato per essere parte del mondo di The O.C.?