# #
La copiosità delle piogge, il grande sviluppo industriale delle città di Copenaghen e Seattle e soprattutto quelle ampie foreste, irriducibili emblemi di una natura selvaggia che conserva i suoi spazi, questi ed altri elementi fondono due diversi scenari, in un unico grande contesto, alquanto similare. Nella serie tv "The Killing", sublime ed efficace (nonostante molte diversità) riproposizione americana dell'archetipo danese "Forbrydelsen", la ricerca di un killer dovrà essere conseguita tra la pioggia, il caos e l'istinto nella città di Seattle. La sigla riesce a far scontrare in pochi secondi tutti questi elementi: pioggia fitta, violenza selvaggia di una scena del crimine, natura, caos e solitudine di un detective. La sigla è un primo e chiaro avvertimento della qualità eccelsa di quest'opera seriale.
# #
Natura, caos e istinto. L'istinto di un killer, la capacità intuitiva e quindi frutto di istinto, di due detective agli antipodi, la pioggia che copre e confonde le anime contraddittorie che la serie farà conoscere. Sarah Linden (Mireille Enos superba) e Stephen Holder (un Joel Kinnaman talentuoso) formano un binomio riuscitissimo di detective, una arguta e solitaria con un malinconico sorriso che ha un difficile matrimonio alle spalle e l'altro che lavorava alla narcotici (ricordarsi del binomio Rust Cohle–Marty Hart, è un atto doveroso) dalla battuta facile e con un passato tortuoso. Questo tandem funziona alla perfezione e gli attori sono azzeccatissimi.
Le prime due stagioni sono interamente incentrate sulla scomparsa di una giovane ragazza di nome Rosie Larsen. Ogni puntata trascina l'indagine in una illusoria ricerca del vero colpevole, lo spettatore non sa più cosa credere e il mistero sull'omicida spiazzerà completamente chiunque. Senza commettere la delittuosa azione dello spoileraggio, anticipiamo soltanto che l'omicidio della giovane ragazza non è assolutamente da attribuirsi ad un vero e proprio "serial killer", tutt'altro. Un caso che si intreccia con la politica, la famiglia, l'ambiguità dei ruoli e gli interessi: due stagioni veramente intriganti e piacevoli.
# #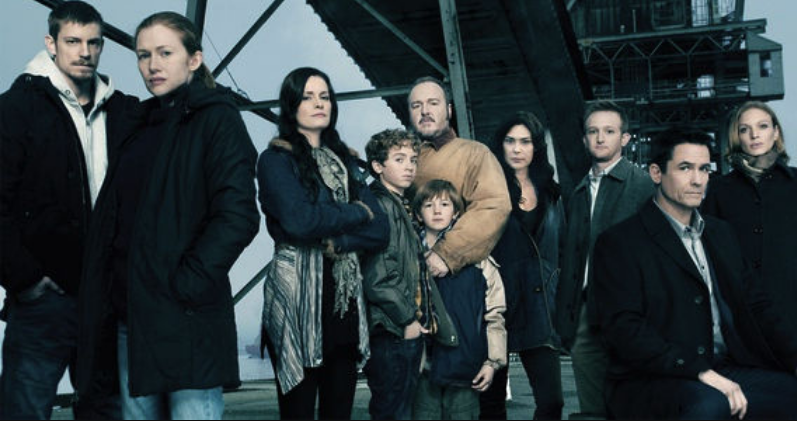 I veri sospettati dei due detective saranno almeno cinque, e ogni accusa porterà allo stravolgimento di un equilibrio e a nuove ipotesi opposte che si prefigurano nelle menti di Linden e Holder. Uno strascico infinito di conseguenze non preventivabili, un caos che dall'indagine si trasferisce alle vite private e viceversa. The Killing per quanto concerne le prime due stagioni, ricorda in parte Twin Peaks, la scomparsa di una giovane ragazza, lo stravolgimento dell'equilibrio delle persone amate, indagini che si perdono nel vuoto e nel caos entropico. The Killing non ha la filosofia, quel tipo di visione onirica e quell'infinita ricerca del colpevole del capolavoro di Lynch, ma riesce comunque a ricordarlo in parte.
Chi ha ucciso Laura Palmer ?… Chi ha ucciso Rosie Larsen ?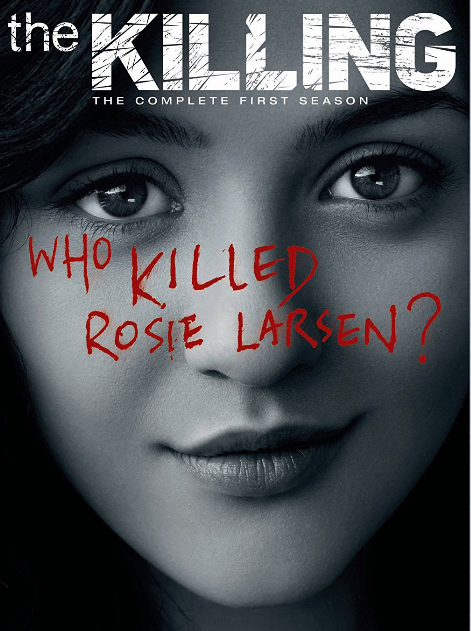 Le stagioni tre e quattro registrano un calo sensibile del numero di episodi, scelta assolutamente vincente, che dà al finale un giusto peso, e anche di natura meramente economica (terza stagione divisa tra Netflix e Amc). Il terzo capitolo stagionale vede il ritorno prepotente di un vecchio caso di uxoricidio, che per la stessa detective Sarah Linden, continuava da anni ad essere sempre irrisolto. Il quarto capitolo continua a trascinarsi gli strascichi negativi e morbosi, il peso esistenziale della coscienza sporcata del finale della terza stagione, aggiungendo un nuovo caso di un brutale omicidio di una famiglia, connesso ad un'accademia militare.
Possibile trovare difetti a The Killing ?! Difficile. Anche se diverso dalla matrice scandinava, senza alcun dubbio questo remake a stelle e strisce è riuscito ad avere un buonissimo impatto, sia di pubblico che di critica. Se spettatore e critica viaggiano sugli stessi binari, il caso è prontamente risolto : The Killing è una serie da vedere, assolutamente. Unica grande e vera pecca a detta  della critica, è il prolungarsi in due stagioni dell'omicidio Larsen, troppo simile a quanto accadde con Twin Peaks.
Questa serie con le sue tematiche tristi e violente, e con le sue cupe e pessimistiche atmosfere, riesce veramente ad appassionare come poche cose. The Killing suscita una famelica voglia di episodio dopo episodio, un caso su cui investigare che ha apparentemente una sua linearità, ma si dipana in scenari impensabili.
The Killing è una di quelle bellissime serie da divorare letteralmente.
Una di quelle serie che perdersele… sarebbe un vero delitto.