In ogni comedy che si rispetti prima o poi incontreremo nel nostro cammino un matrimonio: il lieto fine che ci aspettiamo, il patto segreto che controfirmiamo ogni volta che decidiamo di avventurarci in una nuova serie tv. Accade in The Big Bang Theory come in New Girl e in un'infinità di molti altri show televisivi, prettamente appartenenti al genere comedy: il finale che ci aspettiamo e molto spesso esigiamo di veder riprodotto su schermo.
Si ride parecchio e ci si emoziona altrettanto e come ci hanno insegnato la maggior parte delle favole, è il matrimonio a sancire il climax ascendente della magnifica storia che ci ha accompagnato fino a quel momento.
Non tutti gli show però hanno coltivato la stessa attenzione per i dettagli e molto spesso sono i costumi a rimetterci di più. A meno che non siano il punto forte intorno al quale gravita l'intera serie, gli abiti vengono ridotti a mero accessorio sottovalutandone invece la grande potenza evocativa.
In The Big Bang Theory – dove certamente la moda non è di interesse ai fini della trama – come in altre serie tv, l'abito che dovrebbe essere il più emblematico di tutti subisce le ripercussioni di una negligenza totale nei confronti del vestiario, e si, sto proprio parlando dell'abito bianco.
La lettura che state per affrontare è assolutamente goliardica ed esula da qualsiasi coinvolgimento emotivo che si possa nutrire nei confronti dei personaggi di questa classifica e del loro grande giorno. Lasciamo a casa i sentimenti e le lacrime ben chiuse in una tasca: siate oggettivi, siate spietati.
5) Robin Sherbatsky – How I Met Your Mother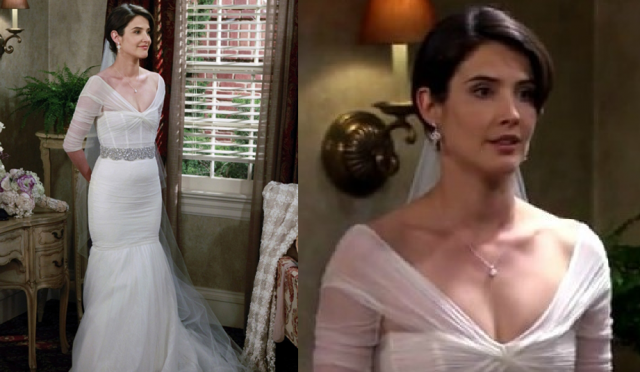 Il matrimonio tra Barney e Robin è stato sicuramente uno dei momenti più emozionanti di How I Met Your Mother, tanto inaspettato quanto infine atteso una volta compresa la purezza dei sentimenti dei due protagonisti.
Il vestito però…non ci siamo proprio. Brutto non è, ma sicuramente non all'altezza delle aspettative e della lunga stagione dedicata al solo grande evento.
Il matrimonio di Robin è stato con grande probabilità l'avvenimento più inaspettato dell'intera serie, un episodio emblematico che avrebbe meritato un abito più memorabile: un abito da lasciare tutti di stucco e con il fiato sospeso, cosa che purtroppo non è avvenuta.