"Nel futuro, ognuno sarà famoso per quindici minuti". Così, ormai mezzo secolo fa, commentava un laconico Warhol (si crede, riprendendo l'asserzione di un amico), riferendosi al fatto che i sempre più efficaci mezzi di comunicazione avrebbero ben presto reso possibile a chiunque di esporre le proprie idee e convinzioni alla platea del mondo. Lo sviluppo dei mass media, in particolare di internet (e successivamente delle Serie Tv), ha permesso a una moltitudine di persone di confrontarsi con un pubblico vastissimo. Se ciò ha avuto notevoli benefici, non si può che sottolineare come anche idee, quantomeno rivedibili, abbiano potuto diffondersi a macchia d'olio.
Bene inteso, in una società pluralista e democratica è perfettamente normale che ciò accada! Ma dobbiamo anche considerarne gli aspetti negativi. Nemmeno, per venire a noi, il piccolo mondo delle Serie Tv è stato risparmiato dalla profezia di Warhol: attorno a quasi ogni show prodotto a partire dagli albori della TV  sono state costruite teorie.
Alcune di esse certamente sensate e poi rivelatesi veritiere: vedere Westworld come esempio. Altre, come le scie chimiche, non stanno né in cielo né in terra.
In questo articolo, abbiamo scelto le 5 teorie delle Serie Tv che ci sembrano le più ridicole di sempre.
1) Breaking Bad è il prequel di The Walking Dead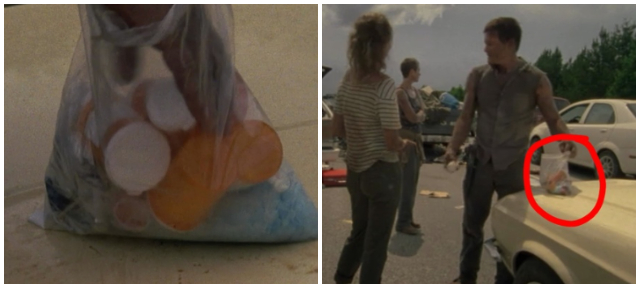 Qualora vi chiedessero che cosa accomuna Breaking Bad e The Walking Dead, che cosa rispondereste? Probabilmente che entrambi gli show sono stati prodotti dalla AMC. O che possono essere considerati due dei prodotti televisivi più famosi dell'ultimo decennio. That's all folks.
Eppure, probabilmente non lo avreste mai immaginato, gruppi numerosi di fan ritengono che Breaking Bad altro non sia che il prequel di The Walking Dead! E se, sostengono questi appassionati, Walter White non si fosse "limitato" a creare un impero della droga, ma avesse trasformato gran parte dell'umanità in veri e propri mostri? Un primo indizio individuato dai sostenitori di questa teoria, è la scorta di blue meth di Merle, sgradevole fratello di Daryl. Viene inquadrata nel secondo episodio della prima stagione della Serie Tv.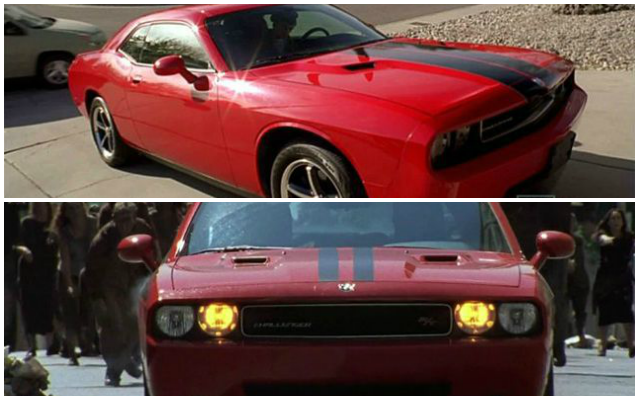 Ma non è finita qui. Nella prima stagione di The Walking Dead, Glenn guida una Dodge rossa e nera piuttosto simile a quella che Walter White ha acquistato per il figlio da un commerciante di nome Glenn! Perché la teoria non regge? Walter preferisce dare fuoco alla macchina piuttosto che restituirla, come gli era stato chiesto dalla moglie.
Last but not least, il fornitore di droga di Merle Dixon viene descritto come un "piccoletto bianco e drogato", il quale nella prima stagione di The Walking Dead si rivolge al fratello di Daryl: "I'm gonna kill you, bitch!" I "cospirazionisti del piccolo schermo" non hanno avuto esitazioni a sostenere, data la somiglianza fisica e lessicale, che il fornitore di droga di Merle potrebbe essere proprio Jesse Pinkman.
Se pensavate che questa fosse l'unica teoria campata in aria su Breaking Bad, aspettate di leggere il punto seguente.
2) Il legame tra Breaking Bad e Malcolm in the Middle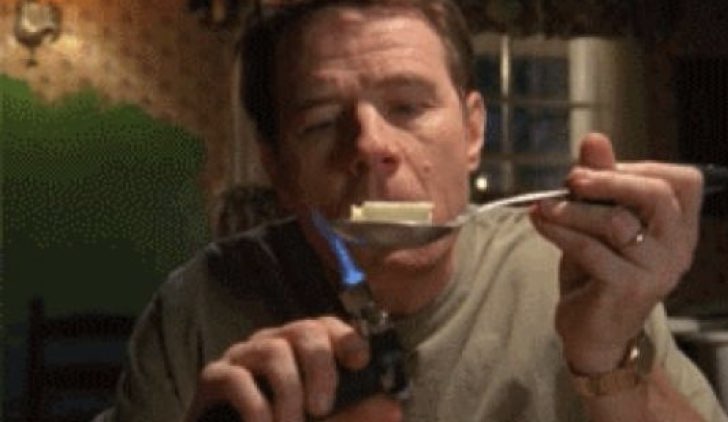 Sicuramente avrete presente Malcolm in the Middle, in cui Bryan Cranston vestiva i panni dello strampalato padre di famiglia, Hal. Ebbene, secondo i fan i due show avrebbero più di una cosa in comune, oltre che lo stesso attore a interpretarli. Noi ve ne avevamo già parlato abbondantemente qui, ma cercheremo di riassumervi le molteplici teorie che collegano le due Serie Tv. Secondo alcuni spettatori, l'universo di Breaking Bad, compreso Walter White e tutte le sue disavventure, sarebbe solo un incubo del povero Hal. Per altri invece quest'ultimo, stufo di una famiglia così disgraziata come la sua, avrebbe deciso di cambiare identità per rifarsi una vita ad Albuquerque. Diventando il celebre professore di chimica che ben conosciamo.
Altri addicted invece hanno provato a congetturare un'ipotesi ancora più folle. Malcolm, il giovane protagonista della Serie, da grande sarebbe destinato a diventare lui stesso Walter White. Questo spiegherebbe la sua elevata intelligenza, abilità (specialmente per le materie scientifiche) e un carattere schivo non sempre facile.
Insomma a differenza dell'esempio con The Walking Dead, qui non c'è nessun riferimento indiretto o easter egg che potrebbe anche solo farci soffermare a pensare a un  legame, seppur improbabile.
 3) Willy, il principe di Bel Air: il protagonista in realtà era morto sin dall'inizio
Personalmente, non possiamo che sorridere nel pensare a questo show vintage. Eppure, nemmeno questa Serie Tv è stata risparmiata da oscure teorie dei "complottisti": la divisione "controllo delle canzoni al contrario", rimasta senza lavoro dopo lo scioglimento dei Led Zeppelin, ha trovato sospettosa la sigla di Willy, il principe di Bel Air.
Un sunto della trama è, a questo punto, necessario: Willy, originario del ghetto di Philadelphia, viene mandato dalla madre ad abitare dalla zia Vivian in un quartiere in di Los Angeles, sicuramente meno problematico rispetto al ghetto della città dell'amore fraterno. Facile e semplice, no? Non per chi cerca sempre e comunque un complotto o un significato nascosto. Chi sostiene che Willy sia in realtà sia morto, prende in considerazione la sigla:
When a couple of guys, they were up to no good
Started making trouble in my neighbourhood
I got in one little fight and my mom got scared
A parer di costoro, Willy rimane ucciso nella rissa che, secondo la trama, ha convinto sua madre a farlo trasferire dalla zia.  La casa bianca degli zii, così pacifica rispetto ai quartieri degradati di Philadelphia, rappresenterebbe quindi proprio il paradiso (con zio 'zucchino' e zia Vivian anch'essi probabilmente deceduti). Secondo questa logica, i genitori del protagonista, che di tanto in tanto compaiono nella Serie, apparirebbero solo nei momenti in cui sulla Terra si recano a visitare la lapide del figlio assassinato.
Fu lo stesso Will Smith ad ammettere il proprio stupore per una teoria tanto audace e a confermare, come se ce ne fosse bisogno, che la Serie Tv non voleva affatto essere nulla di più di quanto mostrava.
4) I protagonisti di Friends sono pazienti di un manicomio o frutto di un sogno di Rachel
Questa serie TV, prodotta dalla NBC tra il 1994 ed il 2004, è l'antesignana di tutte le Serie Tv comedy. Di cosa tratti lo sappiamo tutti, ossia della vita sentimentale e della carriera di un gruppo di sei single trentenni. Nessuno di noi è solito attribuire a Friends un qualche recondito significato o la volontà di affrontare argomenti più seri di quelli già evidenti. Eppure, un gruppo tutt'altro che sparuto di appassionati, ritiene che sia da inquadrare in un contesto ben diverso dalle apparenze.
Rachel è sociopatica, Chandler non riesce ad affrontare la sua complicata vita familiare, Joey è impazzito per essere l'unico figlio maschio, Monica non riesce a sopportare le prese in giro per il suo peso. Phoebe si è distaccata dalla realtà in seguito al suicidio della madre, Ross non è riuscito a superare il divorzio dalla moglie.
Pertanto, almeno secondo questa teoria, i protagonisti di questo celeberrimo show sono stati istituzionalizzati in un manicomio. Dove condividono una psicosi collettiva che li distrae dalle difficoltà della loro vita passata. Le prove a favore di questa teoria sono alquanto fumose, e si basano sull'assenza di crimine a New York (città funestata dalla criminalità negli anni '90) e nel fatto che i protagonisti ignorano come la città sia cambiata dopo l'11 settembre 2001.
Ma non è finita qui! Quando fu rilasciato un box set contenente i DVD con gli episodi della quarta stagione di Friends, a un certo numero di utenti non sfuggì un dettaglio. Nell'immagine di copertina, Rachel è l'unica ad avere gli occhi aperti (mentre gli altri protagonisti fingono di dormire). Elemento più che sufficiente per l'immaginazione di alcuni addicted che azzardarono un'ipotesi assurda. Tutta la Serie non è altro che un sogno di Rachel in ansia per l'imminente matrimonio con Barry. La bella protagonista avrebbe quindi creato nella sua mente un 'oasi felice' con i suoi migliori amici, per sfuggire al panico per le nozze.
Meglio godersi la semplicità di Friends senza arrovellarsi il cervello più del dovuto su qualcosa di così poco convincente. No?
5) Grey's Anatomy è tutto frutto della mente malata di Meredith
Troppi morti, troppe tragedie hanno devastato la vita della protagonista di Grey's Anatomy. Un numero così tanto elevato non solo da farla eleggere come uno dei personaggi più sfortunati di sempre, ma anche da insinuare in alcuni spettatori il dubbio che tutto ciò possa essere non vero. Ormai è da un paio di anni che questa teoria circola, forte del fatto che Meredith ha una predisposizione genetica riscontrata per la stessa malattia della madre.
L'intero show sarebbe solamente frutto della mente annebbiata e confusa della nostra eroina, affetta dal morbo di Alzheimer. Personaggi come George, Lexie e Derek non sarebbero mai morti, semplicemente Meredith non riesce più a ricordarli lucidamente. Nel finale quindi, si scoprirebbe che tutto ciò che ci è sempre stato mostrato, sarebbe un lungo racconto della protagonista. La quale tenta di rievocare gli anni più belli passati all'interno del Grey's Sloan Memorial Hospital. Nella sua testa però la malattia ha alterato i fatti irrimediabilmente, rispetto a come si sono svolti nella realtà.
Coloro che hanno creduto e credono in questa teoria, non hanno in mano nient'altro per poter avvalorare questo pensiero, se non la propria fantasia e idee infondate (almeno per ora).
Visto che non manca molto prima che Grey's Anatomy termini per sempre, noi fan non vogliamo nemmeno prendere in considerazione una supposizione così drammatica. Abbiamo già versato sin troppe lacrime in queste ultime stagioni!
Come avrete potuto leggere, basta solo qualche easter egg, immaginazione e il tam tam della rete per dare vita a questi voli pindarici seriali. Le Serie Tv stimolano il lato più folle di noi fan che ci divertiamo e stressiamo nel trovare spiegazioni a enigmi e congetture che spesso nemmeno esistono!