A tutti, almeno una volta nella vita (per i più fortunati almeno) sarà capitato di sentirsi amareggiati per colpa di una serie tv. Non passano inosservate alcune scelte assolutamente in disaccordo con un gran numero di fan che sono state comunque portate a compimento, incontrando poi inevitabilmente critiche e i pareri discordanti. E se ci soffermiamo a parlare dei finali più deludenti di quelle serie tv comedy che ci hanno divertito, intrattenuto e riempito i momenti più tristi di risate? Dei veri tiri bassi che di cui, a distanza di anni, avvertiamo ancora il colpo.
Ecco i 5 peggiori finali delle serie tv comedy:
1) Due uomini e mezzo
Partiamo da una sitcom statunitense durata 12 anni ideata da Chuck Lorre noto per la creazione di The Big Bang Theory (qui vi parliamo del suo finale) e prodotta da CBS. Due uomini e mezzo (Two and a Half Men) ha inizio col trasloco di Alan (Jon Cryer) e suo figlio Jake (Angus T. Jones) a casa di Charlie (Charlie Sheen), suo fratello maggiore, in seguito alla sua fine del suo matrimonio. Sin da subito, la serie rivela il dualismo drastico che coinvolge i due fratelli: il primo tranquillo, maniacalmente preciso, imbranato con le donne e il secondo, invece, donnaiolo di successo, viziato e irresponsabile. La serie ha avuto però un insolito destino.
La nona stagione si è aperta con il funerale di Charlie, deceduto durante la sua luna di miele con Rose e l'arrivo di un nuovo personaggio, Walden Schmidt (Ashton Kutcher) intenzionato ad acquisire la proprietà della casa dei due fratelli. Il finale, tuttavia, appare fra i più assurdi che siano stati realizzati. Alan e Walden si sposano, fingendosi gay. Intanto riescono a rimettere le cose a posto con le loro rispettive compagne. E fin qui potremmo anche dirci soddisfatti, se non fosse che assistiamo al ritorno di Charlie. La sua morte si rivela una menzogna, l'uomo è vivo e ora vaga per vendicare di suo fratello. Charlie viene colpito da un pianoforte che dall'alto gli piomba addosso ma proprio mentre crediamo che sia finita qui, ecco che un altro pianoforte atterra su Chuck Lorre, il creatore della serie, uccidendolo. Un epilogo che non è andato giù ai fan che si aspettavano qualcosa di ben diverso (più intenso forse e meno bizzarro, al limite del no sense) come quello a cui tutti abbiamo assistito.
2) Will & Grace
Una delle migliori serie tv comedy di tutti i tempi è Will & Grace che ha, indubbiamente, il merito di sdoganato l'omosessualità sul piccolo schermo, scegliendo dei personaggi dichiaratamente distanti dai modelli eteronormativi e rendendoli protagonisti di vicende senza ricorrere a convenzionali stereotipi.
La serie creata da David Kohan e Max Mutchnick ha fatto leva sull'importante sentimento d'amicizia fra i protagonisti Will, Grace, Jack e Karen, capaci di costruite una famiglia "alternativa", ce prescinde i legami di sangue. Will & Grace ha educato alla sensibilità sui temi Lgbt+ perchè ha dimostrato che gli orientamenti non plasmano esperienze di vita completamente distanti, anzi, la loro diversità veniva superata grazie all'ironia. Dopo essere stata trasmessa negli Stati Uniti dalla NBC dal 1998 al 2006, è tornata con un revival tra il 2017 al 2020. Qui esponiamo il punto in cui avevamo lasciato la narrazione e il modo in cui gli eventi vengono ripresi, o meglio, azzerati. Certo, il compito affidato a questa Will & Grace ben 11 anni più tardi è ingombrante: raccontare le sue storie in un mondo diverso da quello che la serie aveva salutato un decennio prima.
Gli appassionati si sono rivelati abbastanza delusi dalla scelta di congelare i personaggi, specie i due protagonisti, in una fissità inaccettabile. Il finale definitivo avrebbe potuto mostrarci un'evoluzione e invece le vecchie dinamiche sono state preservate e nulla di nuovo è stato detto a riguardo. Inoltre, agli amanti della serie non è sfuggito il cambiamento nel rapporto fra gli stessi attori, il venir meno della chimica costruita man mano fra i personaggi che aveva reso questo piccolo microcosmo comico qualcosa di difficile da riscontrare in altri contesti. Will & Grace ha scritto da sè il suo epilogo: è stata accolta con la delusione per il calo inesorabile di un prodotto che non ha saputo rendere giustizia a un passato glorioso.
3) Weeds
Creata da Jenji Kohan, Weeds, esplicativa già dal suo titolo, racconta le vicende di Nancy Botwin (Mary-Louise Parker) che, dopo la morte di suo marito, decide di intraprendere un business illegale di spaccio di marijuana per mantenere un alto tenore di vita e garantire ai suoi figli Silas e Shane una buona istruzione. Ben presto però le cose iniziano a complicarsi e Nancy si trova a dover affrontare i rischi e pericoli che questo comporta senza che le sue vicende personali e sentimentali ne rimangano escluse. Dopo peripezie e vicissitudini, con un calo già evidente a partire dalla quarta stagione stagione difficile da colmare, la serie si conclude nel 2012.
Ritroviamo la costante di questo show, la marijuana, che ora però Nancy vende legalmente ed è proprietaria di una catena di negozi. Il Bar Mitzvah di Steve, il figlio che Nancy ha avuto da una sua vecchia e tormentata fiamma, Esteban, diventa l'occasione per rivedere tutti i personaggi, vecchi e nuovi. Ognuno sembra aver intrapreso la sua strada: Silas presto si sposerà con Megan da cui ha avuto una figlia, Shane entrerà in un centro di riabilitazione. Al suo ritorno, il cognato Andy confessa di amare Nancy ma di non poter stare con lei. La donna, infine, si convince a vendere la sua impresa a Starbucks che da tempo premeva per ottenere i suo negozi: ora è finalmente libera e può proseguire la sua vita senza dover rendere conto a nessuno. Nell'ultimissima scena assistiamo a quello che è stato più volte definito come un momento inconsistente: Nancy, Doug, Silas, Shane e Andy si ritrovano fuori dall'abitazione sotto la neve e fumano insieme senza un reale motivo. Un finale davvero deludente che avrebbe potuto osare molto di più.
4) Roseanne
Da un'idea dello sceneggiatore della sitcom I Robinson, Matt Williams, nasce Roseanne che racconta della famiglia Conner, tipica rappresentazione della classe medio bassa statunitense. La serie è riuscita a farsi amare per la sua capacità di trattare tematiche importanti tra cui l'obesità, il razzismo, l'omosessualità (è stata una delle prime ad affrontare seriamente la tematica LGBT in una specifica fascia oraria e tipo di canale) e il femminismo.
La vita di questa famiglia formata da Roseanne, sposata con il marito Dan, e dai loro tre figli: Becky, Darlene e DJ, rispecchiava quella di gran parte degli americani, tra disagi economici, l'insufficiente assistenza medica e gap di istruzione irrimediabile. Il sogno americano del tutto smascherato nella sua inconsistenza e illusiorietà. Il finale – fra i più drammatici di sempre – vede la morte di Dan per un infarto, svelandoci che che tutti gli eventi della nona e ultima stagione sono in realtà frutto dell'immaginazione della donna. Tuttavia nel 2018, quando si è deciso di realizzarne un revival, John Goodman ha rivelato il destino di Dan ed è stato inevitabile credere che il pubblico non l'avrebbe presa bene dopo un finale così toccante e sentito. Il ritorno della serie, infatti, avrebbe annullato completamente ciò che era stato raccontato fino a quel momento.
Ma non è finita qui. Il revival è andato incontro a un triste destino. É stato proprio un commento considerato razzista pubblicato da Roseanne Barr nel suo Twitter a spingere la ABC a cancellare l'inedita decima stagione della serie. Non sono mancati i giudizi severi nei confronti dell'atteggiamento della protagonista accusata di aver pungolato alcuni dei temi più toccanti, sensibili e doloranti della storia culturale americana, interpretando la vecchia Roseanne che, nella propria vecchiaia, finisce per votare per Trump. Insomma, un'ipocrisia che ai fan sembra non essere proprio andata giù.
5) That's 70's Show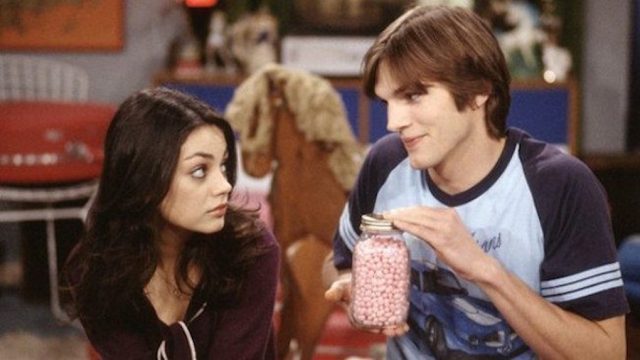 That's 70s Show, andata in onda sulla Fox fra il 1998 e il 2006, ha rappresentato una pietra miliare delle serie tv comedy. La serie ha lanciato molti degli attori protagonisti, come Topher Grace, Ashton Kutcher, Laura Prepon e Mila Kunis ancora oggi molto famosi. Lo show, ambientato in una cittadina del Wisconsin, Point Place, vicino a Milwaukee, racconta le vicende di un gruppo di ragazzi adolescenti durante la metà degli anni '70.
Come ogni sitcom ha il proprio punto di ritrovo dei suoi protagonisti, questa serie tv comedy concentra le vicende in un seminterrato che diventa il rifugio di questi giovani che tentano di farsi strada nel mondo fronteggiando il giudizio severo dei propri genitori.
Il cast è rimasto tale fino al termine della settima stagione, quando Topher Grace ha deciso di lasciare la serie per concentrarsi sulla sua carriera cinematografica e Ashton Kutcher decise di congedarsi per motivi simili. Non sono mancate le critiche dettate proprio dalla scelta di procedere per rimpiazzi, un'alternativa dettata dalla necessità di mandare avanti la storia. Una decisione controversa ma inevitabile che ha contribuito alla decisione di cancellare la serie, vittima di un calo di ascolti. That's 70s Show ha saputo però anche salvarsi in calcio d'angolo, per la gioia degli appassionati, con il ritorno nell'episodio finale di Grace e Kutcher.