Sì lo so, non è l'argomento più leggero e bello da leggere. Ma si sa, a noi di Hall of Series piace comparare le Serie Tv agli elementi più disparati, notando come ci sia spesso un legame che può unire la nostra passione seriale con ogni altro aspetto della vita.
Questa volta parliamo di… patologie appunto.
Non unicamente malattie fisiche, ma anche disturbi mentali. Perché diciamocelo, molti dei nostri personaggi delle Serie preferite ne sono affetti e sono una parte essenziale della loro caratterizzazione.
Non sono un medico e quindi con questo articolo non intendo fare diagnosi o psicoanalizzare i personaggi degli show, non avendo i mezzi per farlo. Si tratta in alcuni casi solo di congetture o riflessioni. Insomma, se devo pensare a delle patologie, queste sono alcune Serie Tv che, per vari motivi, mi tornano alla mente. Spero che lo prenderete per quello che è: l'ennesimo delirio seriale!
Quindi ecco 10 Serie Tv che ci ricordano altrettante malattie e viceversa!
1) Sindrome di Asperger – The Big Bang Theory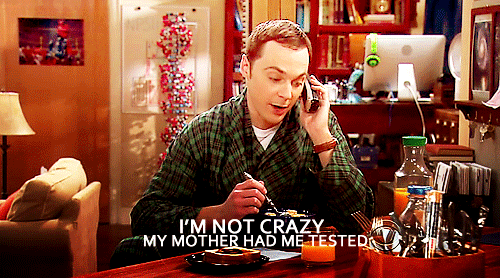 Come disturbo pervasivo dello sviluppo, la sindrome di Asperger è caratterizzata da un insieme di sintomi piuttosto che da un unico singolo sintomo. Si presenta con compromissione qualitativa dell'interazione sociale, modelli comportamentali stereotipati, attività e interessi limitati e nessun ritardo clinicamente significativo nello sviluppo cognitivo o ritardo generale nel linguaggio. Verbosità unilaterale, prosodia ristretta  sono tipici della condizione.
In pratica questa definizione del disturbo è una perfetta descrizione del personaggio del dottor Cooper. Dai, provate a negarlo, anche se in una puntata dichiarò, sarcasticamente, che sua madre gli fece fare dei test psico-attitudinali. E che ne uscì sanissimo. Vorremmo tanto conoscere lo psichiatra che ha condotto tale test! E i fan della Serie possono ammetterlo: il 98% dei momenti comici dello show sono dovuti alle piccole/grandi follie del nostro fisico preferito. Senza di queste la Serie Tv sarebbe quasi impensabile. Ossessioni continue, eccessiva loquacità e difficoltà a relazionarsi con il prossimo, in definitiva sì ne siamo certi: è proprio lui!
Resta il fatto che non vorremo mai un noioso e 'normale' Sheldon!