Prima di continuare con la lettura vi avvisiamo che l'articolo contiene spoiler su: Orange Is the New Black, This Is Us, Scrubs, The Walking Dead e Sons of Anarchy.
Il coinvolgimento emotivo durante la visione di una serie tv è una componente imprescindibile. Quando ci appassioniamo sul serio a una storia ci troviamo catapultati un una dimensione parallela alla nostra. Per  il tempo di un episodio accantoniamo le nostre peripezie quotidiane e tifiamo per i nostri personaggi preferiti. Gioiamo delle loro vittorie e ci rammarichiamo per le loro sconfitte.
In alcune serie tv però, ci sono dei momenti particolarmente dolorosi che inspiegabilmente ci lasciano l'amaro in bocca anche dopo averli visti, a televisore spento. Momenti carichi di malinconia e tristezza che certe volte ci colgono alla sprovvista, come nell'episodio 3×14 di Scrubs di cui andremo a parlare tra poco. Oggi infatti ci concentreremo su i 5 momenti delle serie tv che un pugno allo stomaco era meglio.
Quelle scene talmente strazianti che ci hanno davvero lasciato in uno stato di malinconia e tristezza che si è prolungato per qualche minuto (o qualche ora, in alcuni casi) dopo aver ripreso a occuparci della nostra vita.
1) Cox al funerale di Ben in Scrubs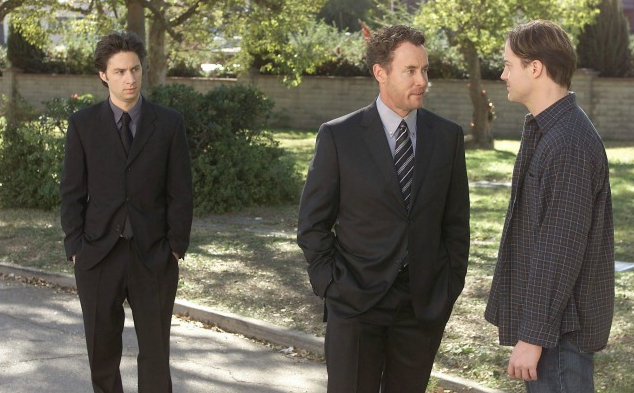 Scrubs è una serie tv unica nel suo genere. È un pendolo che oscilla tra una folle comicità demenziale e una profonda ricerca di un senso alla vita e alla morte. Ma c'è un episodio della terza stagione, il quattordicesimo per la precisione, che è davvero peggio di un pugno allo stomaco. Stiamo parlando dell'episodio in cui muore Ben, il fratello di Jordan, malato da tempo di leucemia.
La componente fortemente drammatica dell'episodio è la reazione di Perry, devastato per la perdita del suo caro amico e cognato, che si rifugia nella più totale negazione, continuando persino a vederlo e a parlare con lui. Il giorno del funerale di Ben (Brendan Fraser) Cox è distaccato ed è convinto che tutti, compreso lui, stiano andando alla festa per il primo compleanno di suo figlio. Solo quando JD lo incalza chiedendogli dove si trovino secondo lui, il sorriso di Cox si spegne.
Il suo viso si trasforma in una maschera di disperazione quando realizza di trovarsi al cimitero per l'ultimo saluto a Ben. Di momenti malinconici in Scrubs ce ne sono tantissimi, ma tra tutti questo è talmente carico di tristezza e dramma che diciamocelo, un pugno allo stomaco è una passeggiata al confronto.
2) Tig assiste impotente all'uccisione di sua figlia in Sons of Anarchy
Nel primo episodio della quinta stagione Pope ottiene vendetta per l'uccisione di sua figlia. In uno dei momenti più strazianti e dolorosi di Sons of Anarchy Tig viene costretto ad assistere impotente alla morte di Dawn, sua figlia, che viene arsa viva. Senza dubbio una delle morti più cruente dell'intera serie tv.  La disperazione di Tig mentre le fiamme avvolgono il corpo di sua figlia davanti ai suoi occhi è devastante.
Pur non avendolo conosciuto come un padre modello, il pensiero che dovrà vivere con la consapevolezza che Dawn è stata giustiziata per colpa sua è un macigno. A ben vedere la vera colpa di Tig è essersi fidato di Clay. È lui la vera causa della morte di Dawn. Ma al di là delle colpe e delle menzogne dell'allora presidente del charter di Redwood, il momento in cui Tig, ormai libero, si lancia nella fossa dove giacciono i resti di sua figlia è carico di dolore. Difficile da dimenticare.
3) La morte di Poussey in Orange Is the New Black
Nel carcere di Litchfield abbiamo conosciuto tante storie. Tra i drammi, le risate e gli enormi sbagli che hanno commesso, abbiamo creato un rapporto di empatia con più o meno tutte le detenute. Ma tra tutte loro è stato facile rendersi conto che ce n'era solo una dall'anima completamente pura. Poussey sembrava essere lì per sbaglio, e durante l'ultimo episodio della quarta stagione abbiamo avuto la conferma che la parola criminale non si addiceva per niente a quella ragazza con gli occhi dolci. 
L'insensata morte di Poussey è stata una delle più tristi del piccolo schermo. Nessun individuo al mondo merita di morire così, ma lei tra tutte è quella che non avremmo mai voluto vedere morta. Nel singolo momento in cui Poussey è andata via, ci siamo ritrovati con il fiato sospeso, increduli e tristi. E Litchfield non è stato più lo stesso. L'inettitudine dell'agente penitenziario che l'ha uccisa schiacciandola sotto il suo peso ha scatenato nel carcere una rivolta le cui conseguenze, due stagioni dopo, non sono ancora terminate. Così come non è terminata la nostalgia per il personaggio deciso e dolce allo stesso tempo che era Poussey.
4) La reazione di Rick alla morte di Lori in The Walking Dead
Questo momento drammatico di The Walking Dead (qui la recensione dell'ultimo episodio) ha colpito tutti coloro che hanno assistito al quarto episodio della terza stagione. Ha colpito tutti tanto da diventare un meme virale, dietro al quale però si cela una delle scene più tristi della serie tv AMC. Il momento in cui Maggie, in lacrime, porta Judith da Rick e lui realizza che Lori non ce l'ha fatta è devastante. Il suo pianto disperato e gli occhi con cui guardava Carl sono rimasti impressi nelle nostre menti. 
The Walking Dead è una serie in cui tutti i personaggi prima o poi si ritrovano a dover fare i conti con la perdita di qualcuno che amavano. È una delle terribili conseguenze della fine del mondo come lo conosciamo. Ma la reazione dell'uomo carismatico e apparentemente inscalfibile alla perdita di Lori è raggelante e fornisce la misura di quanto Rick amasse sua moglie, nonostante tutto.
5) Quando in This Is Us scopriamo che Jack Pearson è morto
Dal primo episodio di This Is Us capiamo subito che Jack Pearson è un uomo meraviglioso e siamo naturalmente portati ad affezionarci a lui. La prima doccia fredda è alla fine dell'episodio pilota, in cui scopriamo che nel presente della serie Rebecca e Jack non stanno più insieme. Ma come dicevamo questa non è altro che una doccia fredda; la vera batosta è qualche episodio più avanti…
È nel quinto episodio della prima stagione, infatti, che scopriamo che Jack Pearson è morto. Lo scopriamo perché Kate parlando con Toby gli dice che preferisce assistere alla serata del Super Bowl insieme a suo padre e mentre pronuncia queste parole prende tra le mani l'urna cineraria che contiene i resti dell'uomo. Agghiacciante. Forse il modo peggiore di far scoprire agli spettatori che nella serie ci sarà una dipartita così illustre e soprattutto dolorosa. 
In quel momento ci siamo sentiti tutti come Perry Cox in Scrubs quando ha realizzato che Ben non c'era più; affranti e beffati. Ditemi voi, un pugno allo stomaco non era meglio?