Nel corso degli anni abbiamo fatto bingewatching sfrenato su qualsiasi tipo di serie tv, da Rick and Morty (che sta tornando, qui trailer e data) fino a La Casa de Papel. Questo viaggio ci ha portato a lunghe passeggiate per Winterfell, rapine alla Zecca di Stato spagnola e tanto altro ancora.
Ma ci sono serie che non hanno davvero bisogno di una trama perché sono stupende così, che succeda qualcosa o meno. Serie tv come Rick and Morty, che abbiamo guardato semplicemente per il gusto di vedere qualcosa di fatto bene.
Questo perché hanno un incipit che ci permette di immergerci completamente. Non servono cliffhanger per tenerci col fiato sospeso, mentre le guardiamo non pensiamo mai a quale potrebbe essere il finale di stagione. Siamo lì, presi dal momento e dalle immagini che ci catturano completamente.
1) Brooklyn Nine-Nine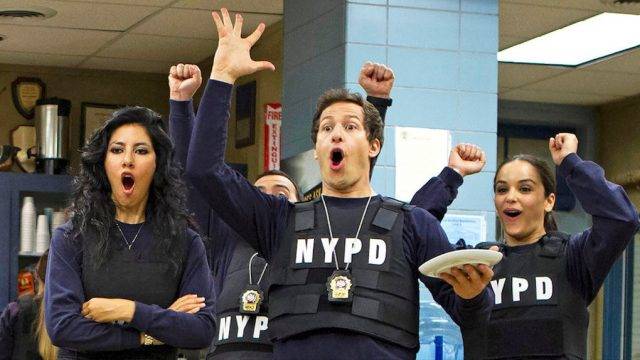 Brooklyn Nine-Nine è sicuramente una delle comedy che meno ha bisogno di una trama. Ciò che la rende una serie visivamente perfetta sono le situazioni al limite tra l'assurdo e il fin troppo reale.
Il solo ingresso di un nuovo capitano serioso e privo di qualsiasi emozione crea un contrasto perfetto con personaggi come Jake Peralta (Andy Samberg) che invece è un fiume di emozioni e umorismo anche spicciolo. Ma ciò che rende ancora più particolare questa serie è la scelta del regista di girare l'intera serie come se fosse una docu-fiction riprendendo una formula usata in The Shield, nota serie poliziesca che fa del realismo la sua impronta più marcata. Che dire? Con Jake Peralta e il distretto 99 non ci si annoia mai nemmeno se non succede niente di davvero importante.