La televisione italiana vive, come molte altre, un periodo di grandi trasformazioni, soprattutto nel mondo delle serie tv. Quando si parla di fiction italiane lo si fa sempre con un pizzico di scetticismo. Si è consolidata nel tempo – a volte per ovvie ragioni, altre per un eccesso di severità – la convinzione che i prodotti italiani siano scadenti, mediocri, grossolani e sempre e comunque inferiori agli show anglosassoni. Ragionare delle migliori serie tv italiane, invece, potrebbe contribuire ad abbattere tutta una serie di pregiudizi sulla televisione di casa nostra.
La qualità di alcuni recenti prodotti made in Italy non ha nulla da invidiare alle tante proposte che provengono da oltreoceano. Gli standard si sono notevolmente alzati rispetto al passato e progetti come Romulus o Diavoli non fanno altro che confermarlo.
Ma quali sono le migliori serie tv italiane di sempre?
Con questa classifica proviamo a selezionarne dieci, ma prima di procedere con la rassegna può essere utile chiarire ciò che intendiamo per migliore. L'etichetta di "serie migliore" non può essere usata infatti per indicare esclusivamente la "serie qualitativamente più bella" e nemmeno la "serie più amata di sempre". Nessuna delle due tipologie difatti potrebbe essere del tutto esaustiva. Quando parliamo delle migliori serie tv italiane, facciamo riferimento sia a quelle la cui qualità non può essere messa in discussione, sia a quelle che hanno riscosso maggior successo presso il pubblico. Migliore non è dunque una categoria fissa, ma può variare in base alla percezione che ne hanno – o ne hanno avuto – gli spettatori. Oggi come ieri.
Abbiamo dunque preso in esame prodotti molto diversi tra loro, anche anagraficamente. Si va dagli sceneggiati Rai alle novità di Netflix, dai gioiellini di Sky Atlantic a quelli di network oggi meno considerati.
10) Suburra
La serie di Daniele Cesarano, ispirata al film omonimo di Stefano Sollima e tratta dal romanzo di Carlo Bonini e Giancarlo De Cataldo, è stata la prima serie tv italiana ad essere distribuita da Netflix. I primi due episodi furono presentati nel 2017 alla Mostra del Cinema di Venezia. Netflix ha poi confermato la distribuzione di una seconda e di una terza – e ultima – stagione, rilasciata il 30 ottobre 2020.
Il genere è di quelli che più di tutti riescono a conquistare il pubblico, perché parla di una realtà a noi tristemente nota: quella del malaffare, della corruzione, del connubio tra criminalità e potere politico.
9) L'amica geniale
Saverio Costanzo ha all'attivo due soli prodotti per la televisione e sono entrambi degni di nota. Il regista e sceneggiatore romano ha infatti diretto la versione italiana di In Treatment con uno straordinario Sergio Castellitto e ha lavorato alla trasposizione dei romanzi di Elena Ferrante.
L'amica geniale è una co-produzione italo-americana ed è stata distribuita da Rai e HBO.
Centosessantadue sono i Paesi in cui è stata trasmessa, raggiungendo fama internazionale. Nel 2019 ha vinto il Premio Flaiano ed è stata candidata al Gotham Independent Film Awards come Serie rivelazione dell'anno.
8) Odissea
Uno sceneggiato Rai andato in onda alla fine degli anni Sessanta e ispirato al racconto del poema omerico. La serie è divisa in otto puntate, ripercorre la storia di Ulisse e si apre con la voce di Giuseppe Ungaretti che legge il prologo dell'Odissea.
È chiaro che oggi in molti si annoierebbero a guardarla, ma questa serie era per quel tempo un vero e proprio capolavoro con cui il grande pubblico ha imparato a conoscere per la prima volta Omero e l'epica greca.
7) La piovra
Tutti associano il volto di Michele Placido a una serie che è poi diventata iconica negli anni. Non che l'attore pugliese abbia fatto solo quello nella sua lunga carriera. Ma La piovra, tra gli anni Ottanta e Novanta, la guardavano proprio tutti. In totale sono dieci stagioni, in modalità miniserie, andate in onda dal 1984 al 2001.
Con una media di 10 milioni di spettatori, La piovra è considerata unanimemente una delle migliori serie tv italiane di sempre.
Se non altro perché fu esportata in 80 nazioni ed è tuttora una delle più famose al mondo, anche e soprattutto perché ha trattato una realtà – quella della mafia, della massoneria e della criminalità organizzata in genere – che ha sempre suscitato interesse soprattutto nel pubblico estero.
6) Il commissario Montalbano
Il commissario Montalbano fa ormai parte della cultura popolare del nostro Paese. Questa serie ha portato sullo schermo i romanzi di Andrea Camilleri, che hanno appassionato ed entusiasmato milioni di lettori.
Luca Zingaretti è addirittura meno famoso del personaggio che interpreta. La serie parte da una sceneggiatura che è quella di un grande scrittore del nostro tempo, ma sono anche l'interpretazione, le musiche e le ambientazioni ad essere ormai entrate nel cuore di milioni di italiani, che infatti continuano a guardarla in massa ogni volta.
5) Boris
Andata in onda per la prima volta su Fox nel 2007, Boris è una delle commedie più geniali che si siano mai viste sulla televisione italiana. È sottile, tagliente, divertente in ogni suo episodio. Ma il fatto che sia stata distribuita su un canale satellitare non ha contribuito a far schizzare gli ascolti.
Tuttavia, che Boris sia tra le migliori serie tv italiane della storia non c'è nessun dubbio.
Molte frasi, citazioni, espressioni della serie sono entrate a far parte del linguaggio comune e Boris è diventato un vero e proprio prodotto di culto della televisione italiana.
4) Gomorra
E non si può parlare di serie tv italiane senza citare Gomorra, che è uno dei prodotti più recenti ad aver riscosso grande successo anche all'estero. Forte dell'attenzione suscitata dal best seller di Roberto Saviano e dall'omonima pellicola, Gomorra è sbarcata su Sky con grandi aspettative.
Ma quelle aspettative le ha addirittura superate, presentandosi come uno dei migliori prodotti televisivi del nostro Paese. Ha raggiunto oltre centosettanta Stati e continua a macinare consensi e ascolti.
3) Le avventure di Pinocchio
Delicato e potente insieme, questo sceneggiato Rai degli anni Settanta è un vero e proprio capolavoro della nostra televisione. Diretto da Luigi Comencini, Le avventure di Pinocchio ha portato sullo schermo il racconto del burattino più famoso del mondo.
L'opera di Collodi, già celebre dappertutto, ha conosciuto con questa miniserie in sei episodi nuova vita e nuova fama. La storia di Pinocchio, Geppetto, della Fata e di tutti gli altri straordinari personaggi – interpretati da attori di tutto rispetto – ha conquistato intere generazioni di telespettatori, che ancora ricordano ogni singolo episodio dello sceneggiato.
2) Romanzo criminale
E veniamo al secondo gradino del podio. Romanzo criminale ha rivoluzionato un po' la percezione stessa della televisione italiana, regalandole un vero e proprio capolavoro entrato ormai a far parte della cultura di massa del nostro Paese.
Col suo romanticismo un po' alla C'era una volta in America, Romanzo criminale ha raccontato un mondo violento e crudo, fatto di armi, sangue, omicidi, criminalità, istinti sfrenati. Ma lo ha fatto con una regia sapiente e mai banale, riuscendo a dare la giusta potenza narrativa a quella che è una serie già entrata nella storia della nostra televisione.
1) The Young Pope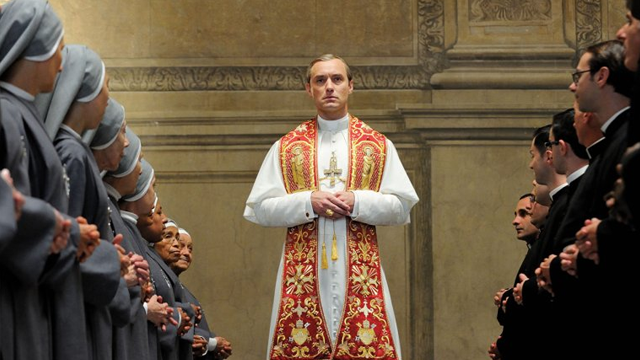 Da ultimo, al primo posto di questa classifica, non poteva non esserci Paolo Sorrentino, che con The Young Pope ha confermato di essere un regista straordinario e di saper creare opere d'arte che poi vengono riconosciute e apprezzate in tutto il mondo.
The Young Pope è davvero la prima tra le migliori serie tv italiane della storia.
È una co-produzione italo-franco-spagnola, ma alla base c'è tutto il genio di Sorrentino, che ha saputo dar vita ad un racconto assolutamente originale e curato nei minimi dettagli. Ad oggi, The Young Pope è l'unica serie italiana ad essere stata candidata agli Emmy e ai Golden Globe.