Fin dai tempi di Pappa e Ciccia e Cuori senza età, le donne in televisione ci hanno regalato performance esilaranti, tirandoci su il morale nei momenti bui e accompagnandoci nella nostra quotidianità. Davanti a un numero così elevato di interpretazioni memorabili e artiste di grande talento, scegliere le 10 migliori attrici comiche nella storia delle serie tv non è stato semplice e diversi grandi nomi sono rimasti necessariamente esclusi.
Fare una classifica che non includesse mostri sacri della comicità seriale quali Lisa Kudrow, Jennifer Aniston, Megan Mullally, Mindy Kaling, Kristen Bell, Chelsea Peretti, Jane Fonda o Maya Rudolph, giusto per citarne alcune, sembrava quasi un sacrilegio, ma allo stesso tempo è un segnale dell'affermazione di una comicità sempre più al femminile, nella quale un numero sempre maggiore di attrici si rende capace di rubarci il cuore con performance irresistibili. Dunque vi presentiamo una classifica che per certi aspetti potrebbe essere considerata manchevole e che inevitabilmente risulterà incompleta, ma che vuole premiare le attrici che grazie a ruoli iconici e premi vinti hanno lasciato un segno indelebile nel mondo della comicità.
10) Allison Janney (Mom)
La protagonista di Mom è una delle migliori attrici delle serie tv, ma sembra dare il suo meglio proprio nei ruoli comici.
Allison Janney ci aveva già dato ampiamente prova della sua capacità di far ridere ai tempi di The West Wing, serie drammatica nella quale interpretava C.J. Cregg (e per la quale ha vinto ben quattro premi Emmy).
Tuttavia è stato il ruolo di Bonnie Plunkett in Mom che, oltre che farle vincere altri due premi Emmy, l'ha portata ad affermarsi come una delle migliori attrici comiche della televisione. Sebbene nella serie sia circondata da altre brillanti attrici comiche, tra cui la co-protagonista Anna Faris e il premio Oscar Octavia Spencer, non vi è alcun dubbio che la maggior parte delle risate degli spettatori durante Mom siano suscitate dall'interpretazione di Janney, che fa anche ampio uso della sua corporeità per scatenare l'ilarità del pubblico.
9) Eva Longoria (Desperate Housewives)
Con il suo talento naturale per la comicità e l'umorismo tagliente di Gabrielle Solis, Eva Longoria ha contribuito a rendere immortale Desperate Housewives non solo nel mondo dei drammi televisivi, ma anche delle comedy.
La performance di Eva Longoria come Gabrielle Solis la avrà anche resa immortale, ma i suoi lavori successivi hanno dimostrato una volta per tutte che non importa quale sia il ruolo che interpreta, Eva Longoria è decisamente una delle migliori attrici comiche della storia delle serie tv.
Volete la prova del suo indiscutibile talento? Pensate che Eva Longoria è persino riuscita nell'impresa quasi impossibile di farsi amare nei panni di Sofia, la sexy e divertente fidanzata di Jake Peralta in Brooklyn Nine-Nine nonostante fosse un ostacolo alla relazione amatissima dal pubblico tra quest'ultimo e Amy.
8) Fran Drescher (La Tata)
Come dimenticare i pomeriggi passati a guardare le repliche de La Tata per scoprire in che guai si sarebbe cacciata tata Francesca?
Che sia merito dei suoi vestiti appariscenti, della sua lingua lunga o della sua capacità di trovarsi sempre al posto sbagliato al momento giusto, Francesca Cacace è un personaggio indimenticabile e con lei la sua interprete Fran Drescher.
Sebbene le differenze tra la versione originale e quella italiana siano molte e profonde (qui ve le elenchiamo tutte, ma vi avvisiamo che potrebbero sconvolgervi), il divertimento rimane invariato anche grazie al talento della protagonista, la cui performance riesce a trascendere i limiti della lingua e a risultare vincente.
Degna di essere ricordato è anche il ruolo da protagonista di Drescher in Happily Divorced, nella quale ci regala un'interpretazione brillante che riconferma la sua meritatissima appartenenza all'Olimpo delle migliori attrici comiche delle serie tv.
7) Tina Fey (30 Rock)
Tina Fey è la regina della commedia americana. Davanti e dietro le telecamere, in diretta o meno, non c'è format che non abbia reso un trionfo di risate.
Veterana del Saturday Night Live, è riuscita in un'impresa quasi impossibile: affermarsi nel mondo delle comedy televisive come attrice, produttrice e sceneggiatrice.
Il suo ruolo televisivo più importante è quello di Liz Lemon, la protagonista di 30 Rock (serie ideata dalla stessa Fey, che ha vinto ben 14 premi Emmy), nel quale l'attrice riesce a dare il meglio di sé e mettere in mostra tutte le sua qualità derivanti da un passato da imitatrice e improvvisatrice, unendo quindi battute brillanti al suo carisma naturale.
6) Amy Poehler (Parks and Recreation)
Dove c'è Tina Fey non può mancare un'altra delle migliori attrici delle serie tv, la sua collega al Saturday Night Live e amica Amy Poehler.
Per gli amanti delle serie tv comedy Amy Poehler sarà sempre la più entusiasta e divertente dipendente del governo che sia mai apparsa sul piccolo schermo: Leslie Knope (Parks and Recreation). Sono davvero pochi i casi in cui un personaggio di una comedy riesce a conquistarsi un posto duraturo nel cuore del pubblico come è successo con Leslie e il merito va ancora una volta alla sua interprete, la quale inspiegabilmente non ha mai vinto un Emmy per il suo straordinario lavoro nella serie.
Proprio come Tina Fey, Amy Poehler non è soltanto una delle migliori attrici comiche nella storia delle serie tv, ma anche un'acclamata produttrice, regista e sceneggiatrice. Insomma, c'è qualcosa che queste due artiste non sanno fare?
5) Sofia Vergara (Modern Family)
Modern Family è una serie che ci ha regalato alcune delle migliori interpretazioni comiche della storia delle televisione, tra cui spicca quella della splendida Sofia Vergara come Gloria Delgado-Pritchett.
Sono bastati pochi episodi perché il pubblico si innamorasse perdutamente di Gloria e non solo per la sua bellezza mozzafiato, ma soprattutto per l'incredibile capacità della sua interprete di dare spessore comico a un personaggio che sarebbe altrimenti potuto apparire eccessivamente stereotipato.
Il talento di Sofia Vergara come attrice comica sta proprio nella sua naturalezza, in una comicità che potrebbe sembrare banale e invece non lo è affatto. Facendo del suo accento colombiano la sua forza e della sua fisicità un'arma, Sofia Vergara è riuscita ad emergere persino in un cast composto di eccellenze come quello di Modern Family.
4) Debra Messing (Will & Grace)
La carriera di attrice di Debra Messing è impressionante, ma basta considerare anche solo la sua interpretazione in Will & Grace per capire perché merita di trovarsi tra le migliori attrici delle serie tv.
Grace Adler, la protagonista di Will & Grace, è nevrotica, imbranata e spesso fuori luogo. Scegliere un personaggio del genere come uno dei principali in una serie comedy che già correva il rischio di essere considerata eccessiva (la prima volta che è andata in onda, nel 1998, il tema dell'omosessualità in televisione non era mai stato affrontato in questo modo), poteva essere un azzardo, invece si è rivelata la mossa vincente. Debra Messing ha regalato a Grace una tridimensionalità che la eleva al di sopra di ogni rappresentazione macchiettistica, rendendola un personaggio in cui è facile riconoscersi e con il quale non si può fare a meno di ridere. La sua interpretazione le è valsa sei candidature e una vittoria ai premi Emmy, che non si può non considerare tra le più meritate nella storia delle serie tv comedy.
3) Courteney Cox (Friends)
Friends è da molti considerata la comedy per eccellenza, continuamente riscoperta da nuove generazioni di fan. Senza il contributo di Courteney Cox, Jennifer Aniston e Lisa Kudrow però la serie non sarebbe la stessa.
Tutte e tre le protagoniste di Friends sono attrici dall'immenso talento, capaci di farci ridere a crepapelle e di emozionarci, ma la nostra scelta è ricaduta su colei che ha proseguito con più successo la carriera nell'ambito delle serie tv comiche.
Infatti dopo avere interpretato la maniacale ed esilarante Monica Geller, Courtney Cox è stata per ben sette stagioni la protagonista di Cougar Town, comedy creata da Bill Lawrence (Scrubs) che narra delle vicissitudini della neo divorziata Jules. Sebbene sia ancora oggi non conosciuta quanto meriterebbe, Cougar Town è un ottimo prodotto (qui vi spieghiamo perché) e la performance della Cox indimenticabile.
2) Sarah Jessica Parker (Sex and the City)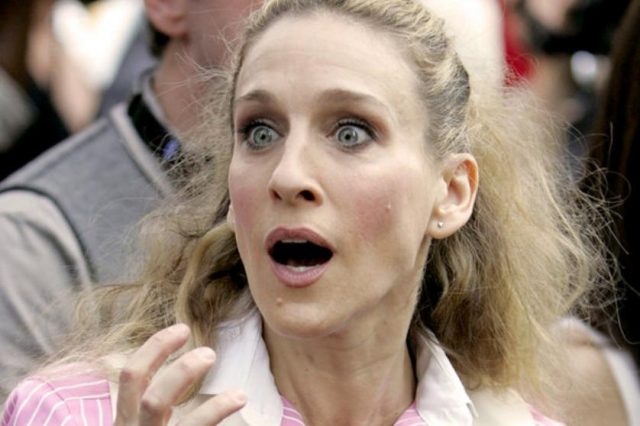 Sex and the City ha rivoluzionato la storia della comicità al femminile, portando sullo schermo tematiche che a lungo erano state considerate tabù.
Carrie Bradshaw e le sue migliori amiche parlavano di sesso e dei problemi della femminilità con una sagacia e un'onestà a cui il pubblico non era abituato. Per la prima volta abbiamo riso di sventure quotidiane che la tv non ci aveva mai mostrato prima di allora e lo abbiamo fatto anche grazie all'interpretazione di un cast straordinario, capitanato proprio da Sarah Jessica Parker (Carrie).
Come forse nessuno dopo di lei, Parker è riuscita a guadagnarsi un posto d'onore per la sua interpretazione di un'eroina tragicomica alla soglia degli anni duemila, rendendo credibile e realistico un personaggio in cui altrimenti sarebbe stato difficile identificarsi (ammettiamolo, ci siamo tutti chiesti come facesse Carrie a permettersi quell'abbigliamento di lusso e la movida costante, oltre ad avere tutto quel tempo libero).
1) Julia Louis-Dreyfus (Veep)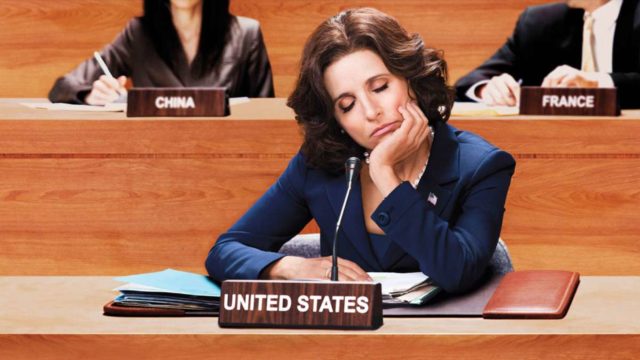 Se stilare la classifica delle migliori attrici comiche della storia delle serie tv è stato difficile, è però piuttosto semplice assegnare il primo posto alla incredibile protagonista di Veep e Seinfeld.
A parlare per Julia Louis-Dreyfus sono una filmografia impressionante e i ben sei premi Emmy consecutivi come migliore attrice protagonista in una serie comica vinti per la sua interpretazione di Selina Meyer in Veep – Vicepresidente incompetente, a cui se ne aggiungono uno per Seinfeld e uno per La complicata vita di Christine, rendendola l'attrice più premiata della storia.
Da più di tre decenni Julia Louis-Dreyfus ridefinisce le modalità della comicità femminile, dando vita a personaggi che si distinguono per il loro anticonformismo, definiti da qualità negative e in ruoli di potere. Insomma, grazie al lavoro spesso pioneristico di questa straordinaria attrice si è affermata una nuova concezione di comicità rosa, della quale non possiamo più fare a meno.
LEGGI ANCHE – Le migliori attrici delle serie tv dello scorso decennio