Sono tantissimi i matrimoni a Hollywood che prima ci illudono e che poi, come spesso accade, scoppiano. Alcune con sofferenza forse più del pubblico che dei diretti interessati, altre con una buona dose di melodramma. Ma ci sono anche casi, più unici che rari, che riescono davvero a preservare ed alimentare questa passione, facendoci ricredere nell'amore. Quando parliamo di couple goals, io penso a queste coppie. Storie che sembrano un film e altre invece che hanno il sapore di quotidianità. Unioni che vanno avanti da dieci anni o anche più e che ogni giorno ci ispirano con le loro relazioni, fatte di momenti unici e compromessi.
Vediamo quali sono stati i matrimoni a Hollywood più romantici!
1) Blake Lively e Ryan Reynolds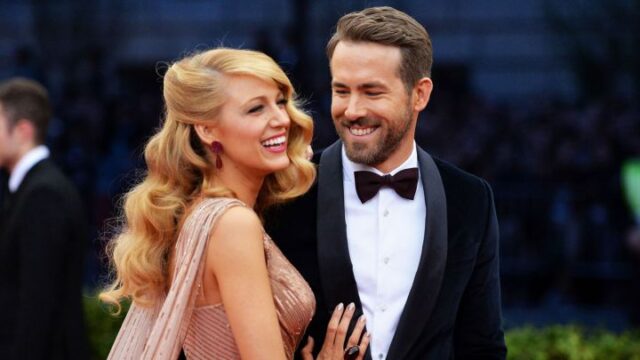 Blake Lively e Ryan Reynolds sono diventati un vero e proprio punto di riferimento negli ultimi anni. Amici prima che coniugi, complici nella vita di tutti i giorni e sul red carpet. L'aspetto che preferisco della loro relazione è la spontaneità con cui si mostrano e il rispetto per il lavoro o il successo dell'altro. Il mestiere dell'attore è complesso: lunghi periodi fuori casa, orari e luoghi improbabili per le riprese. Per preservare la coppia e la famiglia, i due alternano le rispettive carriere. Negli ultimi anni, con la nascita del terzo figlio, è stata la Lively a restare a casa.
Ma Reynolds ha dichiarato che si sarebbe fatto da parte non appena la moglie avrebbe voluto riprendere a lavorare. Allora, avrebbe lui preso una pausa.
Si sono conosciuti nel 2010 sul set di Lanterna Verde, ma all'epoca erano entrambi fidanzati. Il primo appuntamento è avvenuto un anno dopo: si erano accordati per trovare all'altro un compagno per un'uscita a quattro. Inutile dire che le cose sono andate in modo diverso. Le due star hanno avuto un matrimonio intimo, con pochi amici e parenti nel 2012. Oggi, tra scherzi sui social e dichiarazioni d'amore, sono la prova che il matrimonio a Hollywood può essere divertente e romantico anche dopo tanti anni.
2) Mila Kunis e Ashton Kutcher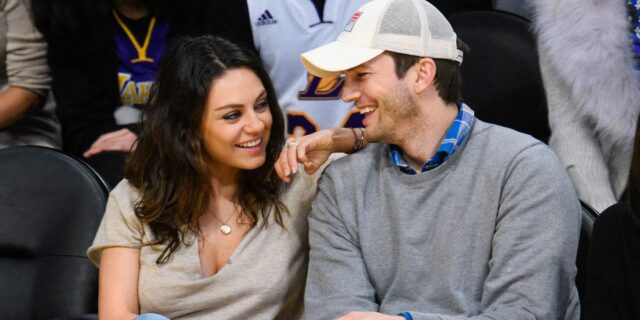 Mila Kunis e Ashton Kutcher si sono persi e ritrovati. Una nuova coppia si unisce ai matrimoni di Hollywood: avviene nel 2015, dopo tre anni di frequentazione. Si erano infatti incontrati ai Golden Globe del 2012, anno in cui entrambi affrontano separazioni dolorose e burrascose con i precedenti partner: Demi Moore e Macaulay Culkin. Ma quella non era la prima occasione che li aveva visti insieme. Entrambi sono stati infatti protagonisti della celebre sitcom That '70s Show, dove interpretavano Jackie Burkhart e Michael Kelso, che nel corso della serie si innamorano.
All'epoca Mila Kunis aveva appena quattordici anni, mentre lui ne aveva diciannove. Il bacio tra Jackie e Michael è stato anche il primo bacio in assoluto dell'attrice, e per anni ne ha conservato un tenero ricordo. Nonostante lei abbia confessato di essere stata innamorato di lui, all'epoca già modello di Calvin Klein, i due furono solo buoni amici. Anzi, Kutcher ha sottolineato come lui la vedesse come una sorellina.
Quando si ritrovano nel 2012 entrambi pensarono che fosse un grande errore iniziare una nuova relazione e che avessero bisogno di tempo per stare da soli. Ma quando Mila tentò di allontanarsi, dopo essersi accorta dei suoi sentimenti, lui le propose di andare a convivere. A oggi, sono felicemente sposati e hanno due bambini.
3) Sarah Paulson e Holland Taylor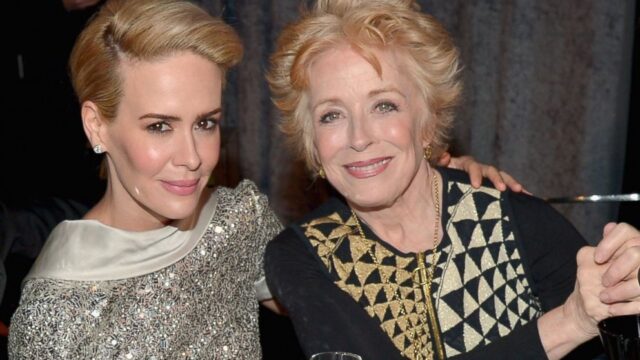 Sarah Paulson e Holland Taylor sono la prova che l'amore non ha età. La prima ha 46 anni, la seconda 78. Dopo aver reso pubblica la loro relazione, sono fioccate critiche e commenti sprezzanti, ma le due star si sono sempre mostrate sicure e hanno invece sottolineato come la differenza d'età sia per loro un vantaggio, un modo di vivere la vita e apprezzarne tutte le sfaccettature, dando importanza a ogni dettaglio. Alla Paulson era anche stato consigliato di rendere segreta la storia. Ma l'attrice ha affermato: "Vorrei gridare da un tetto la quanto amo. Quindi se posso farlo davanti a milioni di persone, perché no?"
Il primo incontro però non è stato esattamente romantico. Si sono conosciute a una cena nel 2005. Nonostante entrambe fossero rimaste colpite dal fascino dell'altra, la Taylor ha dichiarato di aver preso in antipatia Sarah, catalogandola come una star emergente che con il tempo avrebbe finito per criticare tutto e tutti.
Il ricongiungimento è avvento dieci anni dopo su Twitter. Dopo una cena di beneficenza, avevano iniziato a seguirsi sui social e hanno iniziato a scambiarsi dei DM. La loro storia socialmente non convenzionale, è iniziata invece nel modo più comune al giorno d'oggi.
4) Kristen Bell e Dax Shepard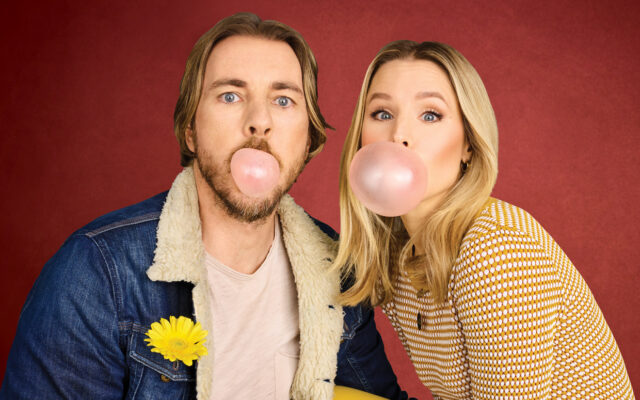 Per Dax Shepard e Kristen Bell non è stato amore a prima vista. Entrambi riconoscono di essere agli antipodi, persone completamente diverse. Sono i protagonisti del video di Paula Abdul Opposites Attract: per loro, il famoso detto "gli opposti si attraggono" ha effettivamente funzionato.
Si sono conosciuti a una cena di compleanno e la Bell non aveva la minima idea di chi fosse Shepard. Ricorda solo di aver pensato: "Questo ragazzo parla troppo!". Due settimane dopo si incontrarono a una partita di hockey, iniziarono a flirtare e il giorno dopo lui le inviò un messaggio. Lei si sentiva stimolata dall'audacia di lui ed è convita di essersi innamorata per prima.
Oltre dieci anni insieme e confessano di dover sempre lavorare sul loro rapporto: sono terribilmente testardi, con il tempo hanno imparato a capirsi e a scendere a compromessi. Ma Shepard ha ammesso che Kristen Bell è la persona più luminosa e con la personalità più interessante che abbia mai conosciuto. E semplicemente non può starle lontano. Lei pensava che non si sarebbero mai sposati per l'avversione di lui verso quella che riteneva solo una formalità. Ma alla fine, nel 2013 i due convolano a nozze. Una delle storie – e dei matrimoni a Hollywood – più romantici e ingiustamente meno conosciute.
5) John Krasinski e Emily Blunt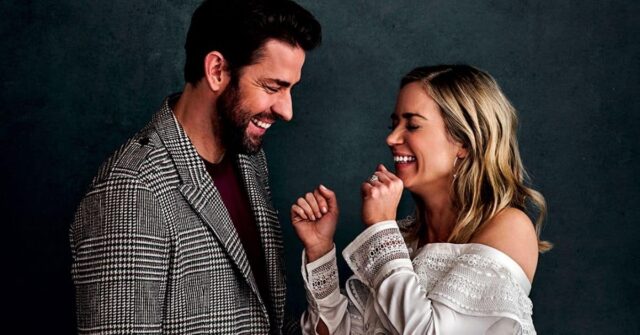 Forse in casi molto rari è davvero possibile vedere qualcuno e capire immediatamente che è l'anima gemella. A Emily Blunt e John Krasinski è successo. Nel 2008, in un ristorante, sono stati presentati. Il resto del mondo è sparito: c'erano solo loro due. Lui confessa di aver capito subito che si stava innamorando, lei ricorda di aver riso tanto. E semplicemente lo sapeva.
Il matrimonio delle due star di Hollywood si è svolto sul lago di Como – complice George Clooney – e ancora oggi Krasinski dà il merito della sua storia d'amore a The Office. Prima di diventare Jim Halpert, aveva pensato di abbandonare il mondo della recitazione. Se così fosse stato, non avrebbe mai incontrato Emily. Quest'ultima invece, sostiene che sia stato il marito a cambiarle la vita: "L'incontro con John ha davvero cambiato la mia vita, quando sento il supporto che ho da lui, mi sento invincibile. C'è qualcuno dietro di te nei tuoi giorni buoni e qualcuno di fronte a te nei tuoi giorni cattivi".
Il periodo più lungo in cui sono stati sperati è stato nel 2018, quando si trovano distanti 10.000 km. Ogni weekend John ha preso un areo da Montreal a Londra per vederla anche solo un giorno.
6) Neil Patrick Harris e David Burtka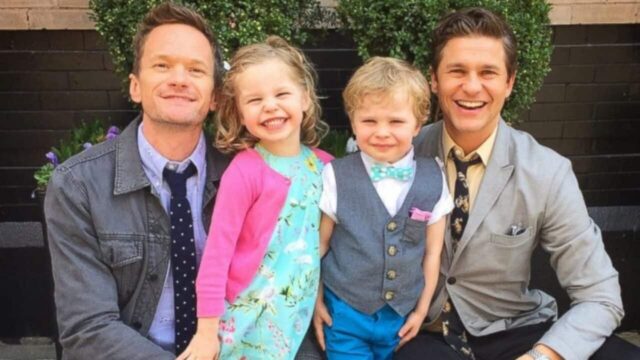 "Mi ricordo che mi buttavo sul letto e pensavo che non avevo mai fatto una doccia con qualcuno, che non avevo mai avuto una relazione duratura. Ricordo anche di aver pensato che avrei trascorso il resto della mia vita completamente da solo: non era qualcosa che mi rattristava, ma semplicemente la realizzazione che avevo trascorso tutta la mia vita solo."
Questa la consapevolezza di Neil Patrick Harris qualche settimana prima di incontrare David Burtaka. Forse è vero che l'amore arriva quando smetti di cercarlo. Prima che questa storia si sommasse ai tanti matrimoni a Hollywood, Harris l'aveva visto una sera a casa di amici: un giovane affascinante con il giubbotto di pelle che gli ricordava James Dean. Era convito che fosse il fidanzato della sua amica Kate, ma per tutta risposta lei gli disse che era gay e che era anche impegnato. David Burtaka era infatti fidanzato al tempo, ma poco dopo – per pura casualità – i due si incontrarono per strada. L'attrazione era fortissima e presto iniziarono a frequentarsi.
La coppia è una delle più affiatate tra i matrimoni a Hollywood: dopo quasi 10 anni insieme, i loro occhi brillano ancora ogni volta che sono insieme. E vogliamo parlare dei bellissimo costumi di Halloween che indossano ogni anno insieme ai loro bambini?