# #
Nel novembre 2014 il GALHA LGBT Humanists ha conferito a Mark Gatiss l'LGBT Humanists Award. Il presidente dell'organizzazione, Richard Unwin, presentandolo ha detto di lui: "se c'è qualcosa di buono in tv, Mark Gatiss c'è". Ed è proprio così: è onnipresente.
# #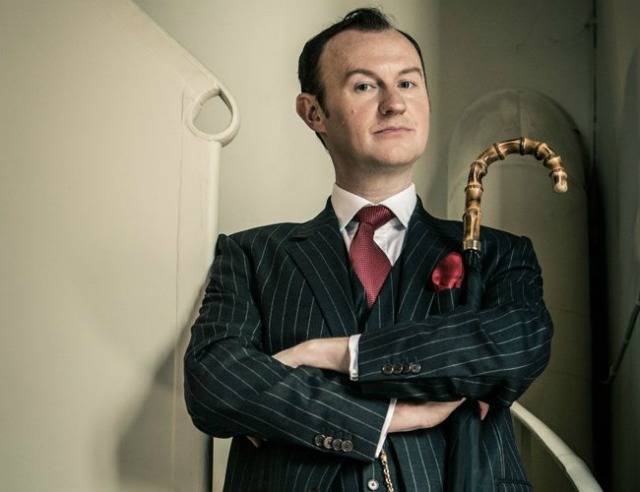 Chi di voi segue Sherlock lo conoscerà nei panni di Mycroft Holmes, l'algido fratello del protagonista, con cui ha un rapporto che definire complicato è un eufemismo, e probabilmente saprà che è anche il co-autore e il co-sceneggiatore della serie. Sue sono le puntate: The Great Game, The Hounds of Baskerville e The Empty Hearse, mentre ha co-scritto The Sign of Three e The Abominable Bride con Steven Moffat (TSoT è anche sceneggiato da Steve Thompson).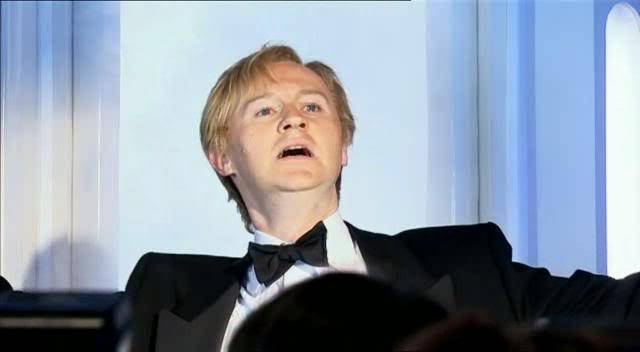 Chi invece segue Doctor Who saprà ormai che Gatiss ha scritto ben otto episodi diluiti nelle nove stagioni, oltre al docufilm The Adventure in Space and Time, girato per il cinquantenario della serie. È anche apparso sia nei panni di Richard Lazarus nell'episodio 3×06 The Lazarus Experiment sia in quelli di Gantok in The Wedding of River Song (6×13).
# #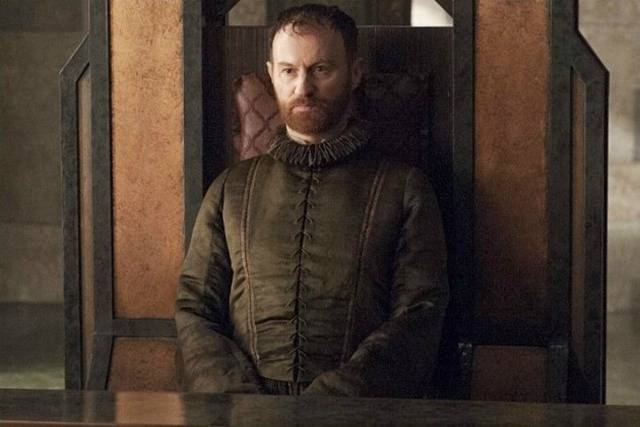 I fan di Game of Thrones, invece, probabilmente non si sono accorti che è presente anche lì. No, non preoccupatevi, appare sette minuti in tutto, diluiti tra una puntata della quarta (4×06) e una della quinta (5×09). Chi è? Tycho Nestoris. Come? Il nome non vi dice niente? Capisco. Avete presente quel tipo con la barba rossa che a Braavos rappresenta l'Iron Bank? Sì, esatto, quello che prende in giro Stannis.
Come vedete vi ho citato tre serie importanti e Mark Gatiss ha recitato e/o scritto in tutte e tre. Ma chi è Mark Gatiss? Nato in una piccola città inglese, Sedgefield, dichiaratamente gay e sposato dal 2008 con il collega Ian Hallard, già da piccolo manifesta una spiccata propensione per il macabro, come lui stesso ricorda: a soli otto anni un insegnante aveva convocato preoccupato i genitori perché Gatiss scriveva storie d'impiccagione. Questa propensione gli nasce dalla frequentazione abbastanza assidua dell'ospedale psichiatrico della sua città, dove entrambi i genitori lavoravano. Spesso, infatti, Gatiss passava lì i suoi pomeriggi e alcuni pazienti dell'ospedale gli sono poi serviti da ispirazione per la prima serie da lui scritta e interpretata, assieme agli amici conosciuti al Bretton Hall College, Steve Pemberton, Reece Shearsmith e Jeremy Dyson. Per chi non li conoscesse i primi due sono i co-autori e attori di Psycoville e Inside n.9.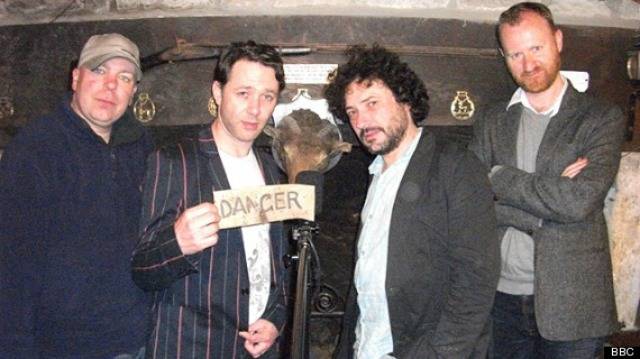 The League of Gentleman è una serie profondamente disturbata. Una commedia nera ironica che racconta le avventure grottesche degli abitanti di una cittadina inglese, Roston Vasey (naturalmente inventata). I personaggi sono tutti (o quasi) interpretati da Pemberton, Sherasmith e Gatiss, opportunamente truccati. Quindi possiamo vederli nei panni di donne, uomini grassi, magri, uomini anziani, e così via. Il loro trasformismo è una delle chicche di questa serie. Serie che purtroppo non è arrivata (e mai arriverà) in Italia: questo tipo di umorismo non è assolutamente nelle corde di chi, nel nostro Paese, guarda le fiction. Ma si può comunque reperire in rete, in lingua originale.
Vincitrice di un BAFTA, la serie (andata in onda dal 1999 al 2002) ha lanciato la carriera dei tre protagonisti, che non hanno mai davvero smesso di lavorare insieme. Gatiss infatti compare in Psycoville e in Mapp and Lucia (scritta e interpretata da Pemberton), mentre sia Pemberton che Shearsmith sono apparsi in Doctor Who: Pemberton nelle puntate della Biblioteca (4×08-4×09 nei panni di Strackman Lux) e Shearsmith in Sleep no more, dove interpreta Gagan Rassmussen.
Tornando a Gatiss, alla sua carriera e alla sua onnipresenza, lo possiamo vedere in serie quali Being Human, Walf Hall, Agatha Christie's Poirot (di cui ha anche scritto tre episodi), Agatha Christie Miss Marple, Clone, London Spy, The Crimson Petal and the White, Crooked House (di cui è anche autore) e potrei continuare.
Ha anche preso parte a film importanti come Victor Frankenstein, Our Kind of Traitor, Dad's Army, giusto per citarne alcuni. Assieme ad Andrew Scott (interprete di Moriarty in Sherlock BBC), è in Denial, film sull'olocausto in uscita nei prossimi mesi.
È inoltre un attore di teatro parecchio attivo: fa almeno uno o due spettacoli l'anno: vi possono ricordare il Coriolanus al fianco di Tom Hiddleston, The Vote, interprete assieme a Judi Dench e a Chaterine Tate, Three Days in the Country dove recita con John Simm (il Maestro in Doctor Who). Per quest'ultimo ruolo, il 3 aprile 2016 ha vinto l'Olivier Award come best supporting actor. A ottobre, invece, vestirà i panni di Harold nell'opera teatrale The Boys in the Band (Festa di compleanno del mio amico Harold): nel ruolo del protagonista, Michael, ci sarà invece suo marito.
Ma non finisce qui. Infatti quest'uomo è – come vi ho già detto – anche uno sceneggiatore e scrittore di narrativa. Ha infatti pubblicato diversi romanzi, tra cui alcuni di Doctor Who, specialmente incentrati su Three (il suo Dottore preferito) e la saga di Lucifer Box, una trilogia comprendente The Vesuvius Club (l'unico pubblicato in Italia), The Devil in Amber e Black Batterfly. Questa saga racconta le avvenuta di una spia dandy bisessuale di epoca vittoriana. E io vorrei davvero sapere: a quando la serie?? BBC #escilucifer.
Insomma, Mark Gatiss è un artista completo. E come dice lui stesso: "I can't play a musical instrument. I don't speak any languages. I can only do two things: act and write". E dici niente!