Nelle serie tv, molto spesso, il cast è tremendamente bello e ci distrae persino dagli avvenimenti in corso. Dagli uomini alle donne, dai personaggi principali a quelli secondari, non c'è un singolo membro di quello show che non attiri la nostra attenzione in quanto a bellezza. Un esempio? Gossip Girl. O più o meno tutti gli show della The CW.
Le serie di questa classifica hanno dei cast che sono belli tutti allo stesso modo. Quando si paragonano due cose uguali, entra in gioco la soggettività di ognuno di noi. Per ragioni ovvie abbiamo dovuto tagliare parecchia roba che comunque meritava di esserci. Prima di procedere con i sopravvissuti, tributiamo qualche assente: True Blood, Vikings che ha in comune con I Tudors un bellissimo Jonathan Rhys Meyers, The O.C, One Tree Hill e l'intero Arrowverse.
Ecco la classifica!
10) Shadowhunters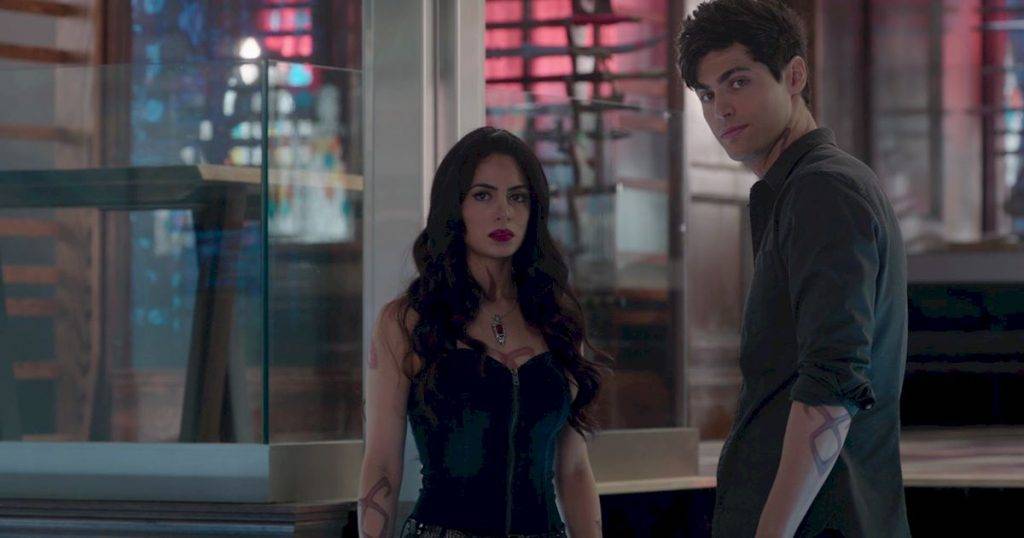 Shadowhunters non è sempre stata all'altezza della sua versione cartacea. C'è una cosa però che non è affatto sfuggita agli spettatori: la bellezza del cast.
Due esempi femminili su tutti: Emeraude Toubia e Katherine McNamara. La prima è colei che veste i panni di Isabelle, la cacciatrice che sa di essere bella e lo usa a suo vantaggio. Innegabile la sensualità dell'attrice dalle origini messicane e libanesi. La McNamara è la protagonista della serie tv, Clary. Quegli occhi verdi e i capelli rosso fuoco sono una combinazione letale, chiedere a Jace e Simon.
Anche quest'ultimi non sono niente male, soprattutto Jace, un concentrato di muscoli e fascino, un biondino burbero ma tremendamente sexy. Il più affascinante però è quel Matthew Daddario interprete di Alec, così serio, misterioso e semplicemente bello. Insieme a Magnus formano una delle coppie più belle – anche in senso letterale del termine – delle serie tv. Nominiamo anche l'addestratore Hodge e il vampiro Raphael.
9) Pretty Little Liars
In Pretty Little Liars ci sono molti personaggi con un bell'aspetto, a cominciare dalle quattro protagoniste. Queste ragazze sono sempre perfette e bellissime in ogni occasione, persino nei loro peggiori momenti. L'anima artistica del gruppo, amante dei libri e della letteratura, è Aria a cui Lucy Hale presta il volto. La meravigliosa Troian Bellisario è la competitiva e intelligente Spencer. La modaiola e popolare Hanna viene interpretata dalla biondissima Ashley Benson. Fisico da nuotatrice e bellezza unica per Shay Mitchell, la Emily dello show.
Tra i ragazzi, invece, c'è Ezra, il professore con gli occhi così azzurri da perdersi al loro interno. La divisa da poliziotto dona un fascino ulteriore al già bello Toby. Da non dimenticare Caleb, il fidanzato perfetto, che cucina la colazione in modalità shirtless. Sotto la definizione di sexy sul vocabolario c'è l'immagine di Jason DiLaurentis.
8) The 100
Se guardiamo un episodio di The 100, una delle prime cose che salta agli occhi è l'aspetto di ogni membro del cast che, tra parentesi, è stupendo.
Basti pensare alla biondissima dagli occhi blu come il mare Eliza Taylor, aka Clarke Griffin. Nessuno può negare quanto Octavia (e di conseguenza la sua interprete) sia tremendamente sexy. Raven non è solo un ingegnere eccellente o la regina del mai una gioia, ma anche una meravigliosa giovane donna. Non lasciamo fuori da questa lista l'autoritaria e regale Lexa.
In ambito maschile partiamo subito dalla bellezza non convenzionale di Bob Morley, il Bellamy Blake di The 100. Viene seguito immediatamente dagli addominali scolpiti di Lincoln (e non ci piace solo per quello), dall'aria da bad boy di Murphy, da Finn e molti altri.
7) Teen Wolf
Gli studenti della Beacon Hills ricevono senza dubbio il massimo dei voti per quanto riguarda la bellezza. Ce ne sono poi per tutti i gusti.
Cominciamo da qualche esempio maschile. Il bel muscoloso dagli occhi verdi Tyler Hoechlin è il misterioso e fascinoso Derek Hale. Uno dei licantropi più sexy è sicuramente Isaac, interpretato da nientemeno che Daniel Sharman. Dylan O'Brien e Tyler Posley sono diventati mostruosamente attraenti. Senza contare che in Teen Wolf c'è un certo Colton Haynes.
Anche nel reparto femminile questo show è messo molto bene. Alison, interpretata da Crystal Reed, è la classica bellezza bruna, mentre Lydia (Holland Roden) è la rossa che conquista, con delle labbra così carnose che farebbero impazzire chiunque. Abbiamo poi Malia, la coyote mannara dall'aspetto incantevole, e la bellezza tutta asiatica di Kira.
6) Supernatural
Supernatural dimostra di avere, tra le sue innumerevoli doti, un cast che si lascia piacevolmente guardare. Jensen Ackles – l'interprete di Dean Winchester – è l'incarnazione della perfezione. Addominali scolpiti, un corpo da paura e quegli occhi verdi che lo rendono ancora più sexy. Il suo fratello televisivo è Jared Padalecki, che è tanto sexy quanto Ackles. Jared ha un sorriso che sembra illuminare tutto quello che c'è intorno a lui. Non dimentichiamoci che il padre di Dean e Sam è un certo Jeffrey Dean Morgan! Magnifici occhi blu, sorriso stupendo e capelli scuri sono i tratti distintivi di Misha Collins, aka Castiel.
Per quanto riguarda le attrici, citiamo alcuni esempi. L'affascinante demone Ruby è una vera e propria femme fatale, soprattutto nella sua prima versione, quella della bellissima Katie Cassidy. Le due attrici che interpretano Mary Winchester, oltre ad aver fatto un ottimo lavoro, sono bellissime. Non dimentichiamoci di Lauren Cohan, ovvero Bela Talbot.
5) Riverdale
Riverdale presenta un cast che sembra uscito direttamente da un catalogo di modelli. Eccovi alcuni esempi.
KJ Apa, l'interprete di Archie, deve aver firmato qualche contratto che lo obbliga a togliersi la maglietta ogni volta che può. Non che a noi dispiaccia visto che il suo corpo rasenta la perfezione. Cole Sprouse, ovvero Jughead Jones, è cresciuto molto bene dai tempi di Zack e Cody! Un altro che migliora con l'avanzare dell'età è Skeet Ulrick, aka FP Jones.
Lato femminile: impossibile non partire dalla bionda e bellissima Betty Cooper. Soprattutto i maschietti si ricorderanno del suo sensuale ballo sulle note di "Mad World". Veronica è una bellezza tutta latina ma, in generale, tutta la famiglia Lodge è irrealmente seducente. Chiudo in bellezza con Queen Cheryl.
4) Gossip Girl
Le vicende dei giovani rampolli dell'Upper East Side non sono poi così segrete grazie al blogger anonimo chiamato Gossip Girl.
Non è segreto nemmeno il fatto che tutti i personaggi di Gossip Girl siano incredibilmente attraenti. Basta nominarne quattro, ma la lista potrebbe essere più lunga.
Già il fatto che la protagonista di Gossip Girl sia nientemeno che la magnifica Blake Lively indica quanto sia hot il cast dello show. Se ci mettiamo poi che la sua migliore amica/nemica è interpretata da Leighton Meester, allora l'asticella si alza ulteriormente. Due bellezze diverse ma ugualmente stravolgenti.
In ambito maschile abbiamo Chuck Bass e Nate Archibald. Quest'ultimo è davvero stupendo, bellissimo con un fisico da paura e degli occhi azzurri in cui annegare dolcemente. Chuck ha il fascino del cattivo ragazzo aggiunto a una buona dose di sensualità e mistero. Per conquistarci è bastato uno sguardo.
3) Grey's Anatomy
Se l'ospedale della nostra città avesse dei dottori come quelli in Grey's Anatomy, la maggior parte di noi sarebbe perennemente malata. Il cast dello show è molto vario cosicché ci sono diversi tipi di bellezza.
La rossa Addison è bella, sexy e sempre perfetta. Sapevamo quanto fosse sensuale Callie da quando l'abbiamo vista ballare in biancheria intima nella seconda stagione. Lexie starebbe bene con qualsiasi colore di capelli e Izzie ha il sorriso più luminoso e ampio della Terra.
McSteamy è bello, prestante, con uno sguardo profondo, un sorriso seducente e degli addominali da urlo. Abbiamo sognato tutte che quell'asciugamano cadesse! McDreamy è il principe azzurro, con dei capelli perfetti e degli occhi che sembrano sempre sorridere. Non si può parlare di Jackson senza nominare i suoi bellissimi occhi blu in contrasto con la sua carnagione scura e il suo sorriso ammaliatore.
E, come per Gossip Girl, la lista potrebbe continuare!
2) Game of Thrones
Game of Thrones ha unito bellezza e qualità. Con questa combinazione killer non stupisce che abbia conquistato il mondo. I suoi personaggi sono profondi e incredibilmente belli.
Daenerys ha un corpo perfetto, dei capelli meravigliosi e una grande sensualità. Cersei è cattiva, sì, ma è anche una donna bellissima. Non dimentichiamoci della bellezza quasi irreale di Margaery Tyrell. E poi ci sono anche Sansa, Missandei, Melisandre.
Sul fronte maschile impossibile non citare i focosi amori di Daenerys. Khal Drogo emana quella mascolinità tale da far perdere la testa a tutti. Jon Snow ha fisicamente tutto quello che si può desiderare. Jaime Lannister è come il vino: invecchiando migliora. Aggiungiamoci Robb Stark, Oberyn Martell, i due Daario e molti altri.
Insomma, in Game of Thrones tra personaggi maschili e femminili c'è l'imbarazzo della scelta!
1) The Vampire Diaries
Il fatto che in The Vampire Diaries ci sia Ian Somerhalder è un motivo sufficiente per metterla al primo posto. Damon Salvatore (il suo personaggio) riesce a conquistare il pubblico con quegli occhi di ghiaccio, il suo sorrisetto sarcastico e un corpo da paura. Se ci mettiamo anche Stefan, il suo fratellino interpretato da Paul Wesley, i due formano un duo di bellezza irraggiungibile.
Ma non è finita qui. Nina Dobrev cattura lo schermo con la sua bellezza, soprattutto nei panni della sexy e meravigliosa Katherine Pierce. E poi mettiamoci anche Caroline, Bonnie, Tyler, Enzo, Alaric, Hayley e molti altri. Se prendiamo in considerazione anche lo spin-off, si può benissimo chiudere gli occhi e scegliere un Originale a caso, visto quanto sono incredibilmente attraenti (anche se il nostro preferito è il magnetico Klaus).
Detto in poche parole, The Vampire Diaries è un piacere per gli occhi!
Leggi anche – In Gossip Girl sono state tagliate moltissime scene hot